The Yacht Club's fare is priced reasonably, most notably the 1-1/4 lb. Lobster, which at $35 includes two sides; portions are large enough to share. There's also the 3 lb. lobster for those seafood lovers who want the wow factor. Other stellar seafood dishes include Whole Grilled Branzino with Fresh Herbs, Flash Fried Whiting, Fried Shrimp, Grilled Faroe Islands Salmon with Quinoa Salad, Linguine with Clam Sauce, Flash Fried Sea Scallops, and a Fisherman's Platter that includes Flash Fried Shrimp, Scallops, Filet of Sole and Calamari. The Famous Lobster Roll is arguably the most popular item on The Yacht Club's menu.
COCKTAILS & BITES
Still, others come for the remarkable specialty cocktails and to share the generous appetizers like Popcorn Shrimp, Maryland Crab Cakes, Florida Stone Crab Claws, Fried Calamari, and Mussels. Diners also love to share items from the Taco & Burgers section of the menu. Needless to say, Shrimp Tacos (with Herb Aioli) and Snapper Tacos (with Radishes, Shredded Purple Cabbage, and Chipotle) are huge hits.
The waterfront resto's sides are the ultimate comfort foods and include Corn On The Cob, Sea Salt Fries, Lobster Mac And Cheese, Homemade Coleslaw, and Sweet Potato Fries. Desserts like Key Lime Pie, Chocolate Lava Cake, New York Strawberry Cheesecake please every sweet tooth.
We caught up with Executive Chef Gregory Zapantis to ask about his eatery's clientele. "It's locals and visitors from the city who come to the waterfront to enjoy great food and the Manhattan skyline," he told us.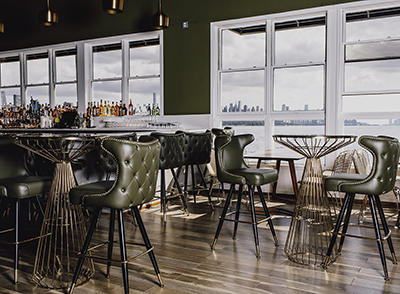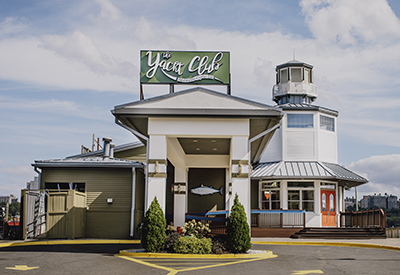 FRESH IS BEST
What does the highly independent and creative Zapantis—who also helms the kitchen at the nearby Mediterranean seafood eatery Molos in Weehawken—do to stay current on new trends? "I follow my own rules. Our fresh seafood is sourced as locally as possible. As an example, we travel twice a week to Lancaster, Pennsylvania, to get the best tomatoes money can buy—and I always follow my customers' advice."
As mentioned before, the skirt steak (which comes with a heaping portion of golden fries) is amazing. We just had to get the chef's secrets on how he makes a skirt steak more tender than a filet mignon. "We buy Omaha grass-fed beef, and there is a process. One is a 24-hour marinade and one 48, but the ingredients are a secret," he told us. "The potatoes are high quality, and they're extremely fresh. One secret I can reveal is that we fry our potatoes in super fresh canola oil that gets changed daily.
Even if you are one of those New Yorkers who rarely leaves the city, you'll find yourself returning to The Yacht Club time and time again. Besides having reliable food in large portions and a Manhattan view that is second to none (especially at night), service is impeccable and speedy. You'll find that the homey olive green and white walls, pendant lighting, wood paneling, sailboat artwork, and overall airy dining room will help you relax.
Be sure to check out their $39 Sunday Lobster Feast—you get a 1¼ lb. lobster, Corn on the Cob, Potatoes, and your choice of Key Lime Pie or Crème Brulee for dessert.
For more info on The Yacht Club, visit yachtclubnj.com.  Reservations are recommended but not necessary. Take the NJ Transit Bus 158 at Port Authority to the River Road/Archer Street stop directly across the street from the Edgewater Commons Shopping Center; you will be a two-minute walk away from the restaurant. There is a NY Waterway ferry that goes from West 39th Street directly to an Edgewater dock from Mondays through Fridays (schedule is at nywaterway.com).