The year was 1900 when Gennaro Ottomanelli arrived in America from Bari, Italy, and soon began selling cured meats from a pushcart in the West Village. At a time when pushcarts lined the streets and were typical sources for New Yorkers to obtain food, Gennaro's hard work paid off. With the success of his growing business, Gennaro and his family often went back to his birthplace to visit. On one of those trips from Italy to New York, Onofrio Ottomanelli was born in 1917. When he was three, his parents traveled back to Italy, where he grew to learn skills that would remain with him for the rest of his life.
"It was my grandmother who taught him the skills needed to butcher," Frank told us. With his honed skills and determination in hand, Onofrio returned to New York in 1937, taking a job at his uncle's butcher shop in Yorkville. In the 1940s Onofrio opened O. Ottomanelli & Sons at 238 Bleecker Street. That location was perfect; twenty years later, he relocated a few doors down to the store's present-day address. Eventually, a Yorkville store would take on the Ottomanelli name and go by Ottomanelli Brothers. Then came S. Ottomanelli & Sons Prime Meats in Woodside, Queens. While "all in the family," the businesses remain amicably separate.
Onofrio distinguished himself from other local butchers and along with his brothers, provided both quality meats and game as well as superior personal service. One of those brothers, a young Salvatore, often delivered orders regularly to customers throughout Manhattan. One such delivery was to playwright Arthur Miller, who at the time was living on 57th Street. One day, a gorgeous blonde appeared at the door. Salvatore later found out it was Marilyn Monroe.
Onofrio and his wife had eight children, with four of the sons later working at the Bleecker Street store until his death twenty years ago. Like any good father, he taught his sons well. Frank remembers how his father, Salvatore, would instruct "how to scrape meat from the bones." But it was not easy. He was young, and Frank remembers his father trying to encourage his son to learn the trade. To accomplish this, Salvatore persuaded his young son with a stop at the donut shop to sweeten the deal. It worked!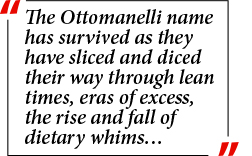 THE TRADITION CONTINUES

Frank credits Onofrio with being ahead of his time in many respects. The market was the first to offer fresh game. At the time when his grandfather introduced buffalo meat to New Yorkers, some fifty years ago, the New York Daily News reported on this new food sensation. Today, Ottomanelli's offers not only wild game, but exotic meats, including alligator, kangaroo, elk, and even python. "One day, a loyal customer came in looking for rattlesnake for his Thanksgiving dinner table," Frank recalled. No request is ever too much, he added. The customer placed his order and left happy
Like his father, Frank only buys hanging meat—never boxed. A typical day starts early in the early morning—4:30 am is not unheard of—to fulfill orders and visit wholesale meat markets in Brooklyn and the Bronx. "I'm dealing with some of the same vendors that my father dealt with in the 1940s," said Frank. "We've been doing it so long and have relationships going back four and five generations. That means that we get to select the best quality."