Dr. Roy Davidovitch
This Orthopedic Surgeon Has Put
NYU Langone's Hip Center On The Map
By Bailey Beckett
Dr. Roy Davidovitch would rather talk about his work, his patients, and his research projects than himself. Modest and carefully spoken, he is among the top orthopedic surgeons in New York, specializing in all things hip… literally. But as the founder of NYU Langone's Hip Center and now as the director of the New York Hip Institute in Midtown Manhattan staying under the radar is not exactly feasible. Davidovitch treats patients from around the country, including professional athletes and dancers—young and old—and is known to innovate new methods and technologies, even a customized operating table, that helps people get back on their feet and live pain free lives. In fact, the surgeon sees and does just about everything involving the hips, from sports injuries to salvaging hips that are affected by pediatric conditions such as hip dysplasia (shallow hip sockets), as well as replacing hips that are crippled by arthritis. Using minimally invasive techniques for hip replacement, his patients are often able to leave the hospital the same day.
A graduate of University of Chicago, where he received his MD, Davidovitch did his residency at NYU's Hospital for Joint Diseases (now the Langone Orthopedic Hospital) and further training at Harvard's Orthopedic Trauma Fellowship before returning to NYU Langone to establish his nationally renowned hip practice. New York Lifestyles sat down with Davidovitch to learn more about the field, advances in OR, preventive measures and why the COVID shut down brought more people into his operating room.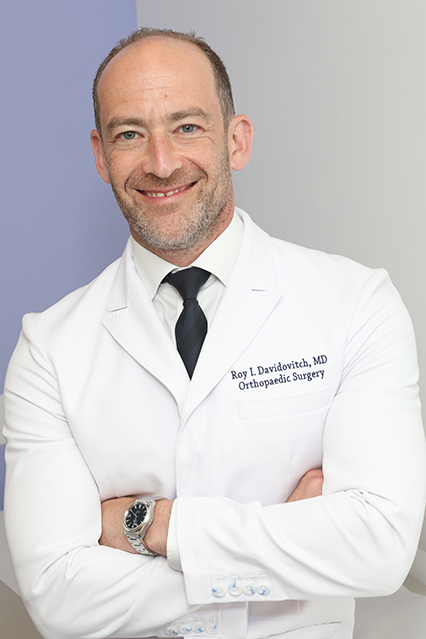 What would you say is your niche/specialty? Is there something you do no one else does?
I am one of a few surgeons nationally who deals exclusively with conditions that affect the hip. I look at my practice as a continuum of care from hip preservation to hip replacement. From a procedure perspective, my niche is anterior approach total hip replacement and over the last five years, outpatient anterior approach total hip replacements. I have done more outpatient total hip replacements of this kind then most surgeons in the Northeast and have been fortunate enough to further innovate the procedure along the way.
How prevalent is hip surgery today?
It's growing more prevalent and projected to increase even further due to demographic shifts and the fact that hip replacement surgery is now accessible to younger patients with arthritis, who in the past would hold off on surgery. Since hip implants are more durable and can last upwards of 20 years (in the past longevity of implants was closer to 10 years) and since minimally invasive procedures mean less downtime for patients who are still part of the workforce, younger patients that suffered from hip dysplasia or hip impingement which caused their hips to break down are opting for total hip replacements.
What are preventative measures people can take?
I encourage patients to maintain core strength through Pilates based workouts, swimming, and cycling. I discourage high impact sports such as running once they have been diagnosed with hip arthritis or labrum tears.
What advances have made this kind of surgery less invasive?
Specialized instruments, surgical computer navigation technology, as well as durable implants along with better understanding of patient demands have pushed the innovation of less invasive techniques such as the anterior approach.
What are you most excited about in terms of technology/advancement?
I am most excited about the shift from inpatient hospital stays to outpatient setting for total hip replacement. With the advent of techniques such as the anterior approach to total hip replacement and with an increasing understanding of alternatives to opiates in pain management, patients are experiencing less pain and greater function immediately post op. This allows me to send about 80 percent of my patients' home on the same day as their hip replacements. The shift of hip replacements to the outpatient center is a paradigm shift in the field.
How did the COVID lock down influence/effect people needing/asking for this procedure?
I have seen this go both ways. Some people became more sedentary and their hip pain decreased. However, they have noticed that their hip has become stiffer due to decreased inactivity. Once quarantine ended and they returned to more activity, patients reports spikes in pain. Other patients reported that they had minimal hip pain prior to quarantine but had now found time to exercise or spend more time outdoors and this has caused their hip pain to get worse. Interestingly, now that patients are working from home, they are interested in having total hip replacement and other such procedures especially if this can be on an outpatient basis where COVID exposure is minimized.