★

ON-Line Exclusive

★


Lockdown Fun with Lucy & Suzie
Parks & Recreation Star Lauren White and Her Energetic Min Pins
By Rhea Dhanbhoora
When she's not busy filming shows like House of Cards and Parks & Recreation, Lauren White is shooting [faux] YouTube trailers like Minpinja (ninja + Miniature Pinscher) with her two dogs, who have made quarantining at home an unexpected joy.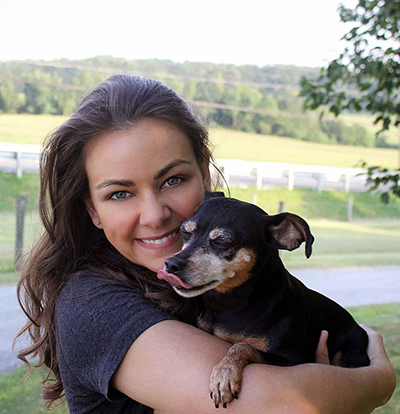 Lauren's love of animals started before she could even read. "My mom told me that the only books I would even consider looking at [at the library] were about dogs and horses," she laughs. She started riding horses at just 5-years-old, and soon, "needed a dog."
Her mother took her to a Weimaraner rescue, where Lauren met a "mangey, half-starved, pitiful sack of bones named Brina," whom she knew immediately, was the one. Even after playing with every other puppy there, and going home to mull it over, she couldn't get Brina out of her head. "I woke up in the middle of the night, crying, asking when we could 'go get my dog,'" she tells PET LIFESTYLES.
There have been several other "critters who have adopted us" as Lauren puts it, from dogs and cats to full-size horses, miniature horses, and squirrels. Currently, she cohabitates with her Miniature Pinscher's, the "two old ladies," Lucy and Suzie.
Lucy, the "sweet, smart, and even a little devious" dog, is now 15 1/2 years old. Lauren explains, "She was supposed to be a foster pup, but was incredibly traumatized. I have no idea what people did to her, but I believe she had PTSD. She's well-adjusted now, but will occasionally have what seem like nightmares." Lucy and Lauren are now as thick as thieves.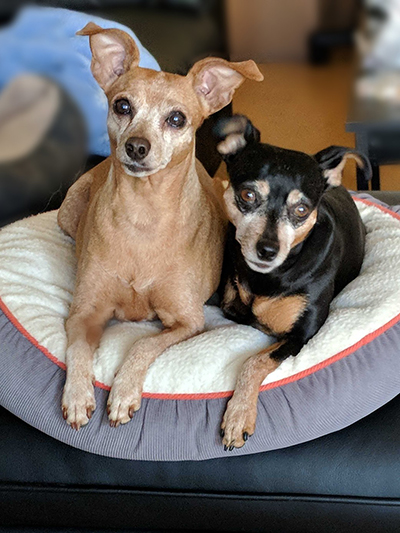 Suzie, the fun (and funny) one, is special, Lauren insists, adding, "I'm sure everyone says their dog is special, and all dogs are special, but Suzie really is exceptional. Strangers are drawn to her, and she's always making people smile." She was an abuse case seized as part of an animal cruelty arrest. "It was assumed that the man had broken her leg, and, when she didn't get medical attention, it required amputation," Lauren says. She was supposed to be a transport, but Lucy took her under her wing immediately. Seeing how the two bonded, Lauren decided she would be a permanent fixture. "In hindsight, it was one of the best decisions Lucy ever made," she adds.
Life with her pets has had its typical ups and downs. They've both needed rehabilitation, and Lucy has had to deal with knee issues — although adding some turmeric and black pepper to her food seems to have been a fantastic remedy. But the two dogs who started "as soul sisters," make sure they take care of one another. They bicker, but they also, as Lauren puts it, "snuggle, Lucy grooms Suzie, and they step on and lay on each other."
Ask if she has a favorite, and Lauren jokes, "How dare you ask me to play favorites!" then explains that she doesn't, though Suzie is easier to manage. "Lucy loves me to bits but could not care less about what I want her to do. She will do what I ask, but she never likes it. Sometimes there's even some back talk," she says.
During quarantine, Lauren says, "We've spent so much more time together, and we're walking every day as opposed to every other day." Lauren and Suzie even made an appearance in a "horror comedy" improv episode of Gary Anthony Williams' [Whose Line Is It Anyway?] Instagram series 'Acting Alone at Home with Friends Who Are Also Acting Alone at Home.' 
The only problem is that her Min Pins are now so used to having Lauren around, they're full of "pre-departure anxiety" when she leaves. They don't like being left alone, but Lauren says she doesn't have to deal with any issues since they're both well-behaved even when left loose in the house. "I also leave the radio on for them," she adds.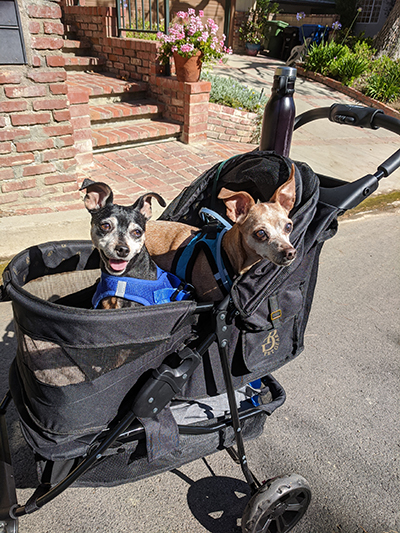 So, what does the holiday season look like for Lauren, Lucy, and Suzie?
"We used to do a tree, hang decorations, stockings and spend time with family, but, in the last few years, it's become more of a tradition to 'vacation' away. Last year, a cold hit our household, so it was less than festive, but hopefully, this year will be merry and bright," Lauren shares.
What about presents? Her puppies (who both have their own stockings) always have snacks on their mind. "They are such chowhounds," Lauren says. "Since they're only 11 pounds, I have to be careful they don't explode! They don't like balls or toys much, though Suzie will occasionally fling two stuffed toys around. . . for 45 seconds," she laughs, saying they also appreciate chew sticks, bones, and bully sticks.
They like to adventure through the snow, but both dogs are "cold-averse." Even so, Lucy "is like the little kid who won't get out of the swimming pool despite purple lips. She will be shivering and still running around sniffing stuff." And they're not fond of their little winter coats either. Lauren explains, "Every time I pull out the coats, Lucy runs into the bedroom or flips over and shows me her belly – so dramatic!"
Two Min Pins is plenty for Lauren, since "they probably equate to about 6 Labs each." Her goal is to make sure animals in need find their best "forever home." However, as she so wonderfully puts it, "Our home is, of course, always open to critters in need."
Before she signs off, Lauren says she hopes the New Year will bring lots of love and joyous times with loved ones (furry and not). "This has been such a bizarre year," she says, adding that she can't wait to see "what 2021 has in store!"