In A Class By Itself
Luxe Living In Connecticut
By Harry Brads
The sprawling 152-acre country escape comes courtesy of David Wildenstein, whose family controls the Wildenstein Institute, the world's foremost art organization and Lucrezia Buccellati, the scion and co-creative director of the renowned Buccellati jewelry brand..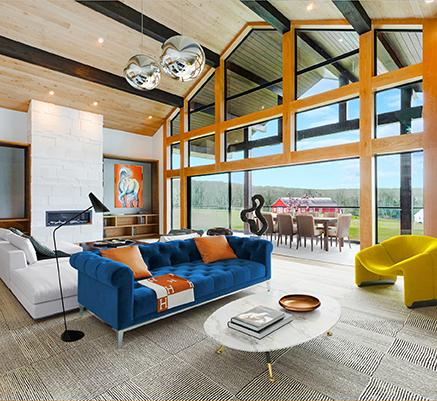 A marriage of rustic American tranquility and Italian luxury, the property is located just 80 minutes from Manhattan at 1 Glenn Brook Farm Road in Sherman, a quiet town in Fairfield County, where neighbors include boldfaced names Diane Von Furstenberg, Bob Iger, Jeffrey Toobin, and Rob Zombie.
LUXE + CHIC
"Wildenstein and Buccellati are associated with fine art and the most exquisite jewelry, things that are beautiful, ultra-luxurious and chic," says lifestyle and realty expert Loy Carlos, Co-founder and Creative Director of Classiques Modernes. "David and Lucrezia are also true nature lovers who wanted to create a forward-looking agricultural estate for production of eco-friendly, renewable crops like hemp and medicinal plants. It's a different kind of luxury lifestyle that is both mindful and principled, and very much aligned with who they are."
"Lucrezia and I wanted to build a home where we could enjoy the serenity of the woods, a return to quiet nature," says Wildenstein. "She loves horses, and I enjoy farming. We were growing hemp, for example, to explore its use as a viable alternative for wood to use in construction, to help combat global warming. We are very much into organic farming as well. Sherman feels like a countryside within five minutes of suburban amenities and recreational facilities that are also essential to a growing family like ours."
The estate is one of just five properties in the area boasting more than 50 acres. Built with easy expansion in mind, the 7000-square-foot, open loft-style mansion features vaulted cathedral ceilings, six bedrooms, and seven marble baths. Indoor amenities include a recreation room, home theater, double-height living room, gourmet kitchen with custom walnut millwork, Miele appliances, and a Grand Terrace, overlooking the bucolic grounds. For the owners, the terrace was an important consideration. "Lucrezia very much wanted the house to feel open and the outdoors to be a part of our everyday living. It is something we enjoy whenever we are in Italy and the type of life-style she is accustomed to," explains Wildenstein.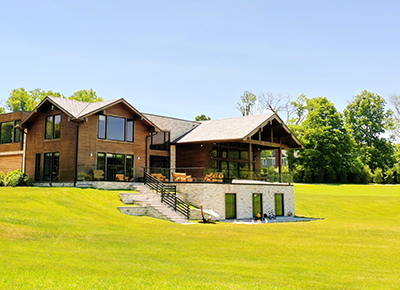 A BUCOLIC SETTING
"You appreciate the owners' sophisticated tastes," says Kenneth J. Moore, President of Classiques Modernes International Realty, representing the listing. "Walking through the house, you get a sense that each part was carefully crafted. Each window perfectly frames the mountain views, trees, and fields, like living portraits." Moore notes that the owners have plans for an indoor and outdoor pool which will also be available to prospective purchasers. Carlos concludes, "Rustic materials like wood, stone, and steel plus gigantic pivoting glass doors that open onto the upper and lower terraces result in a successful melding of the great American country lodge with a clean, modern European aesthetic."
Surrounded by land trusts on three sides, the land is comprised of 25 acres of fields and 127 acres of woods, an 11-horse barn, as well as two scenic ponds and staff quarters. Because there are no conservation easements, the estate is ideal for agricultural and equine use, or even as a serene corporate retreat.
"This is the first-time prospective buyers have been able to come and walk through this stunning country getaway," says Moore. "It's a one-of-a-kind property, which can no longer be found in other luxury markets, offered at a truly unbeatable price." Asking price: $7.9 million.
For more information, contact Kenneth J. Moore at 646-580-4243 or email ken@classiquesmodernes.com; visit classiquesmodernes.com/properties.