The Peacock Inn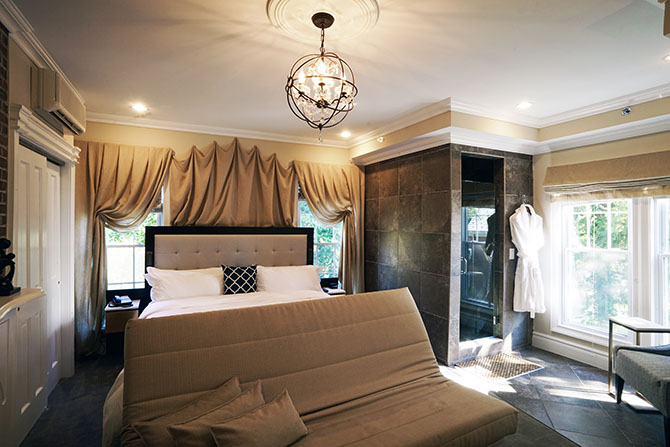 By Jeff & Stephanie Sylva
Combining a history dating back to the early days of this nation together with a dedication to providing modern, luxurious accommodations and upscale fine dining, The Peacock Inn has established itself as an iconic landmark in downtown Princeton, NJ.
The only luxury boutique hotel and fine dining restaurant in this university town, The Peacock Inn, has garnered a long list of accolades and an impressive guest list that includes members of the Continental Congress, Albert Einstein, and F. Scott Fitzgerald.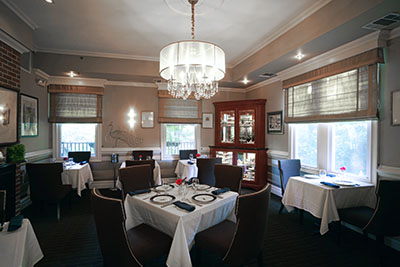 HOTEL HISTORY
The inn's history begins in the 1770s when Jonathan Deare purchased the property from Thomas Stockton and offered fellow members of the Continental Congress rooms with fireplaces and breakfast, tea, and dinner. In 1911 the peacock, a symbol of royalty, good food, and good luck, was adopted as the hotel's emblem. It is believed that the basement of the Inn, also known as "Peacock Alley," served as a Prohibition-era speakeasy.
Evidence of such was discovered in 2006 during a 3-year renovation when original drawings by jazz age artist John Held, Jr. were found. These drawings, etched on the basement's cement walls, are now framed and hanging on the dining room walls.
The 16-room inn is part of the Ascend Hotel Collection and has earned the AAA Four-Diamond Award four years in a row, including the AAA Inspector's Best of 2020. The entire inn has been completely updated with a clean, contemporary design. The rooms are bright with abundant natural light and decorated with a pleasing mix of neutral and muted earth tones. In addition to high-end bedding and luxury amenities, the bathrooms feature a glass-enclosed rain shower and radiant-heated floors.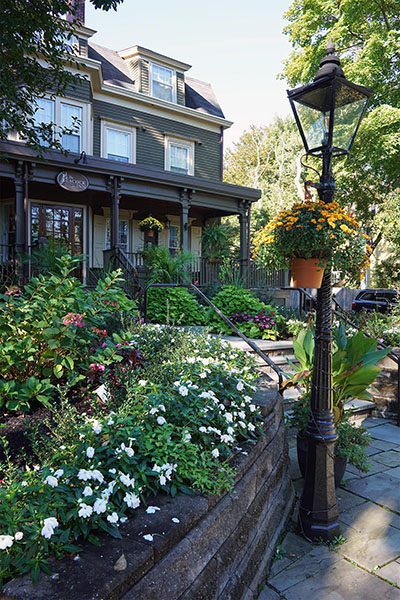 EXQUISITE DINING
Following a four-month closure due to the pandemic, the Inn's fine dining restaurant reopened with a reimagined concept. Ownership empowered new Executive Chef Alex Van Dyke to change the restaurant's approach from its traditional Classic French menu to one inspired by Chef Van Dyke's personal touch. His first move was to rename the restaurant The Perch at Peacock Inn. Although reluctant to pigeon-hole his style, the unassuming chef referred to his cuisine as New-Age American. The chef's creative use of fresh produce and thoughtfully-sourced ingredients, acquired from personal relationships with local farmers—people he greatly admires for their resistance to industrialized farming—revealed tastes to us, unlike anything we have experienced.
Next, we suggest one of the chef's signature dishes. We loved the New Jersey Line-Caught Black Bass with Eckerton Hill Sungold Tomato, Grilled Cucumber, Escaillo Peppers, Bronze Fennel, and Toasted Hemp Seeds. Or perhaps go for the Heritage Pork Loin with Hakurei Turnips, Crunchy Brown Butter Groats, Apple Blossom, and Bee Pollen Mustard.
Indoor dining takes place in one of three dining rooms or the downstairs Peacock Alley for special occasions. Weather permitting, outdoor dining is available on the front porch and patio or in the serene back yard, all of which are beautifully landscaped. The cocktail bar is chic and comfortable and offers a tempting list of classic and signature cocktails. The crafting of the Smoked Old Fashioned is an event, and the Blossom Fleck, made with top-quality gin, St. Germaine, and Champagne, with a float of edible flowers, is intriguing. 
The Peacock Inn also presents a full-service Afternoon Tea (currently just on weekends), featuring a wide array of sweets, savories, fine teas, and an optional Champagne flight. You might also consider the inn's Dine and Stay Package, available for November and December. Details can be found on the website.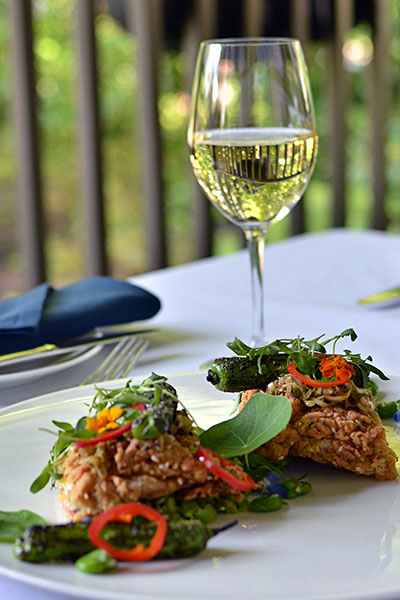 EXPLORING PRINCETON
Be sure to take the time to explore the town of Princeton. Palmer Square is a just short walk from the Inn and features an assortment of high-end retail stores, boutiques, specialty shops, and dining venues. Info: palmersquare.com.  Across the street from the Square is Princeton University. There are historic/significant buildings such as Nassau Hall, University Chapel, University Art Museum, Cleveland Tower, and the Fitz Randolph Observatory and the beautiful grounds and architecture.
History buffs may be interested in the Morven Museum and Garden, a former governor's mansion, and historic site. Or explore Princeton Battlefield State Park, a pretty park featuring walking trails, the Clark House, and a few monuments dedicated to Princeton›s Battle, where George Washington engaged the British.
When you build up an appetite from walking the town, stop in at the casual dining venue, Proof, serving specialty pizzas, salads, and veggies made with fresh seasonal ingredients and high-quality meats. Try the Salad Pie—a White Pizza with ricotta, arugula, tomato, red pepper, basil, shaved grana, and 20-year-old balsamic or the Soppressata Roasted Onion Pie with Castelvetrano olives. Info: proofpizzeria.com.
Treat yourself to a specialty coffee and French pastry at Chez Alice Patisserie, a longtime staple in Princeton. The café serves breakfast and lunch items, but it is their custom cakes, decadent individual pastries, and colorful macarons that will catch your eye. Info: chezalicecafe.com.
The Peacock Inn is about a 1.5-hour drive from Manhattan or can be reached by NJ Transit train from Penn Station. For more information on The Peacock Inn, visit peacockinn.com.