★
ON-Line Exclusive
★
RING IN 2021
By Patricia Canole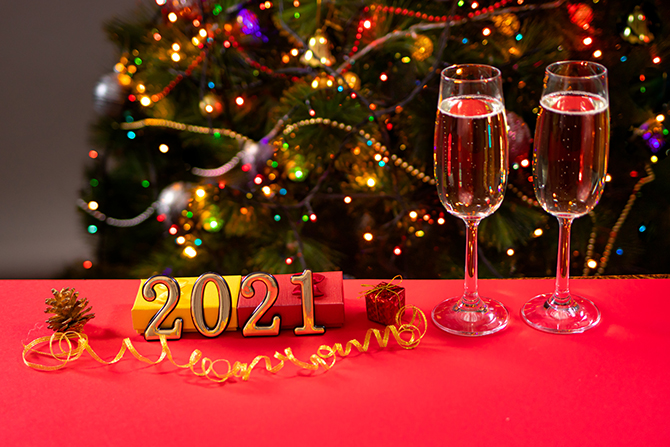 Ready to say good riddance to 2020? For those looking celebrate in style and plurge safely, consider ordering a holiday dinner from one of the following restaurants below, or bundling for a late-night outdoor meal under a space heater. All your favorites are here. Wishing you a Happy & Healthy 2021!
JUNGSIK Jungsik in Tribeca has created a spectacular dine-in New Year's Eve experience.  The two-starred Michelin New Korean restaurant, helmed by Executive Chef Suyoung Park and Pastry Chef Eunji Lee, will be serving a menu of eight courses with highlights including Osetra Caviar, Bluefin Tuna Belly with white sturgeon caviar and crispy quinoa; Lobster confit with grilled lobster, jut guk beurre blanc (Korean clam broth beurre blanc), herb salad, finger lime, and herb oil; Royal Bibimbap with pearl barley risotto and foie gras, wagyu beef shaving, parmesan cheese, kimchi and fresh black truffles; and acclaimed Pastry Chef Eunji Lee's Mini Truffle Cone with a fine slice of truffle, atop truffle Chantilly, chocolate caramel and fleur de sel. Jungsik offers heated outdoor dining private cabanas with electric heaters. There will be two sittings at 5 pm and 7:30 pm. Take-out and delivery also available through Tock. Info: 2 Harrison Street; jungsik.com..
---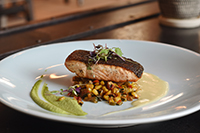 PEKARNA Pekarna New York, a dual level complex with a Slovenian-American restaurant and cocktail bar experience on the Upper West Side, recently opened their backyard for outdoor dining. The outdoor space will be open on New Year's Eve, along with takeout and delivery. The dinner menu spotlights an array of Slovenian-American dishes including Truffle Matzo Ball Soup with roasted chicken thigh, chicken consommé, carrots, celery, and truffle matzo balls; Salmon with crispy skin salmon, roasted fingerling potatoes, corn pepper succotash, and lemon dill beurre; and the Chicken Schnitzel Burger with lightly fried chicken breast, coleslaw, sunny side up egg, herb aioli, and a toasted bun. The meal is complete with desserts including the Bread Pudding with vanilla ice cream, rum infused crème caramel sauce, and seasonal berries. The extensive beverage program includes Slovenian wines, four types of absinthe by the traditional drip method, and cocktails including the Empress French with Empress 1908 Purple Gin, lemon juice, and GH Mumm Grand Cordon Brut Champagne. The entire beverage menu is available to go, and patrons receive a 5 percent discount when they order six bottles or more. Reservations and delivery orders can be placed through their site. Info:594 Amsterdam Ave; pekarnanyc.com..
---
NOREETUH Noreetuh, the Michelin-recognized modern Hawaiian restaurant helmed by Chef Chung Chow (Per Se and Lincoln), will be serving their regular menu for New Year's Eve and offering delivery until 9:30 pm. Guests can enjoy an array of selections like musubis with Spicy Salmon Tartare with tobiko and spicy mayo; Galbi, braised beef short rib and kimchi; and Shiitake Mushroom with kombu and ginger. One won't want to miss out on the Katsu Sando, Berkshire pork cutlet with pickled green tomatoes and King's Hawaiian buns. Other options include Tuna Belly Misoyaki, miso marinated tuna belly with pickles; or a Mochiko Fried Chicken Dinner for Two experience either at the restaurant or at home, which features a half chicken with half bottle of champagne or half bottle of champagne and a half bottle of Sauterne for $64 or $95. They also provide rice bowls like the Garlic Shrimp Bowl with garlic and butter, pineapple and chili as well as wines, cocktails and beers. Reservations can be made through Resy and you can order delivery through ChowNow and Seamless. Info: 128 First Ave; noreetuh.com. 


---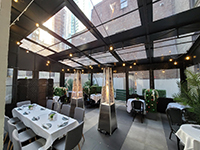 HORTUS NYC Hortus NYC, the Michelin-recognized, modern Korean restaurant in NoMad that is helmed by newly appointed Executive Chef Youjin Jung (Del Posto, Osteria Mozza, DB Bistro, Oyster Bar, Boulud Sud), will be open for New Year's Eve. The chef will be offering her a la carte menu on their hidden garden oasis complete with overhead coverings and propane heat lamps, appetizers offered include Scallops with cauliflower, pickled grapes, and house-made xo sauce, as well as the King Crab Noodle with onion jalapeno pesto, tomato, and lemon oil. Main dishes include the fan-favorite Duck with spicy braised mu (Korean radish), orange, and duck jus, as well as the Truffle Donnabe with wild mushrooms, cured egg yolk, and shaved black truffle. The meal is complete with desserts including Matcha Tiramisu and Thai Tea Pudding with a blueberry compote. Info:271 Fifth Ave; hortusnyc.com.
---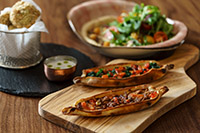 LEYLA Leyla is the casual-chic restaurant on the Upper West Side melding rustic and new world Turkish cuisine with Mediterranean influences and is open for delivery and takeout on New Year's Eve. Helmed by Executive Chef Met Kaba, the kitchen spotlights an array of mezzes, salads and main dishes. Delivery and takeout are available through the restaurant's website, UberEats, DoorDash, and GrubHub. with star dishes including Pide, Leyla's signature dish. Made a la minute in a special ceramic oven, selections include a Slow Cooked Short Rib Pide with an eggplant spread and kashar cheese, and an additional dish includes the Eriste, a creamy and decadent hand cut Turkish pasta dish with cubed lamb, sumac and cumin in a brown butter yogurt sauce. Brunch highlights include traditional Turkish dishes such as Mihlama, a breakfast staple in Turkey's northern Black Sea region featuring decadent cheese and cornmeal, and Breakfast Pide topped with quail eggs and sujuk. Info:108 West 74th St; leyla.com.
---
HAVEN ROOFTOP Located atop The Sanctuary Hotel it will host a New Year's Eve prix fixe dinner beginning at $125 per person, which includes a bottle of Prosecco per two guests. A VIP package is also available for $215 per person, which includes a bottle of champagne per two guests and an open bar. There will be sittings at 4 pm, 6 pm and 8 pm.
Info; Info: 132 W. 47th St; havenrooftop.com. 
---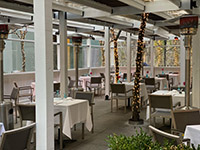 NERAI Nerai will be open normal hours for outdoor dining at one of the nicest heated setups in the city where you'll feel the heat no matter where you sit. Pick-up and delivery will be available as well. Info:55 East 54th St; nerainyc.com.
---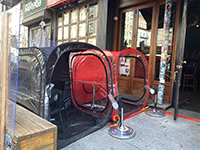 E'S BAR Reserve a private heated pod at for a NYE pre-game like no other. Diners will receive party hats and noisemakers prior to the 9:45 pm curfew countdown and a champagne toast. Info:511 Amsterdam Ave; e-barnyc.com.
---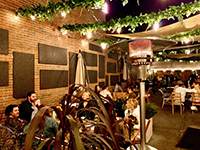 TEN HOPE WINTER GARDEN Ten Hope Winter Garden in Williamsburg will be open on New Year's Eve with over a dozen heaters to provide every single outdoor table with heat to keep diners warm and comfortable while they enjoy an appetizer and choice of a main entree in addition to 100 minutes of an open bar for $100. Executive Chef Travis McGinty's new winter menu includes options like Squid Ink Gnocchi, Arroser Scallops or a Kofta Burger along with a Hot Toddy for good measure. Info: 10 Hope St; tenhopebk.com
---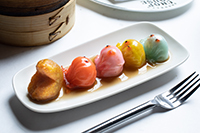 BROOKLYN CHOP HOUSE Brooklyn Chop House in FiDi will offer a New Year's Eve feast delivery for $145 per person. Appetizers include Rock Shrimp Tempura, Chicken Lettuce Wraps, Chicken Satays with their famous peanut sauce, Pac Man Steamed Seafood Dumplings and more.  Entrees include Dry Aged Prime 48ox Porterhouse Steak, Salt & Pepper 4 lb. Lobster, Alaskan King Crab Legs, Spicy Kung Pao Chicken, Drunken Bronzino and a 7 lb. Peking Duck. Sides include Lobster Fried Rice, Soft Shell Crab Fried Rice, French Fries & Onion Rings, Crispy Seaweed and Bok Choy in addition to a Chef's selection of desserts and ice creams. Guests can enjoy this in one of BCH's expansive outdoor heated tents. Their a la carte menu is available for take-out/delivery.
 Info: 150 Nassau St; brooklynchophouse.com
---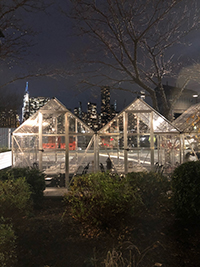 AMERICAN BRASS American Brass is offering outdoor Greenhouses seating up to six. A New Year's Eve prix-fixe menu for $75, which includes a choice of Endive Salad, Koignut Squash Soup or Tuna Crudo with avocado mousse, mango, lime and crispy quinoa. For the entree diners can enjoy a choice of Truffle Tagliatelle with parmesan cream and mushroom duxelles, Atlantic Salmon with wild mushrooms, Romanesco cauliflower and lemon-basil cream, Scallops with blood orange sabayon, salsify and crispy leeks or a NY Strip with rutabaga fondant, crispy maitake mushroom, and black truffle-red jus. Sides can be added for $10 and include crispy fingerlings, roasted Brussels Sprouts and wild mushrooms. For dessert indulge in a choice of Meyer Lemon Olive Oil Cake, Gingerbread Pudding or Black Forest Cake with devil's food, luxardo liqueur, vanilla Chantilly and sour cherry compote.
Info: 2-01 50th Ave (at the corner of Center Blvd. & 49th Ave.) in Long Island City; americanbrasslic.com
---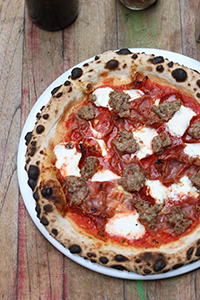 FORNINO Fornino in Greenpoint will be open New Year's Eve and New Year's Day for deliveries. Indulge in Chef & Owner Michael Ayoub's wood-fired pizzas, salads, and sandwiches and alcoholic beverages. This beloved 15-year-old brand has a wide selection of gourmet first second and third generation pizzas to indulge in since calories don't count in 2020. Info: Info: 849 Manhattan Ave; fornino.com
---
AMIGO BY NAI Amigo by Nai is the taqueria and cocktail experience collaboration with Executive Chef/Owner Ruben Rodriguez of Nai Tapas and Juan "Billy" Acosta co-owner of Los Angeles' famed Carnitas El Momo that will be open for dine-in and delivery/takeout this New Year's Eve. The menu features five tacos in homemade tortillas including Acosta's famous carnitas with choices like of Maciza, pork butt with the bone in. The other tacos are from the mind of Chef Rodriguez with options like Rabo, oxtail, red mojo and Shishido peppers with an optional side of consommé. They also provide aperitivos with selections like Esquite de Maiz Gratinado, husk sweet corn, panela, queso fresco, manchego cheese, cilantro and serrano pepper. Amigo by Nai has also created four to-go cocktail bottles with options like Abuela Spiked My Lemonade (Hendrick's gin, Thai basil, shiso, cucumber, elderflower, velvet falernum, agave and lime. Order via GrubHub and Seamless. Info: 29 Second Ave; orderamigonyc.com.
---