THE NEW HOME GYM
Creative Ways To Stay Fit
By Melanie Carden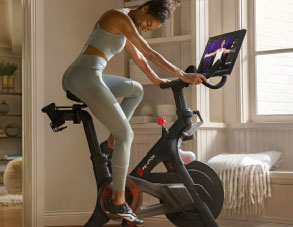 Home-based fitness isn't just having its moment in the sun; it's here to stay. Resilient as ever, Americans adjusted their fitness routines nearly overnight. As gyms across the country shut down, people scrambled to create a seamless transition to at-home fitness.
In a review of eBay purchases in 2019-2020, E-Commerce Times reports sales skyrocketed on fitness equipment from jump ropes to bikes during the pandemic life. Industry experts predict that we'll eventually return to our beloved gyms when it's safe, but that we'll also continue to prioritize at-home fitness. They expect a balance between gym-based activities and our newfound passion for the convenience and versatility of home-based fitness, pre-recorded workouts, and live online classes.
Whether you're looking to build an all-inclusive home gym or stock up on fundamentals, there are plenty of options.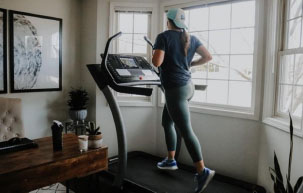 THE ULTIMATE GYM
Price Large equipment such as cycling bikes, rowers, and treadmills come with an average price tag of $1,500—especially those with smart-capabilities. Features such as screen size help drive cost. Annual membership and access to brand-specific classes are usually an additional expense. And always read the fine print to check for shipping, delivery, and assembly costs.
Fitness Goals Carefully consider your fitness goals and habits. If you buy a bike and annual membership, will you be continually inspired and engaged by only cycling? Do you feel the need for more variety? Many annual memberships associated with fitness equipment offer various classes (cycling, yoga, strength, etc.). Still, it's essential to review the course offerings in advance to ensure it works for your goals and fitness preferences.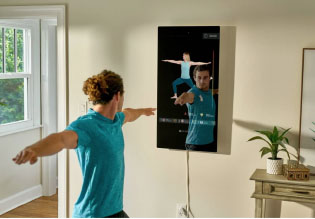 Space Grab a $6 roll of blue painter's tape and mark off the area for your home-fitness set-up. Measure and label where each piece of equipment will go. Is it realistic? Don't forget that a treadmill might need higher ceiling clearance; check the dimensions to see how tall it is when fully inclined for steeper workouts. If space is limited, it's still doable—be strategic. Many of the leading rowers—even the more affordable options on Amazon—fold in half to store upright when not in use.
Understand Return Policies At a certain point in our lives, we come to terms with the fact that sometimes reality doesn't match our expectations. Make a note of the return policy and warranty for any fitness equipment you purchase.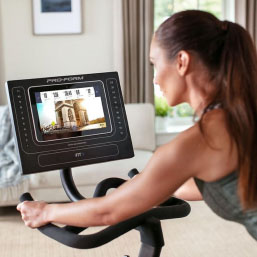 FITNESS LEADERS
NordicTrack A veteran in the fitness industry, NordicTrack offers bikes ($999+), treadmills ($1,800+), elliptical machines ($1,300+), and rowers ($800+). Incorporating the industry-trending option of smart-mirror workouts, their Vault strength training equipment ($1,999+) is another option. Smart-mirror technology allows for state-of-the-art reflective training that combines your reflection with real-time "form" correction for safer, more effective workouts. NordicTrack usually includes a one-year membership.
Peloton The industry benchmark for at-home fitness, Peloton bikes ($1,800+) offer streaming, on-demand classes in cycling, yoga, meditation, and more. Treadmills are also available.
Contenders
Echelon Bikes, rowers, treadmills, smart mirrors
Bowflex Bikes, treadmills, tread climbers, strength training
Hydrow Immersive rowing experience
Ergatta Sleek "living room-ready" water-based rower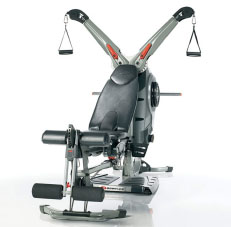 SEEING DOUBLE
Tonal and Tempo Both offer a slim wall-mounted weight system with impressive real-time interactive mirror display.
Mirror and Echelon Reflect Each requires only a small wall footprint for its mirror and provides various classes and live feedback.
HONORABLE MENTIONS
Budget Rower The Fitness Reality 1000 Plus Rower is a well-rated magnetic resistance rower with 14 tension settings under $300.
Unique Core Workout Stealth combines a plank board with a reactive phone-based video game; users hold a plank position while shifting their weight to control their video game character.
Design-Forward Dumbbells The gorgeous Walnut Dumbbells from Kenko are works of art that can be left in the living room.
New Generation of Jump Ropes The Smartrope displays your workout data mid-air, in real-time, using 23 LED lights.
INSPIRATION & CONNECTION

Whether you create a dedicated space in your home or add a few space-saving fitness options, there's a near-endless supply of online inspiration and classes. Self-care comes in many forms—from meditation to high-intensity workouts—each with its benefits. Explore the many resources available and keep your favorites in rotation to fend off workout monotony.
A quick YouTube search will yield results on any niche fitness interest—free workouts and pre-recorded classes. Most fitness apps—even those associated with the earlier mentioned smart equipment—offer a free trial period. Sign up and check them out; many, like iFit, offer classes across multiple interests. Class-based apps such as ClassPass can help connect you with local fitness classes that provide live zoom classes as well.
And finally, workout music. For most of us, music plays a crucial role in our workouts. You can keep it simple with that iPod Shuffle you've had forever or switch it up to an app like RockMyRun, which changes the tempo of your running music based on your footfalls or heart rate!