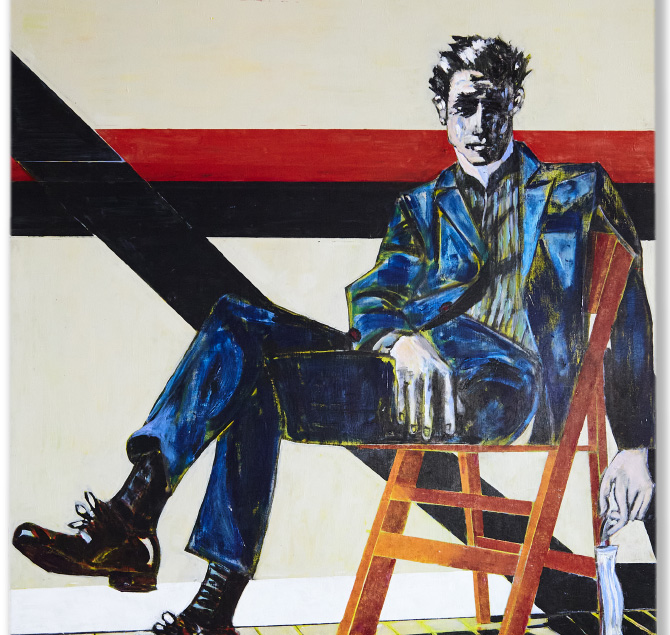 DON HERSHMAN
A Tribute To Photographer Victor Arimondi
By Elizabeth Darwen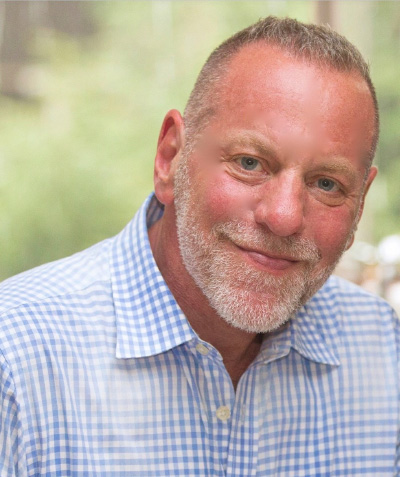 Don Hershman
Artist Don Hershman is set to exhibit his latest collection of original pieces as part of a retrospective series inspired by the late Victor Arimondi. In the spring show, Donald and Victor: Under The Influence, the inventive artist will embody his visceral need to pursue interests and creative expressions as he pays loving tribute to his former partner, who succumbed to AIDS in 2001.
Hershman's paintings will recognize Arimondi's work's unique attributes, featuring a compassionate and reflective display of our modern times as we emerge from yet another pandemic.
Born in 1954 and raised in New York City, Don received his BA in Pre-Med with a Psychology major from State University of New York at Buffalo and trained in Podiatry at the College of Podiatric Medicine in San Francisco, where he established a private practice in the early 1980s. As the painter was building his medical practice, he was also evolving a body of artwork, exploring various media in drawings and paintings, and finding his voice as an artist.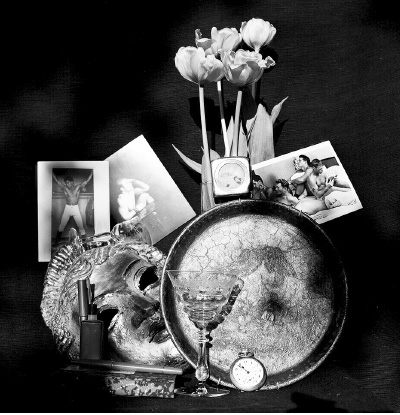 Still Life, Archival Print, 8"x8" Photographs by Victor Arimondi
CREATIVE ENDEAVORS
In 1992, Hershman was personally invited by the Spectrum Gallery in San Francisco to participate in a group show. Selling his displayed collection, confidence was gained and sequentially inspired his future creative endeavors. He went on to great accolades, including the accomplishment of having a painting win in competition at the 2019 Jury Selection at the DeYoung Museum.
Victor Arimondi was a famed Italian American model and art photographer whose unique eye and sensuous style captivated the world. At the time of his death, Hershman inherited his estate, including his vast collection of photography and art
"During our 17 years, Victor steadfastly guided and molded me. Then after his death in 2001, I became solidly dedicated to my art, his presence more powerful than ever. It's a driving force to create something that is no longer a choice for me, but a necessity," says Hershman.
"Today, I'm an active part of the art community in San Francisco, and a patron of ART SPAN and mission artists." In 2020 one of Hershman's paintings won a jury selection at the DeYoung Museum in San Francisco. "This show at the Salomon Gallery brings mine and Victor's work full circle with 20 new selected paintings from 2019 to 2021, along with a carefully curated selection of 38 photographs, taken between 1972 and 2001, four of which I interpreted into my paintings, called the D & V Series."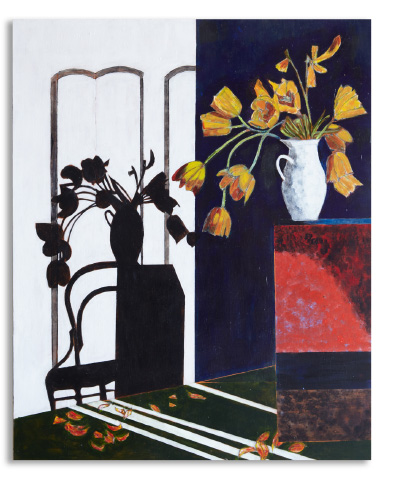 Tulips - Quarantine Series, Acrylic & Pencil on Wood Panel, 30"x24"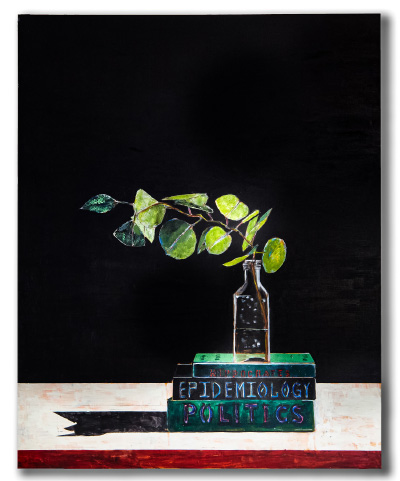 Epidemiology - Quarantine Series, Acrylic & Pencil on Wood Panel, 30"x24" Painting by Don Hershman
FOCUS ON THE WORLD
The upcoming exhibit will serve as a love letter to a luminary who graced the pages of fashion magazines including Vogue, Harper's Bazaar, and Esquire and appeared on the runway for many top designers, predominantly Valentino and Cerruti.
Arimondi's determination to turn the camera lens onto the world he saw before him led to famously shooting the likes of Grace Jones, Liv Ullman, and Norman Mailer, as well as several portraits of male nudes captured during the pre-AIDS culture of the early 1980s. He also notably focused imagery of the plight of the homeless of San Francisco's Tenderloin neighborhood suffering during the height of the AIDS epidemic. In his words, "Since I posed in front of the camera for so many years, my experience with talented photographers made me realize a way to express my inner world."
In addition to the exhibit, there will be an Art Talk with guest speaker Adam Stoltman, a former New York Times and Time, Inc. photography editor, who will be in conversation with Hershman and share remarks on the legacy of Arimondi's work.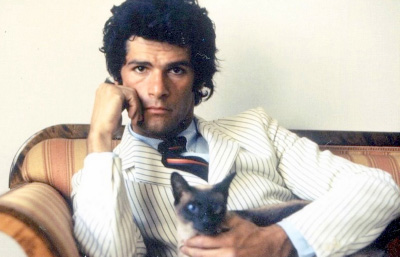 Victor Arimondi
"I first met Don a few years after Victor's passing. One of the things that struck me was the degree to which Don was motivated. It was as if he was carrying a sacred trust, to preserveVictor's work and legacy—a challenge for any surviving spouse of an artist," states Stoltman. "It is fitting that Don and Victor are showing their work together through this exhibit. United as artists, continuing to hold that space, special energy, and love."
An opening reception will occur at Salomon Arts Gallery in Tribeca on May 13th from 6 to 9 pm. Space is limited, and the event will be carried out in strict adherence to all COVID protocols. The exhibit runs through June 3rd with viewings Wednesdays through Saturdays from 2 to 6 pm or by appointment.
For more information on the Donald and Victor: Under The Influence exhibit, and Salomon Arts Gallery, visit the salomonartsgallery.com.