MIFUNE NEW YORK
A Dose Of Culinary Drama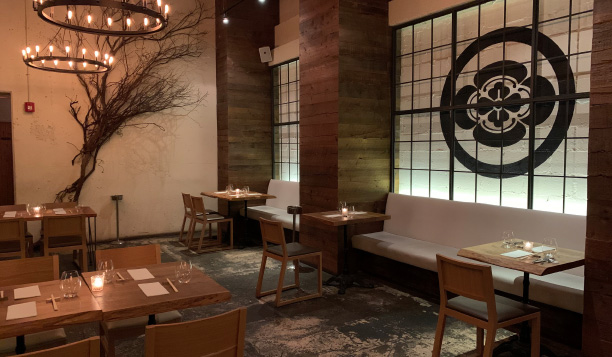 By Patricia Canole
At celebrity-named restaurants, fame is always cooking. Take Michael Jordan's Steak House, Chicago; Pronto by Giada (chef Giada de Laurentiis), Las Vegas; and Restaurant Daniel (Michelin-starred chef Daniel Boulud), New York City. And the list goes on. Jimmy Buffett, Arnold Palmer, and Toby Keith triumph too.
So why not a restaurant named to honor Japan's action hero, Toshiro Mifune, star of such classic samurai movies as Seven Samurai and Rasho-Mon?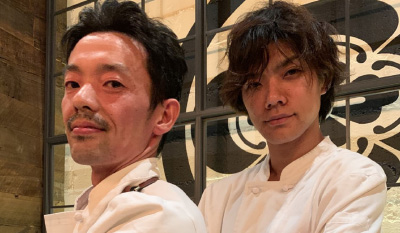 INNOVATIVE JAPANESE
MIFUNE's cast of top Michelin-starred chefs displays a level of refinement that would make its namesake proud. The restaurant is an offshoot of the well-known Paris restaurant Sola; the New York restaurant is led by chef-owner Hiroki Yoshitake. His washoku cuisine features traditional Japanese cooking that places prime importance on the land and sea's seasonal bounty. The re-imagined French techniques create innovative, artistically composed dishes. Yoshitake seeks to provide guests with a completely new Japanese dining experience.
The Michelin-starred co-executive chefs Yuu Shimano formerly worked at Guy Savoy in Paris, and Tomohiro Urata honed his skills at La Maison Troisgros in Roanne. The result is a menu full of uniquely flavored dishes that never stray far from Japanese or French traditions. The food is flush with luxe ingredients—caviar, foie gras, truffle, and foams—all making appearances on the menu.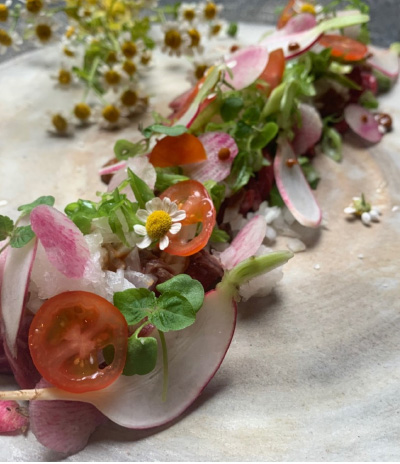 A BEAUTIFUL PRESENTATION
An excellent way to see what MIFUNE is about is to order the Chef's Tasting Menu and experience a seasonal menu based on what is fresh at the market. My fellow reviewer and I began with Porcini Mushroom Cream Soup with pistachio cream foam, with its earthy flavor yet mild enough to not overwhelm the senses. Next came a lustrous Seared Squid and Cauliflower platter brushed with soy sauce and lightly seared, enhanced with shaved cauliflower, black olive powder, and persimmon. It was addictive with an outstanding flavor at the right temperature
After a Steamed Egg Custard to cleanse the palate, we enjoyed Duck Liver Pate enveloped in a pie crust with cashew nuts, sliced fresh endive, and caramelized grapes with cheese and poached egg, which surprised and stimulated the appetite. Filet Mignon Rossini, embellished with foie gras, potato puree, and black garlic sauce, is beautifully presented (as were, in fact, all courses) and proved the global reach again at this fine restaurant. Another tempting course included Seared Scallop with Sunchoke puree and porcini ravioli wrapped in pickled daikon.
Dessert completed a special evening with a soothing ending. Gateau Opera (Kabocha Pumpkin Custard Cream) and Strawberry Compote with sorbet, proving that pleasurable French desserts are almost always going to win you over.
Highlights from the a la carte menu include appetizers such as Whiting Tempura in turnip green leaf yuzu sauce and Herb Roasted Salmon with pickles, capers, wasabi, and parsley butter. Notable entrees are Braised Berkshire Pork Belly with roasted chicory and cream cheese, Beef Tataki, Octopus Frites, and Seared Squid with Caviar.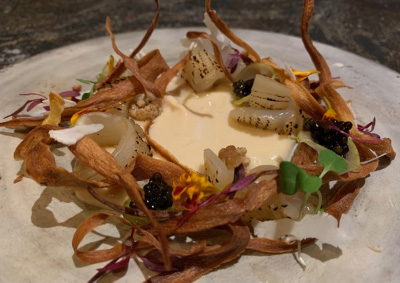 COCKTAILS WITH A TWIST
Not to be overlooked are the number of cocktails from acclaimed mixologist Shingo Gokan who brings a dose of drama to the table. A rye and koshu-aged sake cocktail called Seven Samurai arrives in a glass infused with clove and cinnamon smoke tableside. The Drunken Angel is built with Hibiki Harmony Japanese Whisky, umeshu plum wine, and shiso leaf. There's also a diverse, rotating global selection of wines available, with wine and sake pairings tailored to the tasting menu.
Although MIFUNE is one of many Asian restaurants in the city, others can't compare to the superb presentation and service. The menu is a breathtaking exercise in the depth of flavor, taste, and texture. A visit to MIFUNE is a must for 2021 but be aware you'll never get the same dish twice.
For more information on MIFUNE NYC, visit mifune-restaurant.com