Anguilla
It's A Shore Thing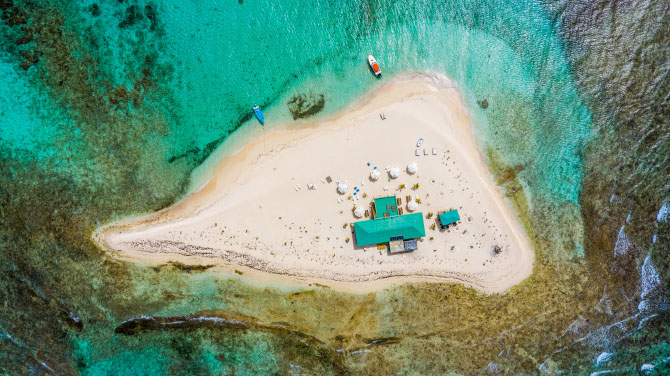 By Gerrie Summers
Editor's Note: At press time, most Caribbean islands are welcoming visitors, with protocols in place. However, there are public health procedures, most of which require travelers to produce proof of a COVID-free test. Check websites for more up-to-date requirements.
Anguilla, located in the British West Indies, is one of the most enchanting and romantic islands in the eastern Caribbean. The laid-back island is open and welcomes visitors to its shores.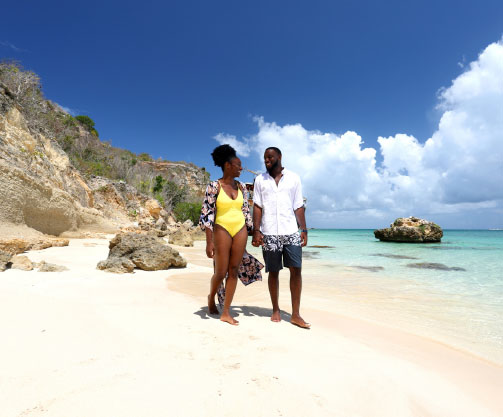 During this visit, my luxurious home was Malliouhana, Auberge Resorts Collection, perched high on a bluff overlooking three beaches: Turtle Cove, the secluded Bobbing Cove Beach, and Meads Bay. Malliouhana, the Amerindian name given to the island by the first settlers, means "arrow-shaped sea serpent." However, the island was later called Anguilla by European settlers, the Italian word for "eel."
When Malliouhana debuted in 1981, it set a new standard for luxury resorts, and now like the island, the resort is the go-to for luxury getaways. The recent restoration now boasts oceanfront rooms and suites, 17 new beachfront suites and villas, including a new two-bedroom beachfront suite on Turtle Cove, upping the total room count to 63. Along Turtle Cove, the Terrace Suites are charming, with oversized private patios and separate sun terraces, and direct beach access. Televisions are nowhere to be seen. (Hint: look inside the large mirrors! The screen is hidden there, but why both with such fabulous views outside your patio doors?)
With cabanas on the upper level, the two-tiered infinity pool is the place one can lounge and enjoy lunch and drinks delivered by attentive pool attendants. And after a day of soaking up the rays, head to the Malliouhana Spa with six treatment rooms, a full-service salon, private fitness training rooms, and its own infinity pool overlooking the crystal-clear waters of Meads Bay.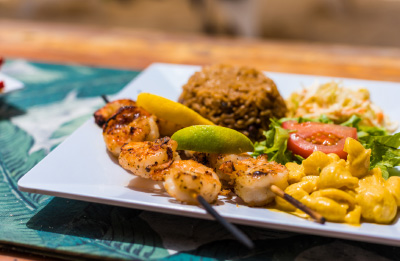 SIP & SAVOR
Celeste, a lovely open-air restaurant, is the perfect place to start your day, with beautiful views of the Caribbean Sea and delicious Crab & Avocado Toast, washed down with a Passion Fruit Bellini. Later make dinner a memorable time with Local Conch Tiradito and Lobster Ceviche. When in Anguilla, you need to try the Grilled Crayfish. It's a spotted spiny lobster, but don't tell them that! It's smaller and sweeter than Caribbean lobster. 
At Bar Soleil find comfy built-in divans or head to the terrace and enjoy the sunset as you try Caribbean red bean hummus on crispy pita or guacamole on corn chips, and sip on a rum cocktail.
Nearby, Leon's at Mead's Bay has a toes-in-the-sand modern beach shack vibe, with hammocks strung between palm trees and beach games like volleyball for fun during the day. At night listen to local entertainment on Fridays and Saturdays while savoring Caribbean dishes. Forget the Luther Burger or that trendy Chicken and Donuts Sandwich. Try Leon's signature Johnny Cake Burger and a Sorrel Punch (made with rum and house-made sorrel liqueur).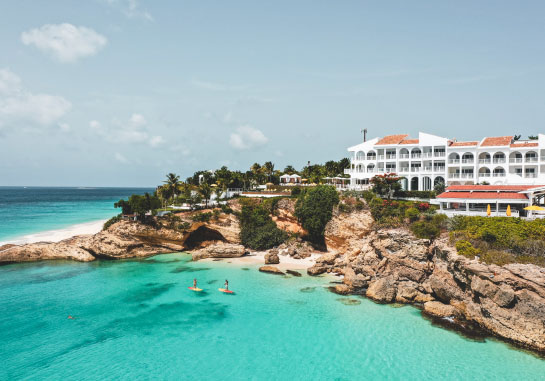 WHAT TO SEE & DO
Malliouhana offers Auberge Adventures to introduce guests to Anguilla's hidden treasures. One fun way to see Anguilla is their Beach-Fari excursion in an electric moke, (an iconic Caribbean vehicle) for a guided day-long tour of some of Anguilla's 33 beachesa.
• Our first stop was at the scenic Anguilla Arch, in the far West End, relatively unknown until Instagram and still challenging to find without local help. It's worth a visit for stunning views.
• On Sandy Ground, Elvis' Beach Bar, with its beach shack decor of university/sports team flags and a bar repurposed from an actual wooden boat, serves the Caribbean and Mexican fare, like fish tacos, or to be more island-centric, try the "goatchos," nachos with the slow-cooked local goat. Hang out with Elvis at night and try his Mammawanna shot, an herb-infused rum concoction.
• Rendezvous Bay is a great walking beach and the site of the MoonSplash Music Festival at Bankie Banx's Dune Preserve in May.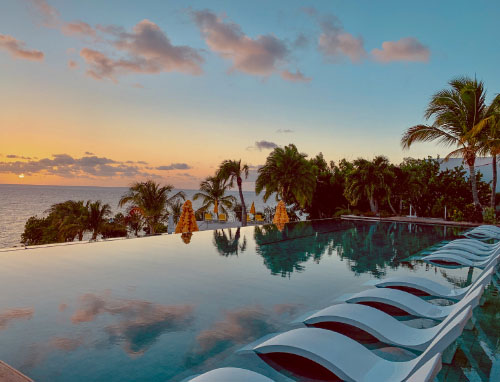 • In The Valley, Anguilla's capital, you can get an authentic homestyle taste of Anguillian food at Mabel Gumbs' tented roadside table. Known as the "Godmother of Saturday soup" and "corn soup lady," try Mabel's famous corn soup, conch dumplings (steamed, with coconut and spices), and Johnny cakes are also a must.
• Shoal Bay East is Anguilla's most famous beach, considered one of the best beaches on the island and the world. It is postcard perfect with many restaurants, beach bars, water sports, and regular dolphin sightings.
• Next stop is Da'Vida Bayside Grill in Crocus Bay. I learned about the legendary Frozen Mojito and enjoyed the seafood salad as well. Kayaks and paddleboards can be rented from Da'Vida to get you over to Little Bay, a popular place to snorkel, where the adventurous jump from a cliff into the sea.
For information on Anguilla, go to visitanguilla.com; for Malliouhana, Auberge Resorts Collection, visit aubergereesorts.com/malliouhana