TIME TO FLY AWAY
The Maldives: Travel Fantasies Can Come True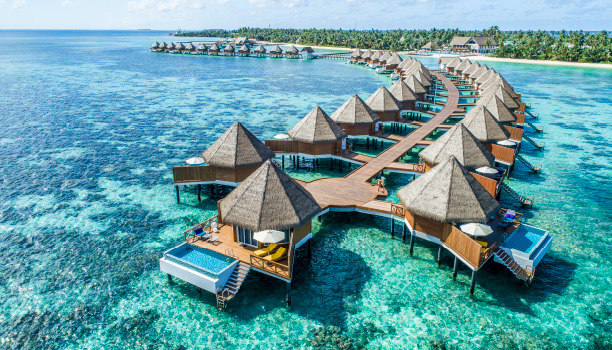 By Jenny Peters
Got your COVID-19 vaccination and feel ready to return to a reality that allows you to give your wanderlust full rein once again? We know we're not the only ones that have spent a year fantasizing about flying off to faraway tropical destinations that genuinely fulfill the "bucket list" idea; armed with our vaccines to protect us, we're ready to go.
For many of us dreamers, the Maldives is the epitome of a true paradise on earth. This country, made up of atolls (islands), is located southwest of India, near the equator in the Indian Ocean. It is one of the few places that has been open to travelers with negative COVID-19 tests (and now vaccinations) throughout 2020 and on into 2021. With most resorts located on private islands, keeping people safe and secluded has always been a part of the Maldivian Islanders' way.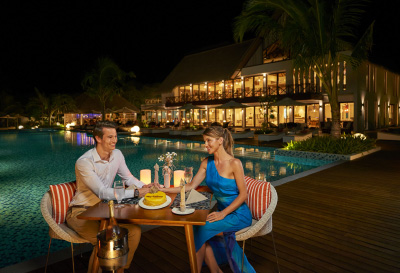 MALDIVES MAGIC
Being avid scuba divers, we came to the Maldives to see everything under the famous brilliantly blue, comfortably warm waters. Others we met were celebrating honeymoons, anniversaries, or other important life moments.
Because we wanted to experience the world-class scuba diving found there, we choose to visit two different resorts to see the diverse parts of this legendary underwater destination. But most visitors choose just one resort to call home, as spending time traveling defeats the purpose of vacationing in paradise.
As divers, the best times to journey to the Maldives (say Mal-deeves) isn't high season, which happens from January to April, when there is little rain, warm temperatures, low tropical humidity. And while that means excellent visibility under the water, it isn't when the famed whale sharks and manta rays come to visit. That's typically May to November, especially in the UNESCO World Biosphere Reserve in Hanifaru Bay near Baa Atoll.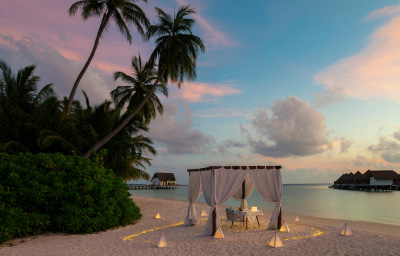 HEAVENLY HAVENS
Mercure Maldives Kooddoo Resort We went in August and had perfect sunny weather, albeit with humidity reminiscent of a New York August. But nothing else was remotely like New York, beginning with staying in an overwater bungalow at the Mercure Maldives Kooddoo on Gaafu Alifu Atoll in the southern part of the country. That gorgeous resort has a beautiful coral lagoon that creates the atoll's calm inner-lagoon water. Just drop in off your villa's deck with snorkel gear in hand and take in the beauty of it all.
The Mercure has only 68 villas, two restaurants, two bars, and a white-sand beach complemented with an infinity pool. Like most resorts in the Maldives, it has its own dive operation, with expert dive masters to guide you, whether you're a beginner or much more experienced like we are. Heading down amidst the beautiful coral and clear water, watch for manta rays, sharks, and the thousands of tropical fish that call this part of the world home. And if you'd rather sip frozen drinks complete with umbrellas and work on your tan, do it. Info: all.accor.com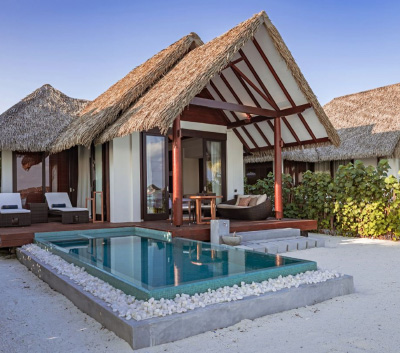 Heritance Aarah Resort Our next stop was the Heritance Aarah Resort on the Raa Atoll, a luxurious place not far from Male (and close to the Baa Atoll). Choose between an overwater ocean villa or a pool beach villa and settle in. This all-inclusive resort offers five bars, six restaurants, and room service as well, with seafood cuisine leading the way, melded with Indian, French, and Sri Lankan cuisine choices.
Lazing all day looking out over the water is tempting, especially if you've chosen to stay in an overwater suite with its infinity pool, but with so much to see in and under those crystal-clear warm waters, you've just got to jump in. There's flyboarding, sailing, snorkeling, kite or windsurfing, and jet skiing on offer here, plus scuba diving and the chance to see more underwater beauties.
Being under the water here is akin to swimming through the most incredible coral-filled aquarium your mind can imagine. Sea turtles meander by, white-tipped sharks slice sleekly past, and—if you're lucky—a school of spotted eagle rays or perhaps a silvery crowd of sharp-teethed barracuda slide into view. It's truly heavenly. Info: heritancehotels.com.
A trip to the Maldives is just what the doctor ordered after more than a year in quarantine, but we warn you—once you go, your new post-pandemic dreams will be of returning. After all, there are 245 different resorts to see there before you die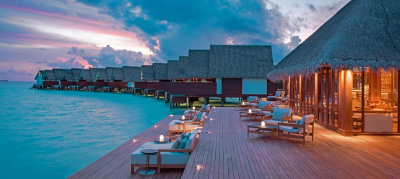 GETTING THERE
The quickest way to get to from New York City to Male, the capital of the Maldives, is to go via Dubai. Expect it to take 19 hours (or more) to get there, for you will be traveling about 8,700 miles; Emirates, Qatar Airways, and Etihad, all top-notch airlines, are the quickest choices. Upon arrival, you'll then catch a small seaplane to your resort island.

For information on Maldives, log on to visitmaldives.com