ON THE SMALL SCREEN
By Jenny Peters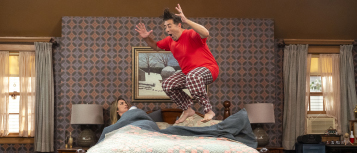 A LITTLE SEX
KEVIN CAN F**K HIMSELF
AMC
Annie Murphy, that cute Canadian who helped make Schitt's Creek into a megahit as Alexis Rose, returns to TV with her subversive sitcom in this dark comedy about a "perfect" sitcom wife. She›s a looker, her husband Kevin is a schlub; she's got brains, he's one beer short of a six-pack. So how did Annie find herself here? Is it the sex? Tune in to find out just how she ended up repeating the mantra Kevin Can F**k Himself.

LITTLE BIRDS
Starz
Based on Anais Nin's erotic short stories, Little Birds follows the sexual awakening of a beautiful, wealthy British woman who heads to Tangier in 1955. What she finds there upends her emotional life and shakes up her marriage, too. Hugh Skinner, Yumna Marwan, and Kamel Labroudi costar in this sexy drama filled with beautiful people.

SEX/LIFE
Netflix
Sarah Shahi (Person of Interest, The Rookie) stars as a sexually sedate suburban wife and mother whose life begins to unravel as she becomes obsessed with her passionate past life. This tale of mid-life crisis intertwines her past and present, bringing her longing for sexual excitement into full focus as she recalls her former lover and shakes the foundations of her marriage.

SOME BIG LAUGHS
FATHERHOOD
Netflix
Kevin Hart brings tears, laughs, and a lot of diapers to this movie based on the true-life memoir of Matthew Logelin, whose wife died in childbirth, leaving him to raise his baby daughter on his own. Melody Hurd plays his little girl and steals scenes every chance she gets. Alfre Woodard and Lil Rel Howery costar.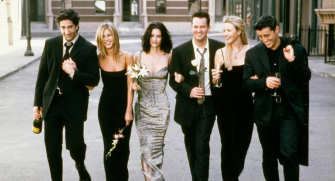 FRIENDS: THE REUNION
HBO Max
This much-anticipated Friends reunion show hits HBO Max on May 27th, so loyal fans will have all of June to watch Rachel, Phoebe, Monica, Ross, Joey, and Chandler reminisce about the old days. Friends initially aired from 1994 to 2004 but has been ever-present ever since. All six stars (Aniston, Kudrow, Cox, Schwimmer, LeBlanc, and Perry) are joined by a legion of stars, ranging from David Beckham to Reese Witherspoon, with BTS, Bieber, and Gaga turning up, too.

PHYSICAL
Apple TV+
Rose Byrne (Mrs. America) channels her inner Jane Fonda and heads back into 1980s San Diego as Sheila, a woman obsessed with working out to aerobics videotapes. As she transforms her body, she changes her life, too, in this quirky dark comedy that reminds us all that getting Physical isn't just for Olivia Newton-John.

MARVEL, PIXAR AND BEYOND
LUCA
Disney+
Pixar's latest animated feature heads straight to Disney+, this time without the extra $29.95 fee that Soul carried. Luca tells the tale of two young friends whose summer on the Italian Riviera gets wacky when their secret is threatened. When the seaside villagers discover sea monsters lurking in the beautiful blue sea, the craziness takes over in this giggle-filled PG-rated flick for the whole family.

LOKI
Disney+
The Marvel Universe keeps on expanding, this time in a six-part series all about Loki, the Norse "God of Mischief" who usually takes the second seat to his brother Thor in their Marvel cinematic outings. This time it's all about Loki, played by Tom Hiddleston once again, in a story that happens after Avengers: Endgame concludes. Owen Wilson, Gugu Mbatha-Raw, and Richard E. Grant costar in this action-packed show.

SWEET TOOTH
Netflix
DC Comics has its own universe, and Sweet Tooth draws from their comic series by Jeff Lemire, with this series all about «hybrids.» Those are half-human, half-animal creatures, which makes for some fantastic costumes in this eight-part show. Christian Convery stars as a boy who is half deer in this origin quest that happens on a post-apocalyptic earth.