OCEAN PRIME NYC
Surf + Turf At Its Best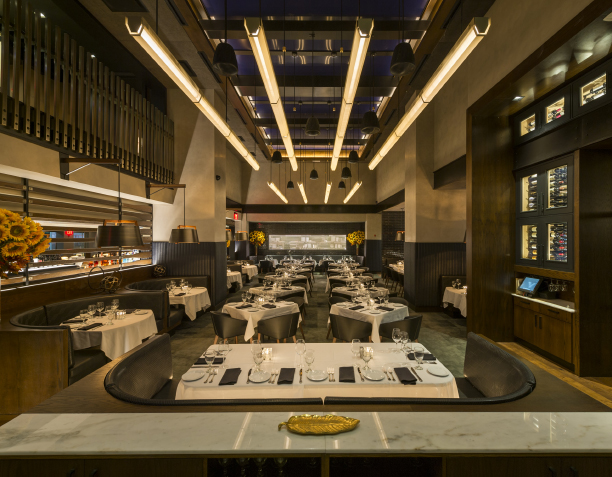 By Patricia Canole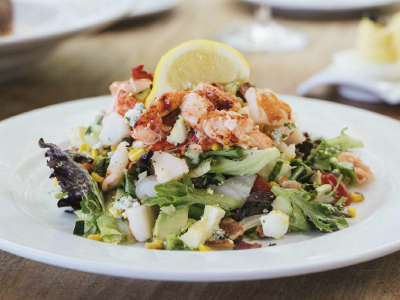 One of the city's best steakhouses is best known for seafood. It's true. Amidst the offerings at this national chain are top-notch dry-aged steaks and fresh-off-the-boat seafood fare. And unlike most similar establishments, Ocean Prime dares to be big and bold, flaunting its modern chic with sexy swagger. This is no surprise with a desirable Midtown location.
The night my guest and I dined at the West 52nd location, I was happy to see that Ocean Prime New York City had a healthy variety of salads on the menu. The Signature Salad combines romaine and other greens, tossed with plenty of thinly sliced apple, goat cheese crumbles, and walnut, bound together with a sherry mustard vinaigrette. Another favorite is the Shellfish Cobb Salad, littered with shrimp, lobster, crab, bacon, and blue cheese tossed in a lemon dressing. Or perhaps it's sushi you're craving—and trust me, there are plenty of choices. We loved the Tempura Fried Spicy Tuna with cucumber and scallion, which added zing to every bite. Other appetizers are typical steakhouse standards: A Jumbo Lump Crab Cake served with horseradish mustard aioli and White Truffle Caviar Deviled Eggs.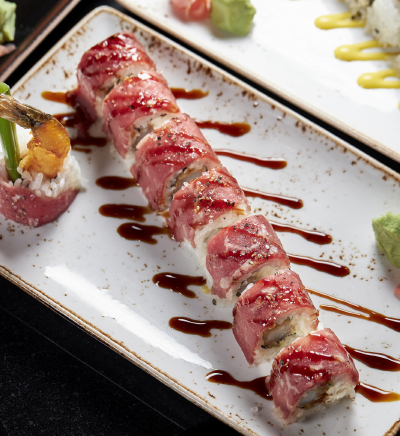 A MIX OF MEMORABLE FLAVORS
The entrees are divided into three categories—steak, chicken and lamb, and seafood. And the options here are plentiful. Try the Twin Lobster Tails with asparagus-drawn butter. Its mix of flavors makes it a memorable dish. Another standout was Sea Scallops with parmesan risotto, English peas, and citrus vinaigrette. Tender and so flavorful. Also of note are the great side dishes. We recommend their Black Truffle Mac 'n Cheese, which needs no explanation here, as this combo of flavors is splendid.
Desserts are decadent! Please don't leave without sampling the 10-Layer Carrot Cake or Chocolate-Peanut Butter Pie, And much like Ocean Prime itself, the desserts are big on flavor.
Service is intelligent, prompt, and knowing. There's a good wine list curated by General Manager and Certified Sommelier Kevin Flannery. He brings a keen eye for service and provides diners an excellent selection of by-the-glass options, including some premium pours. Cocktails are a strength here with the show-stopper Berries & Bubbles, a vodka and sparkling wine drink with berries and enough dry ice to keep the cocktail smoking for 10 minutes or more. Less showy is the solid Woodford Reserve Manhattan.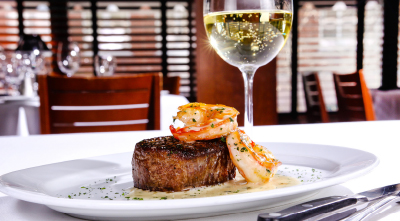 MORE EXPERIENCES
The restaurant's name says it all: prime, along with an upscale ambiance providing a sophisticated experience unequaled. Ocean Prime also offers a great place to meet friends and colleagues. Take a seat in a comfy booth or at the sleek white marble bar. Sip on a hand-crafted cocktail or enjoy a glass of wine from the award-winning wine list. Snack on Sushi, Ceviche, Lamb Lollipops, Prime Sliders, or Oysters from the raw bar. In addition to Ocean Prime New York City, there are 15 other Ocean Primes to enjoy around the country. For more information on Ocean Prime New York City, visit ocean-prime.com/locations/new-york-city.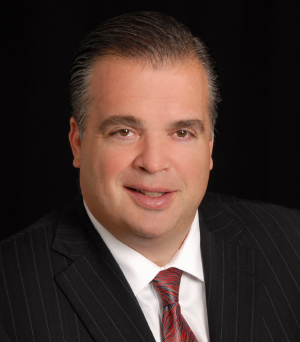 THE MAN BEHIND OCEAN PRIME
Ocean Prime New York City restaurant is one of many Cameron Mitchell Restaurants located coast to coast. It all began in a humble place—the kitchen of his mother. And it was where he mapped out his career goals which would eventually set the course for his restaurant career.
After hitting a glass ceiling at a now-defunct restaurant in his hometown of Columbus, Ohio, Cameron was more than ready to pursue his dream of running his own restaurant company. In 1993, he opened a storefront property tucked in the northwest corner of Columbus. The space would be transformed into his first restaurant, Cameron's. This contemporary American bistro wowed Columbus diners with its diverse flavors selected from across the American culinary landscape as well as its extraordinary attention to service. Cameron's was a notable success, especially when considering Columbus' highly competitive restaurant business climate. Among the raving fans were investors and developers, who were hungry for more.
It did not take long for Cameron to diversify and expand, discovering he had a gift for developing winning restaurant concepts in the process. The company that started in the kitchen began to run the table with a string of successes.