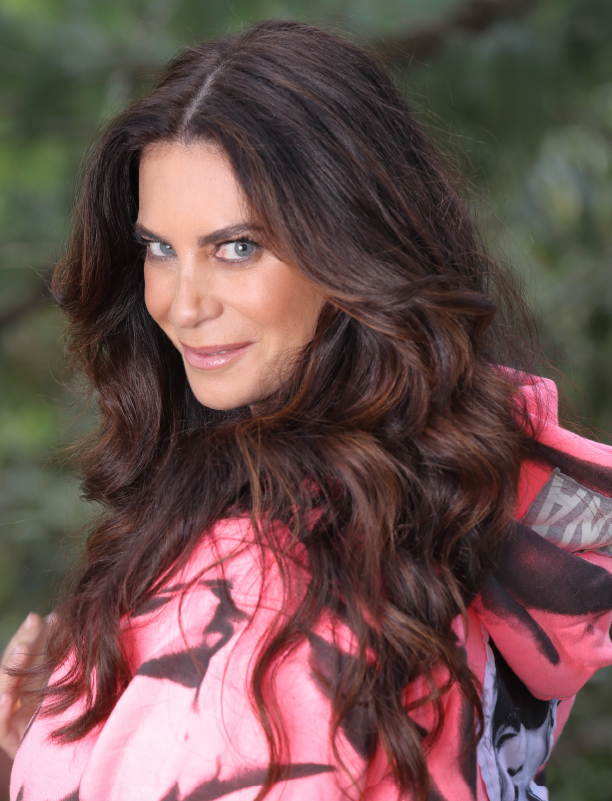 LYSS STERN
The DivaMoms Creator Masters The Art Of The Pivot
By Adam Morgan
Few women are harder working, more connected and more creative than Lyss Stern, a one-woman dynamo—excuse us, entreprenista—who created and nourished DivaMoms from an online community into a thriving conduit for moms and marketers. The 40-something mother of three has boundless energy, inventive ideas, and a proactive sense of what stylish, on-the-go moms will want and buy next.
And then came the 2020 pandemic. Her business ground to a halt, as did most efforts built on social engagement, in-person gatherings, and events. It got worse when she and her husband, Brian, a respected talent manager/producer, contracted COVID. The virus hit Stern particularly hard. She spent weeks in agony, struggling to recover while taking care of her family and salvaging her business.
COVID was a life-changing experience which I'm still experiencing," says Stern, who has been diagnosed a long hauler. While most victims have fully recovered,
she was left with fatigue, tinnitus, the loss of taste and smell, and shortness of breath no matter how simple the activity.
"It showed me how fragile life is. And not just health wise, but how you live your day-to-day: routines, habits, obligations," explains Stern. "Everything went out the window. There's no aspect of my business and industry that hasn't been affected. But what's come out of this is an appreciation for community and the communal experience. That's what I've focused on my whole career. Bringing people together, sharing opinions, thoughts, suggestions, anecdotes, advice. Creating a network where we can enjoy the common experience. COVID showed us we're not alone. We're in this together. And it inspired me to pivot."
She isn't kidding. While still struggling with COVID's parting gifts, Stern has somehow summoned the energy to launch not one but three new ventures. Kadoodle Kids, a mask-design set for children allows little ones to use their creativity and imagination
with markers, stickers, stamps, glitter pens, and other fun kid-friendly tools.
Chamama, an idea born (no pun intended) with her partner Liza Maltz, a successful doula and founder of parent-to-parent referral community (haveananny.com). Stern credits Maltz for quite literally saving her life while supporting Stern through Covid. "Liza intuitively knew what I needed throughout every aspect of my illness" recalls Stern. "I called her up last summer and said we need to make this accessible to everyone. Everyone should feel this support in their daily life."
Together, the two are launching Chamama wellness boxes—quarterly deliveries designed to give suffering loved ones a boost in spirit. Filled with "remedies for the soul," Chamama boxes include effective self-soothers like SOM sleep and Declare's "meditation mask" along with healing essentials such as supplements, CBD oils, and custom blend teas they've curated with Modest Mix and even a CD from British violinist Charlie Siem
Stern is careful to emphasize that Chamama is not a cure, but a show of care. Stern and Maltz landed on the name "Chamama" from Stern's daugther's end-of-day greeting for her mom, Chamama's home! "That's what we wanted to capture—that feeling of your person walking through the door, that feeling that everything is going to be okay. Chamama boxes are valued at over $400 and will retail for $99 with a portion of the proceeds going to Survivor Corp, the largest COVID survivor community to date.
"If we learned anything this past year, it's that life can change in an instant," says Stern. "And you need to be ready. There's no shame in changing direction. My business was built on bringing people together. That became near impossible. And so, I took a hard look at what I was doing, what I wanted to do, and what was possible. But you need to be honest, open-minded, and practical."
Her canvas has widened, and even with bouts of brain fog she still experiences, her focus and drive have helped her juggle all the balls she's thrown into the air.
Case in point: DivaMoms, Stern's long-time marketing platform. When events in the city dried up, she headed to The Poconos to Tyler Hill Camp. For two retreats now, Stern, along with Tyler Hill Camp's owner Wendy Siegel, has sponsored a "DivaMoms Getaway Weekend" that treats women to three days of spirit-lifting indulgences: morning meditation, yoga, acupuncture, cooking, hiking, wine-and-dye, campfires, gourmet dining, and energy alignment sessions with Stern's personal healer, Tara Mandy (savagebalance.com), who offers guests private sound baths and Reiki in an outdoor pavilion. There's also free time to paddleboard, nap, or just find your calm on a blanket by the lake. The three days may sound like a short amount of time, but when the moms go off the grid, even for a
few hours, it makes the world of difference! By the end of the weekend, it is so clear how this experience is necessary. Not only do the moms look different when they leave at the end of the weekend (super well-rested), they feel as if they were away for a month! Oh, and of course let's not forget the most coveted gift bags that every mom receives (worth over $1 thousand in value).
"Moms have had quite a year, and we deserve a weekend for ourselves," says Stern. "We're CEOs of our family, but we haven't had a vacation. This is it. Our weekend getaway is just what we need after months of home-schooling, lockdowns, child-care, and managing our homes. This has kept me sane," said Stern. "Being with like-minded women far away from life healed my soul in so many unexpected ways." The retreats have been so well received that they are adding to the Fall and Spring, DivaMoms, Glamas (Grandmas) and Dads retreats. The next Fall retreat which already has a long wait #lysst is October 1st - 3rd.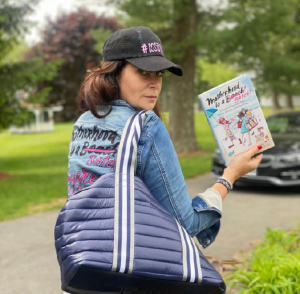 Stern's creativity and entrepreneurial instincts took hold when she was a teenager working in retail, she dove into the deep end after graduating from Syracuse University and getting her "hazing" from New York's toughest, most feared publicist and event
queen: Peggy Seagal. It was challenging work but taught her the value of the hustle. She enjoyed a thriving career, social life, and relationship with her now-husband Brian, and soon began a family.
And that's when her most extraordinary pivot began. "Before I married and had kids, I led a very glamorous Sex and The City life in New York City," Stern remembers. "I worked in PR and events with one of the toughest bosses in entertainment and was out pretty much every night, either for work or with girlfriends. But when I started my family, it was expected that you just had to give that up. I said no. I still wanted to dress up, go out, see friends, and stay social. I knew I could be the best wife and mom and still be me. And I was one of the first to identify I wasn't alone. There were millions of people just like me who could do laundry in their Louboutin's. I brought all these women together through DivaMoms."
It started small, then grew and grew! But not without incredible persistence. "I had to convince marketers my audience was worth it," says Stern. "DivaMoms helped open brands to a new kind of consumer: stylish, sexy, socially connected women living their best lives. This was no small feat—it took years, but it worked. Major products, movies, even book series like Fifty Shades of Grey were made successful because of this audience."
Marketers have come to see immense value in Stern's audience, which includes social media, events, sponsorships, and publishing (she's authored two books: Motherhood Is a B#TCH! 10 Steps to Regaining Your Sanity, Sexiness and Inner Diva, co-written with Sheryl Berk, and If You Give a Mom a Martini, co-authored by Julie Klappas). She is also working a third book as well as a secret project she will not talk about (she is superstitious) and wears her evil eye necklace or bracelet daily.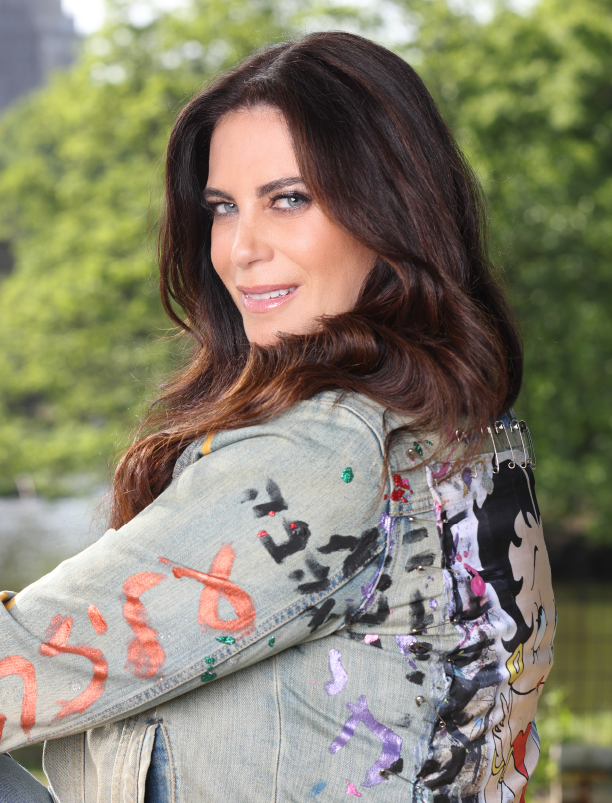 WHAT HAPPENS WHEN YOU LYSSTEN TO LYSS
From her friends and colleagues...
"Lyss Stern is the consummate bad-ass doer! She helped with my book tour and packed the joint, throwing such a fabulyss fun event with style and chutzpah!"
–Jill Kargman, Writer/Actress
"Lyss helps bring the fun and the glamour back into parenting."
–Lindsey Peers, Owner/The Craft Studio NYC
"Lyss has been an absolute joy. She is professional, creative, and hard working. Lyss is truly a rock star mom!"
–Dana Haddad, Admissions Guru/New York Admissions, LLC
Her "Mom Mogul Breakfast" became one of New York's most in-demand events with the likes of Rebecca Minkoff, jewelry designer Jennifer Fisher, celebrity stylist June Ambrose, Gilt Groupe co-founder Alexandra Wilkis Wilson, Flywheel Sports creator Ruth Zukerman, GLAM4GOOD founder Mary Alice Stephenson, super model Veronica Webb and Randi Zuckerberg.
"DivaMoms stands out for many reasons: my voice, the quality of my audience, the level of engagement, and the content I create. And through that, I've built a virtual community of like-minded women who appreciate honest, thoughtful conversations. That has served as the foundation for many bigger projects I've launched."
Lyss and her family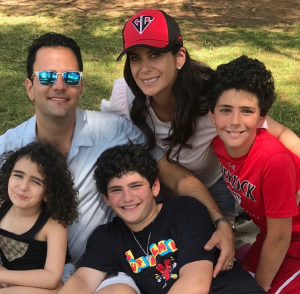 Lyss and her family
Lyss and husband
© Heidi Green Photography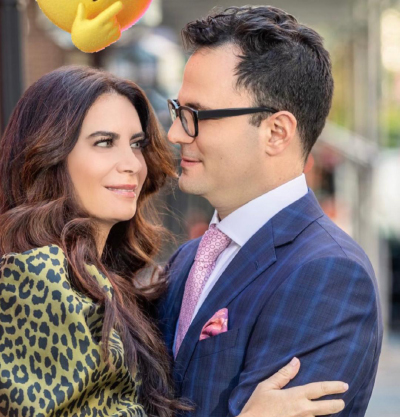 Though she's often credited with being one of the original "influencers," Stern loathes the term. "Yes, I helped pave the path, but there's a lack of genuineness now throughout the industry. I really think of myself more as a connector and an advocate for emerging brands. I love to support other mom-owned businesses and honestly get such a thrill when I can help someone reach a status of sold out or fully booked."
What differentiates Stern from those who have followed is her honest voice, humor (her posts on Facebook are the funniest you will see in your day), empathy, and heart. "After this year, I think encouraging compassion and kindness is so important. People are suffering in so many ways," says Stern. "Thankfully, love and care are contagious, too. And it's so easy. Make a call. Write an email. Send a care package. Volunteer. Spread messages of hope and passivity online. Put that love out into the world. You'll be surprised how quickly it comes back to you."
Lyssten to Lyss and choose gratitude!
To keep up with Lyss Stern follow her @diva_moms and divamoms.com