TIME OUT WITH…
Carey Macaleer, Aline Pilates
By Bailey Beckett
It can help your posture. Improve breathing. Perfect flexibility. Clear your mind. But riding horses? That's the best-kept secret among equestrian enthusiasts who are preparing for another summer in the Hamptons, Upstate or other country-like locales.
No instructor is more qualified to get them ready than Carey Macaleer, the owner and founder of Brooklyn hotspot Aline Pilates. Bursting with energy, enthusiasm, positivity and focus, the fitness dynamo has made a name for herself training athletes, celebrities, elderly clients and loyalists. And we can now reveal, horse lovers.
"Riding and Pilates makes a perfect partnership," says Macaleer, who often travels outside the City to meet with clients—and their horses. "Pilates' focus is on the core connection. We ask our muscles to hug the midline and pull everything inward. It's the same focus that equestrians need to do while riding."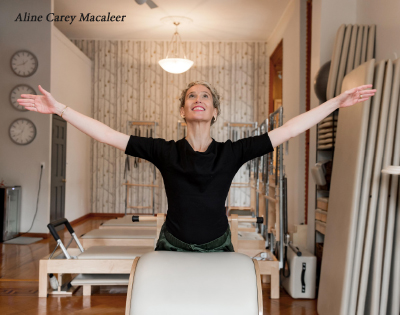 A BALANCING ACT
We caught up with one of her clients, Gillian Dubin, who has found the practice especially effective. "Riding takes an incredible amount of core strength, stability, balance of yourself and the horse," says Dubin, who trains with Macaleer in the Hamptons (and Brooklyn). "Pilates is centered around those principles as well. Additionally, it really helps put you in touch with your body in a way I never imagined possible. That can translate into anything, but I can target specific areas of the body that need strengthening."
Working with Macaleer has made a big difference for Dubin and all of Aline Pilates clients. "If you can find a trainer you like, you should be able to connect what works for you as a rider with Pilates. I got lucky with Carey, she was a quick study in what would help me, and we got right to work," notes Dubin. "We worked on improving my balance and increasing my mobility both of which have helped my riding a great deal."
According to Macaleer, improving posture is one of the most important parts of preparing the body to effectively handle the horse. She focuses on specific areas, like shoulders, abs and feet. "The shoulder girdle stabilization is key," says Macaleer. "Being able to find the connection to the muscles in your back will give you more power to control the horse."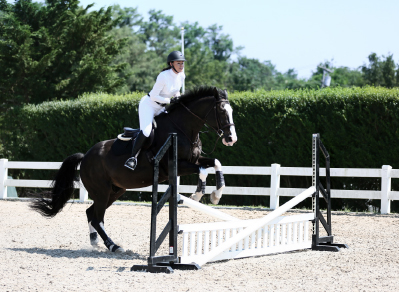 GETTING TO THE CORE
Training your core connection is also part of the practice. "Pulling the abs in deeply gives you the power and strength to lead the horse," says Macaleer. It helps to stabilize the hips which are a driving force in moving the horse in the correct direction. I ask clients to envision the navel pulling back to the lowest part of your spin or pants line."
Finally, Macaleer focuses on the feet, making sure clients distribute their weight evenly so one heel isn't stronger than the other, which can help thighs to rotate properly. "That's so important, because it gives you power to direct the horse," says Macaleer.
In addition to on-site appointments, Aline offers in-studio training, observing all health precautions and safety measures, as well as a robust online menu. Clients can Zoom group classes, one-to-one training, and a video library of past workouts on the studio's website.
Horse-set or not, Carey Macaleer's Aline Pilates will set you in the right direction.
For more information on Aline Pilates, visit alinepilatesnyc.com