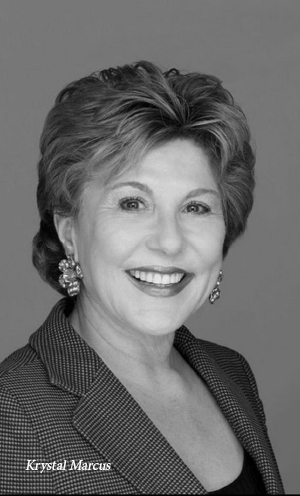 The dynamic growth of the South Florida landscape is ushering in a new era of luxury. Notable real estate advisor Krystal Marcus of ONE Sotheby's International Realty is leading the surge with her luxurious new listing Waldorf Astoria Residences Miami. Limitless views, extraordinary architecture, and the timeless brand of the exclusive property offer spectacular ownership for generations to come.
With over 20 years of experience in the luxury real estate market, Krystal is the foremost expert for new development. Giving a unique approach and a proven track record alongside expertise, her unparalleled connections and keen assessment of a client's needs make her one of the region's most successful brokers.
A GROWING MIAMI MARKET
It's just as beautiful inside: wood flooring, imported from Austria, is used throughout the residences. The striking lobby has been designed with vaulted plaster ceilings with architectural concrete walls, silver Travertine floor inlaid with Austrian white oak and an elegant fireplace.
The sought-after industry expert is launching the property with Property Markets Group, Greybook Realty Partners, and S2 Development. Envisioned by concept designers Siger Suarez Architects, in collaboration with Carlos Ott, they have created an iconic structure in Downtown Miami. Waldorf Astoria Residences Miami will rise 100 stories with the shape of nine spiraling offset glass cubes. Residences feature interiors by award-winning design firm BAMO and floor-to-ceiling glass windows with stunning views of Miami and the Atlantic Ocean. Residents will receive Waldorf Astoria's extraordinary services and signature amenities.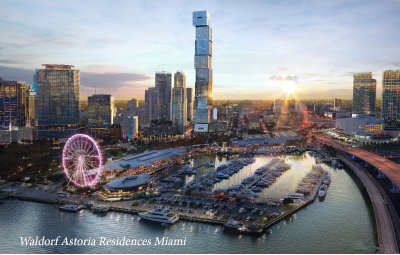 The acclaimed development will be the tallest residential tower south of New York City and set a new architectural benchmark, further elevating Miami's position as a leading global city. Waldorf Astoria is one of only a handful of 5-star hotel brands worldwide, known as the pioneer of white-glove service dating back to 1931.
The rich history is as important as the qualities Krystal brings to the Miami real estate market. Throughout the years, she has assisted numerous high-profile clients with impressive oceanfront properties. As a leading Broker Associate with One Sotheby's International Realty, she has sold more than $1 billion in properties during her tenure.

Krystal's access to the latest properties and her professional and personal manner encompasses the quality of her services. Info: Residences start at $1 million.
For more information on Waldorf Astoria Residences Miami and other properties, visit onesothebysrealty.com/67183-krysal-marcus