THE NORTH FORK
Long Island's Newest Renaissance
By Kristen Oliveri
The North Fork was once the hidden gem of Long Island's East End. Known most prominently for its wineries, farms, and its agri-tainment business—a term fondly used for harvest festivals and outdoor farming activities—this region is embracing a new-age renaissance..
Many city dwellers, hospitality, food, and beverage veterans have left busier lives behind to seek solace in the land and sea while hanging a few new shingles up in the North Fork along the way. Others who have ties to longtime North Fork businesses have rebranded iconic brands to reach a wider audience and pivot businesses to allow for flexible experiences in our new world.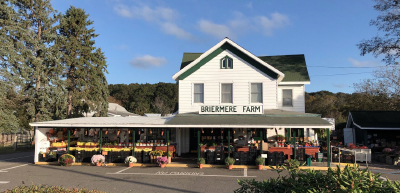 EN ROUTE
If you're planning a trip to the North Fork by car, plan to stop at Waterdrinker Family Farm & Garden in Manorville along the way. This family-owned and operated farm hosts two major festivals throughout the year, including a tulip and sunflower festival. Other roadside farm stands beckon visitors with their fresh bounty in summer months and worthy of countless pitstops. Those seeking pies can choose between Briermere Farms, Wickham Fruit Farm, or Country View Farm Stand, and ice cream fanatics can head straight for the berry-based treats at Patty's Berries and Bunches.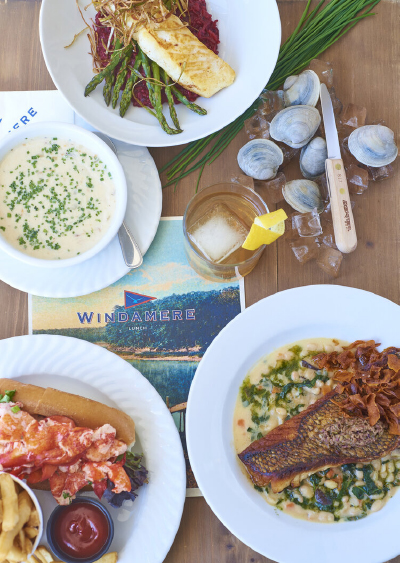 SIP & SAVOR
Newly re-opened Peconic Bay Winery, led by owner Stacey Soloviev and general manager Ken Cereola, offers a variety of options for summer guests. This hospitality-forward winery opened its doors to the public in mid-May along with a farm stand on property that provides oysters from Harvest Moon Shellfish, wine, local beer, flowers, and dozens of locally produced items. The owners are deeply connected to giving back and working with the North Fork community, so much so that one Thursday a month, they donate their property to CAST (Community Action Southold Town) for their drive-in movie nights.
Terra Vite Winery and Vineyard, formerly Diliberto Vineyards, opened its doors this past Memorial Day weekend with new owners and North Fork natives Greg and Jacqui Goodale. The winery has joined forces with Little Ram Oysters to launch a dedicated oyster bar on property that offers shucked oysters on the half shell along with a rotating selection of their signature mignonettes and additional shellfish specials. Terra Vite is hosting a "brine and wine" — a step-by-step oyster shucking class including a hands-on demonstration and a curated wine pairing on the third Thursday of each month, running from mid-June through November.
If destination dining is on your list, be sure to include a visit to The Windamere restaurant in Mattituck on the grounds of Strong's Marina. This fourth-generation family business has expanded its hospitality capabilities beyond its marina and water club with the launch of its year-round restaurant. Chef Bruce Miller curates the waterfront dining experience. He caters to both the local community and visitors looking to immerse themselves in the local cuisine of the North Fork. With its renovations complete, the restaurant offers a variety of outdoor dining options, including formal dining, an outdoor bar with craft cocktails, and casual picnic tables for grab-and-go items and small bites that are perfect for child-friendly meals out.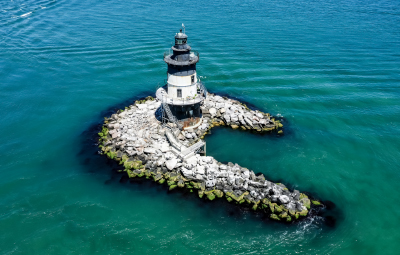 TEATIME
Looking for a reprieve from the wineries? Be sure to book an afternoon tea at Special Effects Salon & Tea House in Greenport, a perfect stop for a lady's lunch, spa day, or a quick tea or coffee break. The mother and daughter team of Debbie and Victoria Schade are continuing to evolve their offering at the salon and tea house with the addition of a permanent tea stand. Visitors can swing by for a casual cup of tea or coffee and spend time outdoors playing board games or snagging the perfect East End photo op. In addition to serving a formal high tea six days a week, Special Effects offers exclusive private tea parties for small groups outdoors. In addition, there are curated art shows every other Thursday throughout the summer, complete with live music.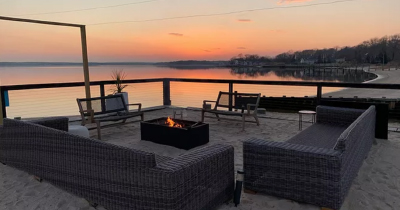 STAY
While the North Fork is well known for its quaint B&B scene, a few boutique hotels offer a wonderful alternative for lodging. The Aqua Beach Hotel by American Beech Group is a refurbished motel transformed into a small-scale resort designed by Alex Vinash. This Aquebogue-based hotel has recently unveiled its two beachfront suites with oversized, luxurious bathtubs. Guests of the hotel have access to the private beach as well as the property's dockside lawn and garden, complete with a lounge area, beach chaises, hammocks, and croquet. Another great option is the Lin Beach House in Greenport that offers chic, retrofitted rooms within an old Victorian home in the heart of the North Fork.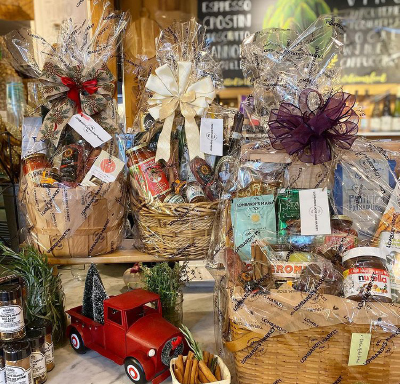 PACK A PICNIC
Another great thing to do while visiting the North Fork is to have a leisurely summer picnic. Whether on a beach, boat or in a backyard, many places create custom, local experiences. A North Fork Affair offers full lunch and dinner spreads (paired with wine and dessert) that are ready for at-home, boat, or beach picnic outings.
Another great option is Lombardi's Love Lane Market in Mattituck, where caterer Lauren Lombardi can whip up everything from meat and cheese platters to custom meals like a decadent, gourmet macaroni, and cheese. And tucked right around the corner from Lombardi's is Agora The Little Greek Market. Be sure to pepper your picnic basket with homemade, ready-to-eat spanakopita, imported cheeses and olives, bite-sized baklava, and other Greek baked goods.
Once that basket is complete, head to one of the North Fork's countless beaches (Kenney's or South Harbor, to name only a few) and breathe in the stillness and immeasurable beauty of the land and the sea.
If time allows, stay to watch the sunset. You'll thank me later. 
For more information on Long Island's North Fork, visit discoverlongisland.com