WINVIAN FARM
Natural Beauty In Nearby Litchfield
By Irvina Lew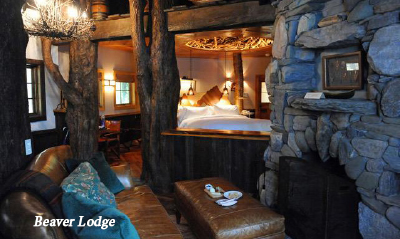 Even as the world feels more secure regarding pandemic precautions, most of us prefer traveling close to home, avoiding crowded places and knowing that the venue maintains all safety measures.
Winvian Farm is perfect for the times; it's an exceptionally idyllic Relais & Chateaux affiliate in pristine Litchfield Hills, about 100 miles (a two-hour drive) from the Upper East Side.
At Winvian, each of the eighteen unique cottages on the 113-acre working farm was designed by one of fifteen architects who let their creative-spirit soar, took advantage of bucolic woodland or pastoral views and/or incorporated sustainable elements, such as natural stone, reused barn beams and trees, in the individualized structures.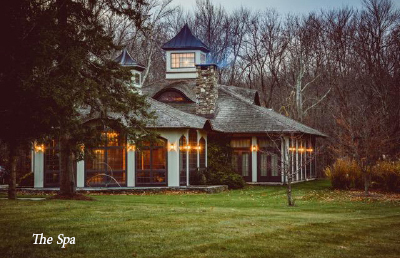 WHAT'S YOUR WISH?
What are your druthers? A rustic log cabin? A treehouse, greenhouse or lighthouse? Mark Twain's book Connecticut Yankee in King Arthur's Court inspired a medieval cottage, and an authentic beaver dam is installed as an over-the-bed centerpiece at Beaver Lodge.
Five lodgings are dog friendly; three are clustered for couples traveling together; and, one, Camping Cottage, is handicap accessible. Colonial history buffs choose the nineteenth accommodation, the Hadley Suite, a three-room, second-floor suite in the original 18th-century Connecticut clapboard Seth Bird house
While each cottage has its singular character; all offer comparable comforts: a gracious size, from 900 to 1250-square-feet; radiant-heated bathroom floors; double vanities; an oversize Jacuzzi tub; a two-person rainfall steam shower; a screened porch; bikes at the doorstep; and convenient parking.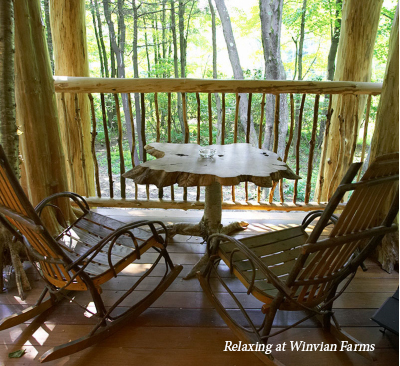 RELAX & RENEW
I chose Stone Cottage, with its bold and beautiful boulder walls and two wood burning fireplaces, that rise to the cathedral ceiling and divide the living room from the bedroom; a wall of upper windows views the forest, even from the deep, jetted-tub and the oversized tiled shower, with its long bench.
The raised two-steps-up sleeping area, features a huge, custom-crafted bed facing the fireplace with a thick, planked-wood headboard, a horizontal board that extends out to create side tables and a wide, foot board/bench. Alongside it, the wet bar features a stone sink installed within a boulder and a custom-crafted desk. The amenities are typical to all accommodations: an ice maker and refrigerator, a Nespresso coffee maker, Harney & Sons tea service, a hair dryer, lighted make-up mirror, iron and two umbrellas.
The 5000-square foot, stand-alone spa uses reclaimed barn beams, steel and metal. Rebecca, my talented aesthetician, greeted me at reception, showed me the large, window-walled lounge and led me to the ladies' locker room and one of the six treatment rooms. Two among them house twin massage tables, wood-burning fireplaces, with seating, plus French doors. Skin treatments incorporate high-end French facial products, either Biologique Recherche or Yonka, (which I have long favored and which Rebecca incorporated into my moisturizing facial).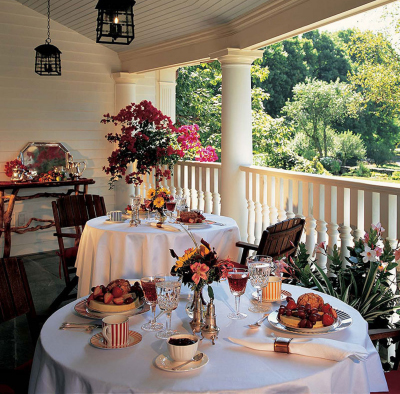 A DINING PLEASURE
Dinner is at a gastronomic level worthy of its AAA Five-Diamond restaurant status. Executive Chef Chris Eddy, a protégé of two of my favored Michelin-starred chefs, Alain Ducasse and Daniel Boulud, serves upscale farm-to-table cuisine, with house-made items sourced from produce grown on the property's three-acre, four green-house working farm, which supplies the kitchen for about 70 percent of the year.
The wine list offers 350 labels and the prix-fixe menu includes three choices each for appetizers, entrées and desserts. The menu stars the best regional ingredients. Chef's Amuse Bouche was an extraordinary smooth paté atop a grilled bruschetta served with a mini-cup of sun-choke purée with a crunchy topping. My friend and I ordered identically: a house-made Garganelli "all'Astiche," a tubular, ridged, egg pasta topped with chunks of tender, poached Maine Lobster and Tenderloin of Beef and shared three creamy desserts: a Winvian Tiramisu, with mascarpone-coffee filling within lady fingers; a Chocolate Mousse with Caramel, and a Vanilla Chantilly.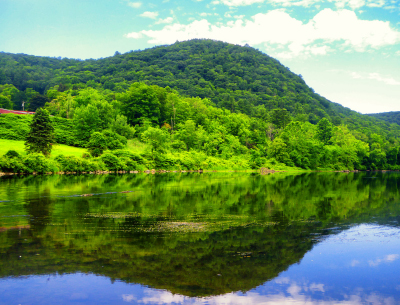 Breakfast the next morning arrived with fresh berries served on a plank with house-made croissants, apple bread, jam and homemade butter. My golden omelet was filled with red peppers, mushrooms, and cheddar, instead of mozzarella, and topped with fresh herbs.
Did I mention that the gracious staff is very helpful? And, there are a multitude of activities: private cooking lessons; wine tastings, fencing, yoga, croquet and seasonal swimming and hot air balloon rides. There's biking and hiking on property and in the adjacent, 4000-acre White Memorial Foundation park.
IF YOU GO
There's helicopter and charter flight service, but most guests drive; if you don't, take Metro North to Waterbury, CT (2 hours 20 minutes) and ask Winvian to arrange for the 20-minute car service transfer. Then, reserve access to their Volvo 2020, with or without a chauffeur, for local sightseeing.
For more information on Winvian Farm, visit winvian.com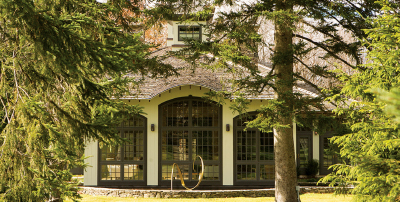 DRIVING LITCHFIELD HILLS
The unspoiled scenery along the curvy, rural roads in the Litchfield Hills are a delightful place to wander; plus, these country roads lead to magical places: browse the Village Green (Litchfield); shop for antiques and go to a brewery (Kent); visit the Institute for American Indian Studies and go bird watching (Washington); taste wines at Hopkins Vineyard Winery or shop at J. Seitz (New Preston); plant-shop or enjoy 10-acre gardens at White Flower Farm (Morris) or attend a chamber music concert (Norfolk). If need be, there are more affordable accommodations, close enough to take advantage of Winvian's Spa and fine dining.