LIMANI
No Passport Required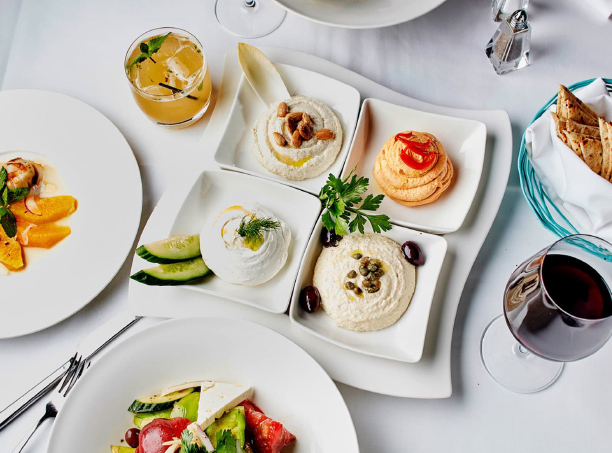 By Patricia Canole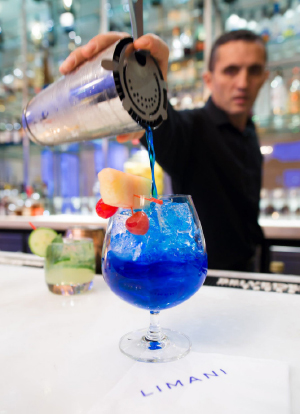 We have much to be thankful for when it comes to Ancient Greece: Education, medicine, philosophy, government and, of course, the Olympics.
And while it can be said the pillars of Western civilization have been to the Greeks, little has changed in their culture. The same can be said for Greek cuisine. After all, why alter perfection. At the core of their Mediterranean cuisine is olive oil with dishes flavored with capers and lemons, proving that there is perfection in simplicity in a complicated world.
AEGEAN PARADISE
So, on a late-spring evening, there was nothing I craved more than lightly-prepared seafood at Limani. How fortunate I was to revisit again. With a sensual feel of the crystal azure waters of the islands, the dining room sublimely captures the Aegean perfectly. You might have to remind yourself this is not a Greek taverna but rather a Rockefeller Center restaurant.
Opened in 2014, the restaurant continues to satisfy the palates of New Yorkers and visitors alike. Executive Chef/Partner, M.J. Alam executes a menu highlighting authentic Greek cuisine. Drawing on the Greek tradition of meze, every dish is served family-style. "I believe sharing is happiness, and our traditional but modern approach shines through." A specialty of the house is the tender grilled sashimi quality octopus that is ladled with flavor. "My approach is simplistic," Chef Alam continued to explain. "I only use light oils and hand-picked ingredients when preparing dishes so that Mediterranean flavors truly stand out."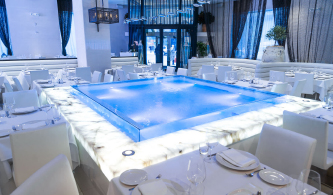 The sprawling and dramatic 8000-square-foot airy dining room evokes a summer feel created by soft blue lighting, white tablecloths, with seating encompassing a blue reflection pool. Close your eyes and you will sense the Santorini spirit.
For starters, an order of Spanakopita, a savory phyllo dough pastry stuffed with spinach, scallions, dill, and feta or the sashimi-style Tunisian Grilled Octopus will set in motion this journey. To most Greeks, it's comfort food and both are outstanding examples of the quality menu found at Limani. Satisfy your adventurous spirit with the Kolokithi (paper-thin crispy zucchini chips with kefalograviera cheese and tzatziki), or Horta (a mix of dandelion, escarole, and Swiss chard). Always a sure winner is Stuffed Calamari as well as Greek Meze with pita bread.
Chef Alam takes delight in finding new and rare discoveries that lead to spontaneous culinary creations, which result in seasonal surprises, much to the delight of Limani's devoted patrons. His mantra has always been "stay true to the Mediterranean flavors so that fish is the star of the show."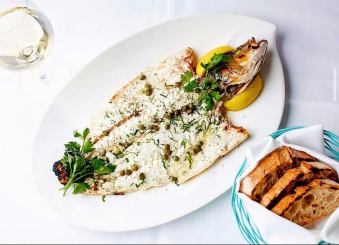 SURF & TURF AT THE READY
An attentive and knowledgeable staff will guide you through the fresh catch of the day and specials. Everything is prepared to your liking in a variety of traditional ways such as grilled, baked in a salt crust or served sashimi style. Specialties range from the rare to the more well-known species such as Loup de Mer, Dover Sole, Black Sea Bass, Pompano, and Red Snapper. Whichever whole fish you've chosen, it'll be brought to the table and portioned while you watch—and ample enough for a party of two.
Meat dishes are also exquisitely prepared with a choice of dry-aged cuts such as the Cowboy Steak, Veal Chops, Filet Mignon, and not to be overlooked are the popular Lamb Chops always succulent to the taste and which my guest and I genuinely enjoyed. To ensure an authentic experience, Limani offers a vast selection of fine Greek wines ranging from dry whites and rosés to full-bodied reds.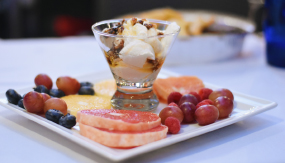 SWEET SENSATIONS
No visit to a Greek restaurant is complete without Baklava for dessert. Brimming with almonds, walnuts, cinnamon, and layers of phyllo it is smothered in honey syrup. Truly a sweet tooth delight. Of course, there are other traditional sweets to consider including Galaktoboureko (milk semolina custard wrapped in phyllo), and Karidopita (a dense rich walnut sponge cake soaked in honey syrup and served with honey lavender ice cream).
Here's my thought for today: For an escape from the concrete jungle to the warmth of the Greek isles, Limani will fit any itinerary. Even better, go with someone you love and think of it as a quick romantic getaway.
For more information on Limani NYC, visit limani.com