Sola Pasta Bar on West Broadway is a glass-front modern eatery nestled on a cozy corner full of vintage pre-war buildings—but most importantly, it lives up to its positive review on Yelp. The pasta shapes are many, and they are all freshly made on the premises; if you close your eyes while eating here, you will swear you are in Southern Italy. Sola offers arguably the most authentic pasta experience in all of Manhattan—and that is saying a mouthful.
When you visit Sola Pasta Bar, be sure to sit in one of the flower-covered sidewalk cottages which resemble small greenhouses. So romantic are these enclosures that they could be the ideal spot for a marriage proposal!
A GOLDEN TOUCH
At Sola Pasta Bar, you can get all the classics, including Rigatoni All'Arrabbiata and Tagliatelle, in several styles (including plain butter or tomato sauce if you have a child dining with you). But you can also venture out into super adventurous territory by trying their most famous item—24K Gold Spaghetti with squid ink spaghetti, sea urchin, Calabrian chili, and 24K gold leaf.
Chef/owner Esther Valcarcel reveals: "The dish was (created) for customers who request seafood pasta over a meat or vegetarian dish. Now we have regular diners who specifically request the 24k Spaghetti on a weekly basis. The secret to the dish is primarily the ingredients we use—high quality, fresh sea urchin and the special seafood bisque we prepare in-house."
Valcarcel went on to explain the beautiful presentation has made it even more popular. "We've seen the 24K Gold Leaf used before—but never in a pasta dish—so we thought this would be a one-of-a-kind offering and signature dish at our restaurant. Since adding it to our menu, we have been pleased with the overall positive response."
Besides the 24K Gold Spaghetti, Valcarel tells NYL that other standouts include the Tonarelli Cacio e Pepe (Pecorino Cheese & Black Pepper) and the recently added Rigatoni All'Arrabbiata (Tomato Sauce, Basil & Calabrian Chili). "We tried different recipes, different executions, different products until we reached what we feel is 'perfection' and unlike what you find on any other pasta menu."
Mangia!
Valcarel's career began as a TV Producer in Spain, but she eventually resigned to dedicate her career to the kitchen. Soon after moving to New York, she opened Sola Pasta Bar with her husband, Nicola, and their partner Simone. "I do not have any official culinary education, but since I was a child, I have always loved cooking.
"Then, in the 90s, I met my Italian husband Nicola, and his mom was the one who prepared me for the role I have today. She was passionate, romantic, and creative in every dish she was preparing, from breakfast to dinner, and that's what I carry over to the restaurant today. I add love to every dish."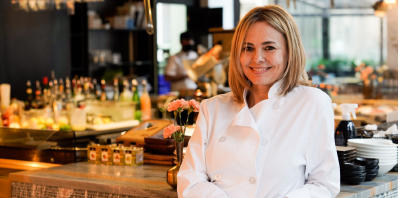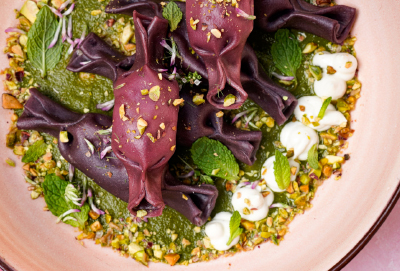 FROM CROQUETTES TO CANNOLO
What dishes would I recommend? Their Burrata E Prugna is a heavenly soft six-ounce slab of fresh burrata served with grilled plum, rosemary, honey, and almonds. I then literally swooned as I shared an order of the Crocchette Di Pollo, three soft organic chicken croquettes resting in satisfying homemade jalapeno mayo. Next up was the aforementioned Rigatoni All'Arrabbiata, consisting of fresh tomato sauce, Calabrian chili, fresh cherry tomatoes, and fresh basil. It is a must for lovers of al dente pasta who love fresh, chunky tomato sauce with a kick. I also enjoyed the Tagliatelle Al Tartufo Nero a great selection for those who love a rich cream sauce (referred to as Parmesan Cheese Fondue on the menu) and numerous shaved slices of truffle.
For dessert, Sola's Cannolo Siciliano are legendary but don't skip the Affogato Al Tartufo, which consists of cocoa powder-covered homemade chocolate ice cream sitting in a bath of delicious cold espresso—or perhaps try the Cheesecake Al Arancia E Pistachio (deconstructed orange cheesecake) which is undoubtedly a creative and satisfying dessert. Many Sola guests go for the $95 pasta tasting, consisting of five half portions (including the famous 24k Gold Spaghetti). This special provides more than enough pasta for two.
For more information on Sola Pasta Bar, visit solapastabar.com