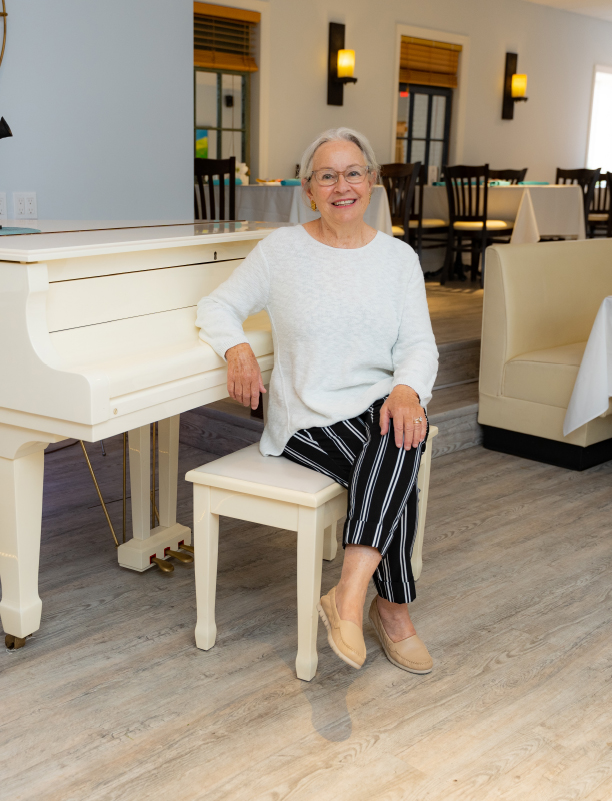 DEDE GOTTHELF
A Look At The Woman,
Southampton Inn & Her Hamptons
By Patricia Canole | Photography Sean Zanni
With a celebrated career in real estate and finance, you will now find Dede Gotthelf successfully ensconced in the hospitality business. The proud owner of Southampton Inn on Long Island's East End is happily devoted to the desires and needs of her loyal guests.
Well-known and well-respected among her peers and those in the hospitality and business communities, Dede has been the go-to woman who has always graciously given her time, attention, and resources to a myriad of local causes and worthy charities. So much so that she was honored as one of Long Island Business News' Top Women in Business last year.
LOCATION…LOCATION…LOCATION
Dede has been overseeing the Inn since 1998. Built in 1973, the Inn is a fixture in the heart of Southampton Village and offers guests elegance and comfort with 90 well-appointed rooms. In addition, the Inn includes a heated 50-foot outdoor pool, all-weather tennis court, ballroom, meet-up rooms, and private gardens. If that isn't enough, there are also plenty of green spaces for croquet and lawn games.
During the past four decades, Dede has taken on unique challenges such as being a significant part of one of the first waterfront condominiums at Battery Park City; assembling the land and site planning for the first Planned Development District (PDD) in Southampton; and repositioning the Southampton Inn,
International Plaza, and Claude's restaurant in the historic Village of Southampton.
During the early days of COVID, she opened the Inn to house essential workers from Stony Brook Southampton Hospital. Strictly following CDC guidelines, the Southampton Inn continues to offer family- and pet-friendly accommodations and is also known as a prime wedding venue as well as a much-sought-after location for corporate events. The Hamptons getaway attracts countless locals and visitors alike who come to explore the beautiful nature and culture of the East End all year long.
We caught up with Dede Gotthelf recently to learn more about her fascinating story.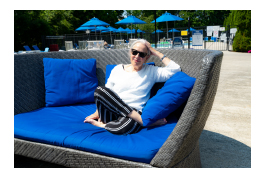 Tell us more about your successful financial/real estate career.
As for finance, after graduating from a formerly all-men's college (one of 10 women in my class the first year), I was offered a job in the Global Credit Training Program at Chase Manhattan Bank. "Life After Chase" included a stint overseeing $1 billion of urban renewal projects for the New York State Urban Development Corp (now Empire State Development); a Directorship at Julien Studley in investment sales; and a partnership in a Washington DC real estate development company opening an office in New York City. And then I formed Catco Group Inc., a real estate development, brokerage, and consulting company in the Northeast.
What is it about Southampton that led you to move there?
My parents purchased a fisherman's cottage in 1951, realizing that Nantucket was too far away from NYC for frequent commutes. So, I have been spending weekends, summers, holidays on Eastern Long Island my entire life. I officially became a resident of the Town of Southampton around ten years ago when the children were off to colleges and the Southampton Inn and other real estate projects offered full-time employment!
It has been a remarkably good change. Southampton offers natural beauty, friendships, recreational opportunities, excellent local grocery and farm-stand shopping, as well as unique boutiques, museums, repertory theater, concerts, author readings. All this as well as meaningful opportunities to assist a plethora of non-profits in their important missions.
What led you to join the hospitality industry and purchase of the Southampton Inn?
A Southampton real estate broker asked for assistance in putting together a sales brochure for the Southampton Inn and its adjacent commercial/retail complex. I did. And then, my youngest child was accepted to kindergarten in New York City. So, I made an offer to purchase, thinking this would be a short-term fixer-upper and flip. And here we are 23 years later.
When you purchased the Inn, did you do the interior design yourself or employ a creative team?
I had an architect, interior designer, hotel consulting group, and management company. To refinance in 2003, the new lender mandated that I form a management company and take the reigns as a condition to the loan. And the constant decoration and renovations of 90 guest rooms on several acres with ballroom, meeting rooms, restaurant, library necessitated a crash course for me in interior design to control the costs and consistency of the Inn and its public spaces. I have relied on several local interior designers, such as Shannon Willey at Sea Green Designs and Judy Hadlock at Old Town Crossing over the years for larger projects.
You mentioned restaurant: As one of the East End's famous restaurants, tell us about the inspiration behind Claude's and what makes it so unique.
Claude's restaurant opened in 2007 as part of one of the more extensive renovations and re-positionings at the Southampton Inn. We had an excellent chef, who named the restaurant after our beloved hotel cat (at the time, Oso, which means bear in Spanish). A team of interns from Williams College, joined us that summer and created the raised beds for growing some of the heirloom tomatoes, string beans, peppers, garlic, and eggplant. We also created a separate herb garden to flavor the foods and drinks. But through the past 15 years, Claude's (renamed after the successor hotel cat) has evolved into more of a breakfast, brunch, and lunch restaurant and provides the café, meeting rooms, lawns, and gardens for private catered events/parties.
As a hotel restaurant, Claude's can change its theme and brand each year. Last year was a successful picnic basket concept (to comply with COVID rules). Guests and the community seemed to embrace the fresh foods, affordable prices, and old-fashioned "picnic" idea, so we have continued with those menus for 2021. We purchased 100 tables and chairs and placed them around the property for diners to pick their favorite picnic table and enjoy!
What are your recommendations for first-time guests to see and do in Southampton? 
We love sharing the many things to do and see in our 380-year-old historic Village of Southampton. The magnificent beaches (including Coopers Beach a mile away just named the #2 beach by Dr. Steven Lederman (aka, Dr. Beach). The sprawling estates and historic homes with tall hedges, manicured grounds, and shingle-style architecture surround the Inn. We will book tennis lessons, rent bicycles (and provide maps); we sometimes offer special discounts to unique local boutiques and the nearby Southampton History Museum. We have lists of restaurants (other than Claude's, of course) with suggestions for the preferred type of foods, costs, and travel times. We share lists of surfing, sailing, fishing, hiking, and golf venues with our guests. We also offer guests opportunities to purchase tickets to local charity galas. We provide bags of Bedside Reading books at check-in and assist with purchasing tickets to Pianofest in the Hamptons. Guests also enjoy performances emanating from Claude's white baby grand. There is much to do and see all year long.
How do you see future tourism to Southampton, and what have you implemented to channel a guest's return? 
Over 80 percent of our guests are returning visitors. The staff welcomes them as extended family who generally notice the changes implemented every year to improve their guest experience. As a member of the Southampton Village Revitalization Board (appointed by the Mayor and Village trustees), I've worked with local business leaders to create a less seasonal, culturally rich destination to encourage tourism year-round to our unique and venerable (and elegant) little Village.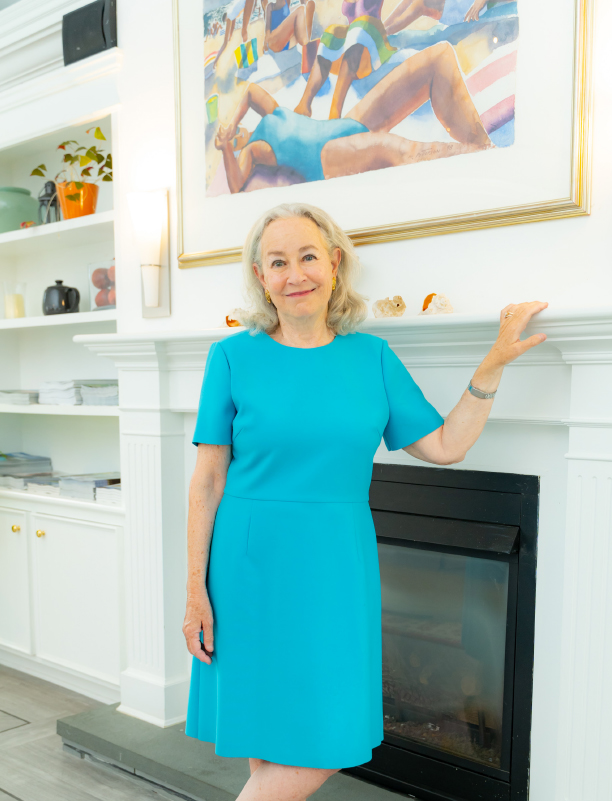 What changes have you seen in the Village of Southampton? 
Some 50 years ago, the Hamptons were considered the beach and country. We wore cutoffs and sported bare feet (except in downtown Southampton where we had to have Bermuda shorts and sandals). During the past 30 years, this string of beach communities has evolved into a world-class playground. The homes are magnificent and immense. The cars are fast and fun to see. While it has been exciting to watch the evolution of the Hamptons, it has also been daunting to assure that the year-round community has housing and infrastructure. And that tourists with less fantastic budgets have a welcoming oasis to share the beauty. That has been part of the Southampton Inn and Claude's brand.
If not the owner of The Southampton Inn, what would you be doing?
If not owning the Southampton Inn, I would likely be retired from investment banking and deals. I could write a book, paint, practice piano, read, play with animals and children. But I get to do all those things, meet fascinating people, assist a wonderful, dedicated group of employees and try to make a difference to the community by bringing many years of experience and insight.
How has being the owner of Southampton Inn changed your life?
I went from banking to bureaucrat to broker to builder. But never had I imagined that I would add innkeeper to that list. Moving from Manhattan, having adult children visit our house rather than our brownstone, driving to buy groceries has been a massive lifestyle change. How wonderful!
How does Dede Gotthelf relax (is that possible!)?
Dede Gotthelf relaxes by working! And swimming laps, playing piano, reading books, and working with like-minded neighbors to make our community a better place for all.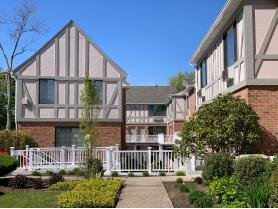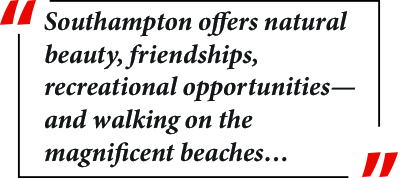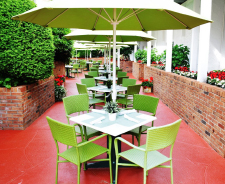 Lastly, what do you envision for the future of the Inn and the Village of Southampton?
Interestingly, I have plans pending with various approval boards to build new luxury hotel suites, provide some workforce housing, satisfy the need for longer-term rentals (with kitchens and private balconies and porches). And there's even an Olympic length lap pool planned in the middle of this new project. I believe it will provide more tourism on a year-round basis bringing dollars and vibrancy to our downtown. And it will begin to alleviate an extreme housing shortage (which may lessen some of the traffic issues during the "trade parade" hours).
As much as I love the changes and the exciting energy and excitement of the Hamptons, I also hope to preserve the peace, tranquility, environmental beauty, and splendidly relaxing and rejuvenating atmosphere of my Hamptons for all to share.
For more information on Southampton Inn, visit southamptoninn.com