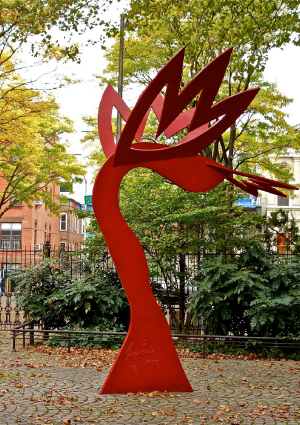 Harlem, NYC, has gone through some tremendous renovations over the last few years, becoming one of New York City's most prime areas to live. New buildings have gone up, and old ones have been restored. Long known for its intimate jazz clubs, soul food institutions, and African-American heritage, Harlem draws diverse locals and visitors. Trendy eateries, stylish clubs, and hip bars make for an energetic nightlife scene.
Harlem has a long history, but one thing it's always been known for green spaces and lush parks. You'll find an array of parks to visit. Harlem Art Park or East Harlem Art Park is nestled between the Harlem Courthouse and Casabe Houses.
One of the main attractions of the East Harlem Art Park is "Growth," an engaging 15-foot-high red sculpture located in the center of the park. Artist Jorge Rodriguez dedicated the sculpture in 1985. "Growth," Rodriquez's first large-scale permanent work, was also the first project completed by the Percent for Art Program. Administered by the City Department of Cultural Affairs, the Percent for Art Program uses one percent of specific capital project budgets to commission works of art as part of new construction.
Another park that nurtures the entire community is Marcus Garvey providing pastimes for children, teens, adults, and the elderly. The two playgrounds are built for all children, including those with disabilities, giving the neighborhood's youngest members hours of fun on the park's slides, fountains, and drawbridges. On summer days, families and friends swim and sun in its outdoor pool, and in the warm evenings, they gather to watch plays and concerts in the park's amphitheater.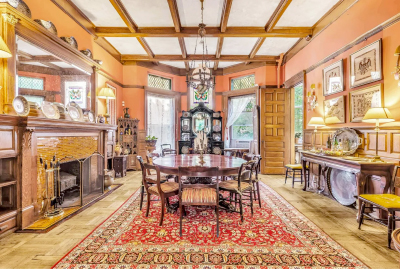 LIVING IN HARLEM
Looking to make Harlem your new home? Here is an excellent choice to consider.
12 Mount Morris Park, West Harlem
This historic Harlem mansion in the famed Mount Morris Park Historic District is a one-of-a-kind opportunity to own with 10,000 square feet of real estate teaming with rich, ornate design and cultural significance. Built in 1888, with recent restorations, the home reflects the old-world craftsmanship and charm of a renaissance period blended with modern features in all the right places. A grand 25-foot-wide entrance welcomes you into the most spacious and elegant living environments.
Experience nostalgia and beauty in the main living room. From the exquisite design of 16-foot-high molded ceilings and intricate wood flooring, you feel a sense of pride as you invite your guests into a similarly adorned dining room with coffered ceilings and tall windows overlooking the brick-paved lower garden. This charming courtyard flows into the recently renovated kitchen with its abundance of counter space and state-of-the-art appliances to prepare lavish meals or break bread with family and friends in its intimate, cozy sunlit en-suite parlor.
Comprising a generous ten bedrooms, seven full and two half-baths, wood-burning fireplaces galore, the main en-suite features its own walk-in closet, dressing room, and large wood-burning fireplace. The uppermost floor with the fully-equipped kitchen acts as a separate unit, making this property the perfect setting for either a single-family or extended corporate stays from out of town or ideal for an embassy. A brief stroll to Lenox Avenue and beyond takes you to unique storefronts, fabulous cafes and restaurants, Whole Foods, and many parks, as well as to iconic places frequented by artists and activists who embodied the spirit of Harlem renaissance. This exquisite, spacious one-of-a-kind home is a rare find in the heart of Harlem's most historic district. Info: Asking $8.2 million.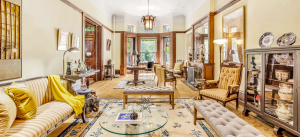 WHAT TO SEE & DO
The Red Rooster and Sylvia's are considered two of the top dining hotspots in Harlem, with many restaurants. Located in the heart of Harlem, Red Rooster serves comfort food that celebrates the roots of American cuisine and the neighborhood's diverse culinary traditions. They seek to share the story of Harlem with their guests and offer a space that celebrates local artists, musicians, and culinary talents alike. Red Rooster embraces today's Harlem with a spirit of inclusiveness and community by hiring staff from within the community, inspiring better eating through neighborhood cooking classes, and buying from local purveyors. Info: redroosterharlem.com
Sylvia's Restaurant, "The Queen of Soul Food," was founded by Sylvia Woods in 1962. Established in the historic village of Harlem, Sylvia's is a community favorite, known as the world's kitchen. Serving authentic soul food for over 55 years, this icon remains a culinary must-visit for foodies. Gospel brunch Sundays and live music on Wednesdays, all within an at-home environment. Visit for yourself, and experience the reason so many presidents, celebrities, and Harlemites alike call Sylvia's home. Info: sylviasrestaurant.com
The Apollo Theater remains Harlem's top venue for music and comedy and a cultural landmark. Since opening its doors in 1914 and introducing the first Amateur Night contests in 1934, the Apollo has played a significant role in the emergence of jazz, swing, bebop, R&B, gospel, blues, and soul. Legends including Ella Fitzgerald, Sarah Vaughan, Billie Holiday, Sammy Davis Jr., James Brown, Gladys Knight, Luther Vandross, and countless others began their road to stardom on the Apollo stage. Today, the Apollo is a respected not-for-profit, which presents concerts, performing arts, education, and community outreach programs. Info: apollotheaters.org
For more information on Lisa Maysonet, visit her at Group Maysonet at Sotheby's International Realty, sotheybyshomes.com/nyc/agents/lisa.maysonet