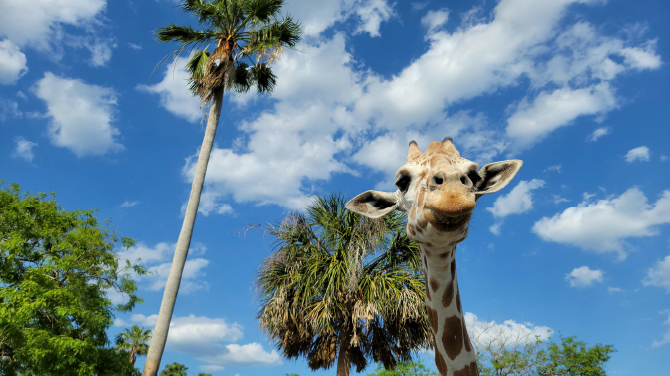 CENTRAL FLORIDA
Adventures Beyond Disney
By Jenny Peters
Say the words "Central Florida," and the first thing that pops to mind is Walt Disney World, while the second is probably Universal Studios Florida. This is especially true for families. But for those of us who crave some real adventure on vacation, there's a whole different way to spend time in Central Florida.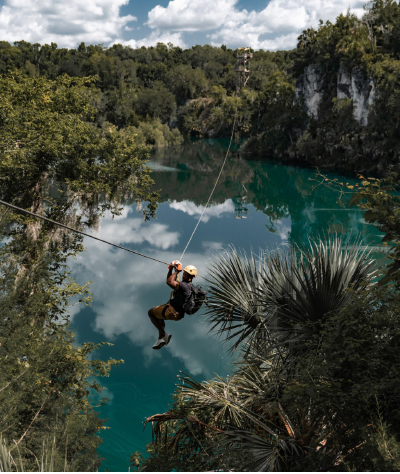 So, grab the sunscreen, bring your athletic wear, bathing suits, backpacks, and sturdy shoes, and head out on a trip to the places where Florida gets a bit wild. Unlike Disney and Universal, you might feel a true adrenaline rush somewhere along the way. And don't worry, there are still comfortable hotels and delicious restaurants to enjoy once your daytime dives into Florida's natural wonders are completed.
Note you'll need a rental car to get around, which we did in seven days. Equipment rentals are available for all the adventures, so no need to bring your gear. Pandemic restrictions have been lifted in Florida as of May 2021 but bring masks in case establishments have maintained that requirement for entry.
OCALA
Play About an hour north of Orlando is Ocala, in the heart of Marion County. That's the spot known as the "Horse Capital of the World," where there are more horses (and horse farms) than anywhere else in the USA. Equine lovers can see huge thoroughbred competitions here at the massive World Equestrian Center or do your own riding and join a guided horseback tour with Cactus Jack's Trail Rides or Happy Acres Ranch.
For a more heart-pounding experience, head to Ocala's Canyons Zip Line and Adventure Park, where a real adrenaline rush awaits. In mostly flat Florida, there is a canyon (an old quarry formed by limestone miners back in the 1930s) and massive trees and lakes, where four different zip lining tours await. Try not to scream with delight as you zoom more than 1,100 feet on a single zip. It's a blast!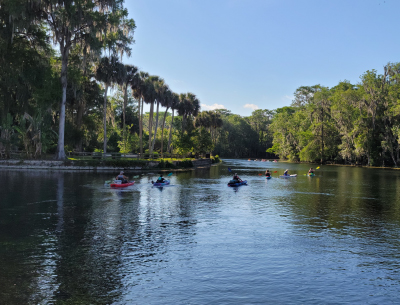 More beautiful outdoor fun awaits at Silver Springs. The historic artisan springs create a fascinating ecosystem in a vast state park where tourists have flocked since the 1860s. Glass-bottom boat tours began in the 1970s and are still an excellent way to see the springs as well as the flora and fauna (including alligators, water birds, monkeys, manatees, and more) that thrive in this protected park. Kayaking and stand-up paddleboarding are popular ways to get up close to the critters, with rentals available on site. Or take a hike through the beautiful woods and mangroves on the numerous trails that wind throughout this lovely park.
Stay Make the Hilton Ocala your home base, where they are cooking up a blackened grouper sandwich, and don't miss MAE Beer & Tapas, where the four Natera brothers are doing great things with tacos, street corn, pulled pork and more.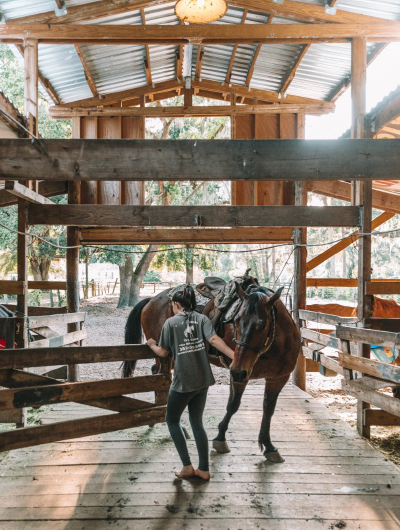 THE SPORTS COAST
Play Next up on the Central Florida adventure agenda is known locally as The Sports Coast, the Pasco County region located near the Gulf Coast about an hour south of Ocala.
For an enjoyable day, begin at Sip on Grand, where Sean Fulton combines luscious charcuterie plates with a fascinatingly diverse by-glass-or-bottle wine list. Slip into the old speakeasy hidden there, too, then pack up what's left and take a leisurely walk over to the river, where you'll hop on to the Lucky Booty Cycleboat helmed by Captain Bobby and his son. That's a flywheel boat you and your gang pedal while you party, all the way out the river to the gulf. There's music, conviviality, and plenty of sights to see along the way–and happily, it has a motor, too, if your foot power gives out along the way. Go at sunset for a view of the stilt fishing houses built offshore out in the gulf; there are only nine of them still in existence, evoking a long-ago time in Florida's history.
Cap off this quick stay in Pasco County with the ultimate ride, ascending in a hot-air balloon with American Balloons at the crack of dawn. Pilot Tom Warren and his team take you soaring up to 3000 feet above the trees for a sky-high view of East Pasco county. It's an exhilarating experience, even for those who like to sleep past 5 am. If you're still awake, keep going to Starkey Farm in New Port Richey and pick (and eat) sweet ripe blueberries until they come out your ears.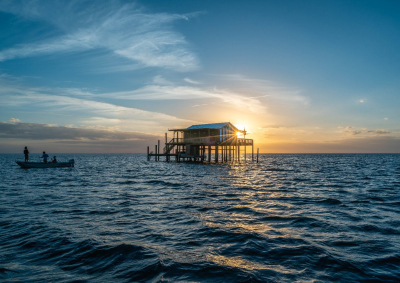 TAMPA
Play Complete this off-the-beaten-path Florida trip in Tampa, just a quick drive south. There you can continue your active days with a morning trip to Sparkman Wharf, where F45 offers yoga and other workouts in an outdoor setting overlooking Tampa Bay. Then keep going and hit the nearby 2.6-mile Riverwalk trail for a bike ride or hike along the Hillsborough River. Or hold off until closer to sunset, when you can dine outdoors at Ulele, one of Tampa's best eateries located right on the walk. Be sure to try their charred oysters!
If wild rollercoasters are your cup of tea, spend the day getting rocked and rolled at Busch Gardens, and be sure to get up close with the park's Safari Tour's giraffes, who love to eat right out of your hand.
Stay And after all these action-packed days, finish your trip by checking into the elegant new J. W. Marriott Tampa Water Street for some first-class roof pool time and treat your body to a much-needed massage at the hotel's top-notch spa.
For more information about Central Florida's adventure-filled experiences, go to visitflorida.com