At first glance, Memphis, Tennessee, seems to be all about the music. The home of Elvis Presley, the place where America's blues, soul, and rock 'n' roll genres took shape, and Beale Street, where live music rules.
And it's true! Memphis is for music lovers, but one visit to this city on the Mississippi River bluff will reveal much more, from delicious home cooking (and much more sophisticated cuisine as well) to a deep history of the arts, social action, and civil rights advocacy.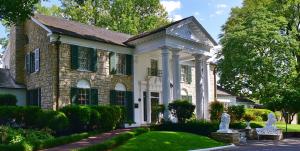 AUGUST IS FOR ELVIS
Elvis' lovers flock to Memphis year-round, which is proven by the fact that Graceland, his famous home, is second only to the White House in welcoming visitors. But every year since the King's death on August 16, 1977, Memphis fills with fans, who often costume up, hop in their Elvis-themed custom vehicles, and head for "Elvis Week" to remember. In 2021, the live celebration is back, from August 11 - 17, with in-person events, concerts, special tours, the famed candlelight vigil on the night of the 15th, and the not-to-be-missed Ultimate Elvis Tribute Artist Contest, where impersonators sing their hearts out to win big prize money.
MUSIC YEAR-ROUND
Memphis is the home to the Blues, Soul, and Rock, as evidenced by the origin museums that dot the landscape. Start by exploring the music recording spots where it all began, from Sun Studios (think Elvis, Johnny Cash, Ike Turner, Jerry Lee Lewis) to the Stax Museum of American Soul Music (on the site of Stax Studios, where Otis Redding, Rufus Thomas, and Wilson Pickett recorded) to the soon-to-open-for-tours Royal Studios (Al Green, Bruno Mars).
Then hit the Memphis Rock' n' Soul Museum, the Blues Hall of Fame Museum, the W. C. Handy House Museum, and the Memphis Music Hall of Fame to round out your musical education; each one is fascinating and well worth a visit. Then hop on the Back Beat Tours Blues bus for a guided musical ride around the city; that trip starts and ends on Beale Street.
And speaking of Beale Street, on that National Landmark-designated "Home of the Blues," things start early and end late there, with clubs like B. B. King's Blues Club, Rum Boogie Cafe, and Tin Roof for rollicking live music and some surprisingly good food, too.
A MUST-SEE STOP
There's much to see and do beyond the Memphis music scene including the National Civil Rights Museum, located at the Lorraine Hotel where civil rights activist Martin Luther King was assassinated in 1968. It's an emotional window into America's fraught past and a reminder that racial equality needs to be part of the fabric of our society.
For an immersion in many of the arts, take a trip to the Crosstown Concourse, a massive art, culture, shopping, and food epicenter where artists create massive installations, musical performances, and writer's workshops are everyday occurrences. The community gathers to create connections for both adults and kids alike. Or head to the Overton Square Arts District, where galleries and numerous performing arts theaters await.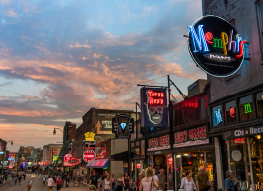 SLEEP & EAT
The hotel scene in Memphis is exploding, with hip new spots joining the venerable Peabody Hotel (where ducks parade into the lobby fountain every day) in offering both lovely accommodations and fine dining as well. For example, the comfortable Hyatt Centric Beale Street overlooks the river and is just steps from Beale's hopping downtown scene; plus, it sports the Beck & Call rooftop lounge, with spectacular views, hot DJs, and creative cocktails. Or check into the Central Station Memphis, that quirky downtown South Arts District hotel set inside the old train station.
Dining in Memphis can be ultra-casual and incredibly delicious at famed pork barbecue joints like Corky's or Central BBQ and venerable classic soul food spots like The Four Way or the Arcade Diner. On the other hand, it can be a genuinely elevated experience at places like Dory, where Chef Dave Krog does a perfectly presented six-course tasting-only meal. At Curfew, gobble up Fabio Viviani's insanely good Spanish octopus, try the escargots at Bishop, or go elegant at Porch and Parlor, a "Southern steakhouse" with everything from Wagyu cuts to a mind-boggling specialty bacon appetizer.
Discovering all that Memphis has to offer is truly a delight, as it is a modern, vibrant city filled with history–and all that great music.
For more information on Memphis, visit memphistravel.com