TUSCANY STEAKHOUSE
Where Steak Meets Trattoria Charm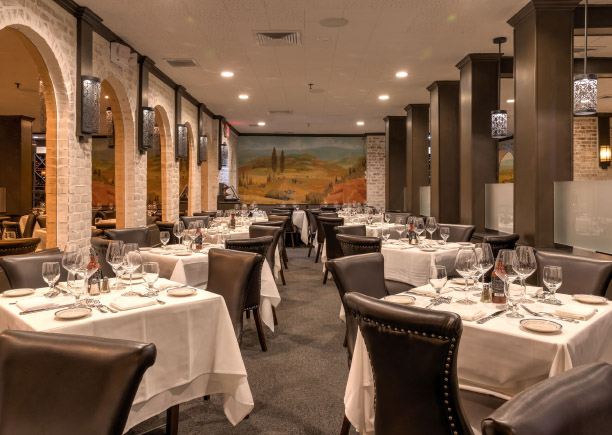 By Patricia Canole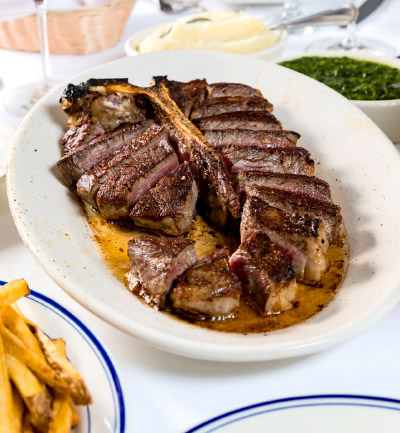 There's no argument New York City is the number one capital of steakhouses. Where else can you sit down and be served a juicy porterhouse flamed to perfection?
Unlike the more modern minuscule "chic" tastings on oversized plates being served at trendy places, steakhouses, many with their signature dark wood paneled, clubby atmosphere, seemingly can't give you enough generous portions of their fare to consume.
Case in point: Tuscany Steakhouse which offers diners simplicity and complete satisfaction in what one might consider an Italian trattoria. Owned by Albanian-born Steve Haxhiaj (former general manager at Wolfgang's and former owner of Il Monello), this restaurant has introduced diners to a far more elegant version of a steakhouse.
The main dining area exudes a cozy Italian trattoria vibe with white-washed arched walls, dark leather chairs, terracotta floors, and a bucolic mural of the Italian countryside as a backdrop.
The five-year-old restaurant—situated in Midtown Manhattan near the Theater District and Lincoln Center—survived the pandemic and is back. So are their devoted regulars
The no-nonsense menu keeps to classic and beloved NYC steakhouse favorites, all done under the rubric that practice makes perfect. So, a cold seafood platter contains plump shrimp, lobster, and crabmeat, while a slice of Canadian bacon sizzles with juicy, salty goodness.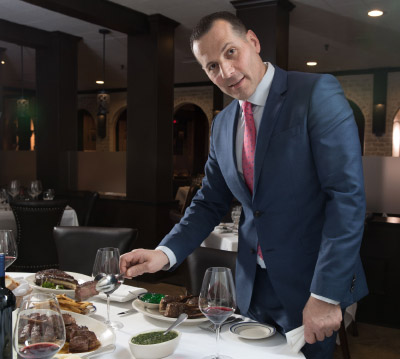 Bolstering an impressively gourmet menu, Tuscany Steakhouse Chef Jaime Chabla's humble approach to the culinary arts, hard work, and genuine kindness goes a long way. With over 20 years working at top restaurants, he has perfected his vision of marrying classic steakhouse favorites with Italian-American favorites.
Of course, his presentations of the sacred steakhouse staples are to be noted, with the Prime Dry-Aged Steaks as the main attraction. Every cut is carefully handpicked from master purveyors and is dried in the restaurant's signature aging box.
A visit to Tuscany Steakhouse also means appetizers and should include Baked Clams Oreganata, seasoned to perfection with black pepper and oregano, and Fried Calamari, crispy and light with homemade marinara and tartar sauces.
Tuscany's signature salads are more than generous in portion. Highlights include the Fresh Mozzarella and Beefsteak Tomato, drizzled with elegant and rich basil pesto and balsamic vinaigrette.
An Italian entrée, Pollo Tuscany, is a menu favorite and consists of succulent chicken breast with smoky undertones topped with cheese, mushrooms, and spinach.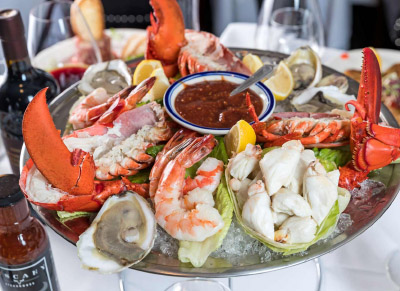 QUALITY COMES FIRST
But after all, this is a steakhouse, so how does it measure up? The consensus: It's one of the best in New York City. It's the quality of the meat itself, of course, but also in the preparation.
The Porterhouse is one great piece of braised beef. The Bone-In Rib Eye Steak is a sensation, presented tableside by veteran waitstaff. One can also enhance the luscious cut of meat, if they choose, with a few dashes of the house made steak sauce. Additionally, the New York Sirloin and Filet Mignon are just as tempting.  Lamb chops from Colorado complete a well-rounded meat selection.
Fish lovers will rejoice! The Dover Sole is mouth-watering, while the Chilean Sea Bass is flakey perfection. Other seafood selections include Grilled Yellowfin Tuna, Whole Maine Lobster, Jumbo Shrimp Scampi, and Linguini Alla Vongole.
As with all steakhouses, Tuscany does not disappoint with its tasty sides. Highly recommended are the Creamed Spinach and Hash Browns. Also, on the menu, Mashed Potatoes, whipped to creamy goodness.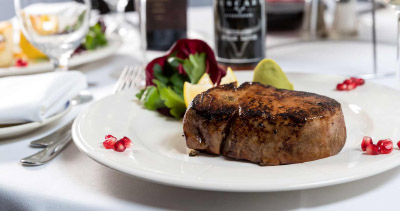 SWEET TREATS
And please do stifle the "I can't eat another bite" reaction when it comes to dessert. Among the appealing selections, we recommend the Tiramisu, enormous to the eye and satisfying to the taste.  Or, perhaps a Tartufo, a selection of Sorbets, and Fresh Fruit will complete your dining pleasure.
With excellent food, a wine list of 300 varietals selected by Haxhiaj, and a mellow ambiance, it's no wonder Tuscany has become a favorite, serving up an authentic New York steakhouse experience.
For more information on Tuscany Steakhouse, visit tuscanysteakhouse.com