THE ALL-NEW GENESIS GV80
A Safety-First SUV With Power To Spare
By Jenny Peters
As Genesis, the luxury automobile division of South Korea's Hyundai Motor Company, continues to grow their line of award-winning vehicles, it was inevitable that they would introduce an SUV to its stable. And it is no surprise that the company's 2021 GV80 has roared to the front of its class, especially after proving its mettle in a high-profile incident early in 2021.
That was when famed golfer Tiger Woods was driving 40 miles over the speed limit down a curving California road and crashed his GV80 (Genesis is the sponsor of the annual PGA tournament that Woods hosts at L.A.'s Riviera Country Club). In another SUV, Woods might not have survived. But the GV80, with its extensive safety features that have already won it a coveted IIHS Top Safety Pick Award in 2021, helped keep the golf great alive, despite his driving errors.
POWER & SAFETY
That's quite a testament to the GV80's ability to protect its occupants from harm, even at high speeds. We tested the 2021 3.5-liter twin turbocharged, 375 hp, all-wheel drive Prestige model under all kinds of conditions and found it to be a winning combination of power and safety. Two other 2.5-liter turbocharged models are also available.
Considered a mid-size SUV, the vehicle is large and roomy, with plenty of room to pile kids into the back (choose quilted leather seats throughout for comfort and style combined) and pack in all your luggage as well. And even when it is packed to the gills, the GV80 never hesitates to move effortlessly through crowded city streets or wide-open country roads.
Even road tripping with it into Death Valley didn't cause the GV80 to even blink, going through desolate swaths of borax mineral flats and desert in 110F temperatures. Its powerful engine does take quite a bit of gas to run, getting 18 to 23 miles per gallon depending on conditions, but that is true of most of the SUVs in its class.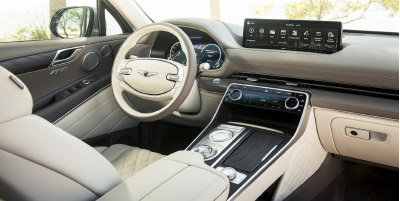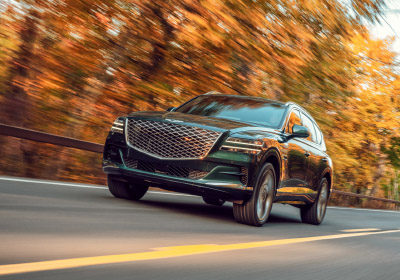 COMFORT INCLUDED
The car also holds its own when passing on two-lane blacktops when quickness is essential. Just a quick punch on the gas pedal and you are going 80 mph, without a waver or even the feel of added speed, just an easy acceleration that gets you past the slowpoke RV and back cruising on the open road in a flash.
The interior of the SUV is tricked out with some comfortable elements, including seats that feature heating and air conditioning (which came in handy in Death Valley), as well as a massage function that automatically kicks in every hour or so on a long drive. And even the second row of seats have heaters, too, and all of them power recline so you can find your own perfect level of comfort.
And, of course, in 2021 a luxury SUV like the GV80 takes over much of the driving for you if you want it to. From its "Remote Smart Parking Assist" feature, which will do the parallel parking all on its own to the "Highway Driving Assist II" that not only keeps you in your lane during highway travel but also helps you change lanes, the vehicle takes the guesswork out of driving.
If you're like us, and love to drive, just turn off those features and keep things old school, with the driving mode choice (there are five) on Sport for the tightest control on the road. But leave on the blind-spot indicator on the side mirrors, for that's one of the automotive world's greatest inventions.
All-wheel drive is available with a limited-slip differential, which means driving in snowy (or other unsafe) conditions is much safer, as the GV80 will then automatically ensure stability, good traction, and off-roading capabilities, too.
Overall, the Genesis GV80 is an easy-to-drive, powerful vehicle that envelops everyone in the car in comfort. And with the incredible safety features that Tiger Woods surely appreciates, it's another big hit for the young company's growing fleet of well-designed luxury cars that won't break the budget.
For more information about the GV80 genesis.com/us/en/2021/genesis-gv80.html