MY NEW YORK STORY
Mickela Mallozzi's, TV's Dancing Queen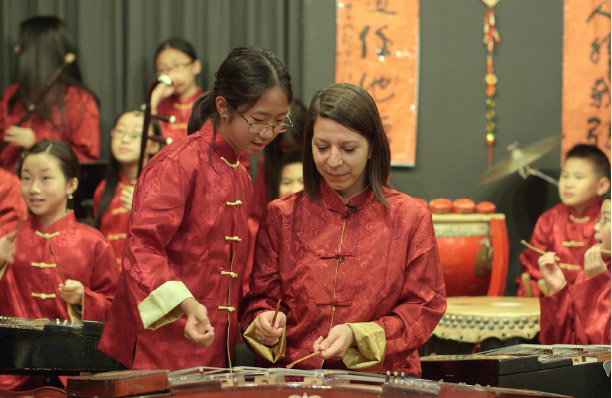 By Patricia Canole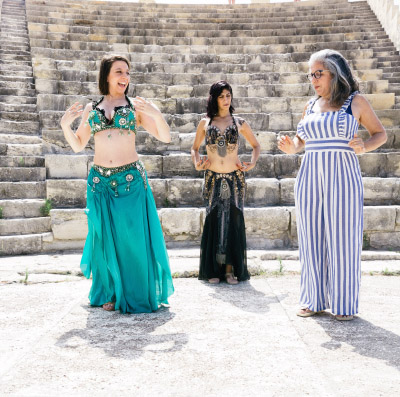 Wherever she may land, Mickela Mallozzi quickly makes tracks for local music and dance scenes.
Her New York Emmy Award-winning PBS show, Bare Feet With Mickela Mallozzi, takes her loyal followers into the world of travel coupled with dance.
The longtime dancer, instructor, and incurable traveler has been experiencing the world one dance and music tradition at a time, increasingly attracting a national audience, with the growth of her half-hour show on PBS stations around the country.
It all began as a blog in 2010, which grew into a website and finally a TV series. These days, she spends much of her time in New York City, with frequent stops in Stamford, Connecticut to visit family.
However simple her aspirations, Mallozzi and her crew have managed to create a popular show which fills a unique niche in the travel-show market. So, whether you see her in a feathered Carnival costume, doing a Mexican hat dance, or dancing up a storm in Croatia, it's all authentic. For Mallozzi, every swirl makes traveling around New York City and beyond a fun, engaging experience indeed.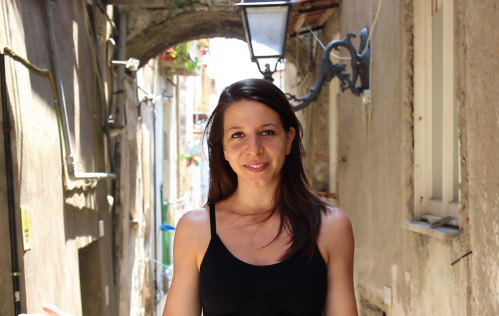 Tell our readers your story and where you grew up.
I grew up in Stamford, CT, in an immigrant home. My parents are both from a small town in southern Italy, and I was raised with the Italian language, food, culture, music, dance, and traditions—all of it in the home! I was also fortunate enough to have music lessons in piano and various instruments. As a result, I was a very musical child, always putting on shows with my cousins in our living room for my family. Nothing much has changed—only now it's a larger audience!
I moved to New York when I was 18 to attend New York University for music composition, and I stopped dancing for several years. I eventually worked in the music industry for about six years, and I quickly realized that I couldn't be as creative as I wanted, even though I was working in a creative industry. So, I quit, started dancing again, and eventually became a full-time dance teacher and performer. Over time, I missed the business side of my work, and Bare Feet was born from that melding of both my creative and entrepreneurial sides.
What inspired you to dance, travel, and create Bare Feet?
The first international trip that I did solo was to Edinburgh, Scotland, for a wedding. The day before the wedding, I attended a Scottish Ceilidh dance class in a sheep barn to teach all the American guests how to dance to Scottish Reels. Little did I know that experience would plant a seed for my life's work and future career! I fell in love with travel. I would save to travel internationally—and cheaply—once a year every year after that. And on my trips, I would use dance to connect with and communicate with locals. And from those dance interactions, other doors would open. I realized that using dance to connect with locals was a magical way to immerse myself in a culture.
Then, in the middle of the night in January 2010, I had an "ah-ha!" moment with the idea of what Bare Feet is today—to create a TV show using dance as that jumping-off point for storytelling. And here we are today!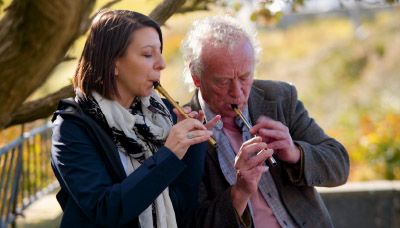 What is Bare Feet's mission?
I hope to inspire others to travel with more intention and connect with local cultures than just traveling to get the perfect Instagram picture. To me, that's what travel is all about. I happen to use dance and music to facilitate that conversation.
Why do you think dance is such a great way to connect with other cultures?
Dance and music are universal languages, and for me, those are my love languages too. The smile on my face that you see in every episode when I'm dancing with people is genuine. I'm having the time of my life, and those folks can feel it too! I'm so appreciative of them sharing their dance and music culture with me; they feel more open, comfortable, and willing to share something precious to them as well.
You're an avid traveler, having seen a world the rest of us only dream about. Any good tips on traveling?
I love to go back to places that I enjoyed and where I made friends. It is lovely to return to a destination if you feel a connection and explore it even further. With travel still getting back on its feet, local travel is on the rise, and supporting local businesses is what's essential right now. Plus, you'll feel even more connected to your neighborhood, town, city, and state!
What are some of the best must-see places in the world for dance and music? 
The top of my list is Ireland. I'll be hosting our next round of Bare Feet Tours in Ireland in 2022, where you can travel with me, exploring destinations through the lens of dance and music. Future trips will include tango in Argentina and flamenco in Spain, and more to come! 
What's in the Bare Feet crystal ball? Are there any upcoming projects?
We are currently in production for Season 5 of Bare Feet! I am delighted to return to another Bare Feet in NYC season, traveling within the five boroughs of NYC. However, this time we are highlighting the recovery of New York City through the arts and local businesses. As with any episode and season of Bare Feet, we always show that the arts are essential, but I think with this new season, that message is more important than ever! So, if you see us filming in your neighborhood, please say, "Hi!"
For more information on Bare Feet with Mickela Mallozzi, visit travelbarefeet.com