A BITE OUT OF THE BIG APPLE
A New York City Staycation
By Laurie Bain Wilson
You may think a staycation is an oxymoron after a year-plus of lockdown.
But many of us are still reticent to cruise and fly. New York's reopened after a horrendous year, and these spots are a perfect respite for New Yorkers who want to get away—while staying home. Here, some staycation ideas in the world's best city.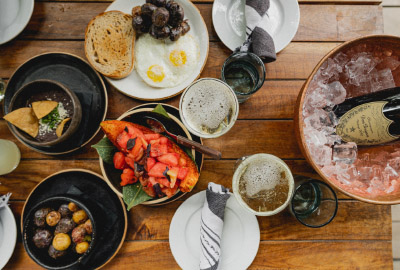 EATS & SIPS
Gitano NYC Garden of Love 
Why You crave a Mexican escape. Tulum, meet Manhattan. This fun-loving 450-seat-restaurant and mezcal bar is set in a lush tropical garden (think: 30-foot coconut palms) in the heart of SoHo with a backdrop of downtown. There's a lovely reflecting pool and sandy beach, too. Sip a tequila, order the guac, the branzino in banana leaf, and save room for churros with chocolate jalapeño sauce. Info: gitano.com/nyc
The Palm Court at The Plaza
Why Glam. Afternoon tea just returned to the iconic hotel. The tiered collection of treats is a civil celebration—order The Plaza Signature: delicate sandwiches like the Lobster Medallion with Truffle Aioli, Caviar on Toasted Brioche, and sweets like the Plaza Golden Egg built with lemon verbena custard and peach red tea jelly. Little darlings love the Children's Eloise Tea. 
Info: theplazany.com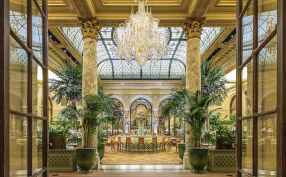 Arthur Avenue, Bronx
Why Family-inspired menus. You don't have to jet to Italy for nonna-approved Italian food. This fall, Arthur Avenue's Piazza di Belmont is closed to weekend traffic and is all about European-styled al fresco dining. Grab a seat at popular restaurants like Zero Otto Nove, Enzo's of Arthur Avenue, and Ann & Tony's. 
Info: bronxlittleitaly.com
Intersect by Lexus
Why Manresa. Hit the cobblestoned streets of the Meatpacking District to check out the latest Restaurant-in-Residence—California's three Michelin star Manresa, from chef/owner David Kinch (think: impressive California farm-to-table menu). Also, a new lounge is where you'll sip pours created by guest craft cocktail expert Nick Bennett and dig into Lexus Culinary Master/Chef Nickolas Martinez's menu inspired by the Japanese omakase philosophy. Info: intersect-nyc.com
Versa 
Why Intoxicating Empire State Building views. This 8,000 square-foot open-air rooftop restaurant woos with hot seller Southern Fried Chicken, creative sips, and the NYC scene. Nice touch: Celebrity contemporary artist Domingo Zapata debuted a mural. 
Info: versanyc.com
Orange Glou  Why Because orange is the new pink. Visit the world's first and only wine store dedicated solely to skin-contact (orange) natural wines on the LES. Opened this summer, you'll find 100 different selections of exclusively orange wines, from pale gold to deep amber hues. Stock up for a long winter; free tastings on Friday nights. Info: orangeglou.com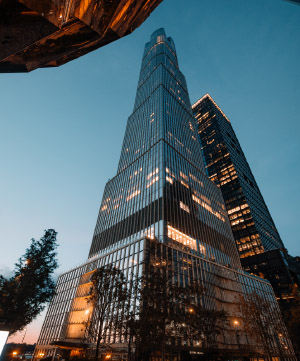 STAY
The Kimberly 
Why You're looking for a luxurious stay without breaking the bank. This boutique hotel is a polished jewel—in your great aunt's jewelry box. Small enough to make you feel quite at home, but big enough to make you feel away from home. And the service will also make you feel like auntie's favorite. Bonus: Upstairs at the Kimberly, the swanky rooftop lounge. The staycation package this fall includes continental breakfast and a welcome bottle of Prosecco.  Info: kimberlyhotel.com
The Pierre
Why Class: Pure and simple. The Pierre has excellent bones, is finely chiseled, timeless, and has been taking care of New Yorkers with elegance since the 1930s. Antique furniture adorns the guest rooms, and many have lovely Central Park views. 
Info: thepierreny.com
The Equinox 
Why It's the new It girl. This stunning hotel is all about wellness (yes, you need that). Yoga mats in guest rooms, the sought-out Equinox gym (with Pilates studio), the lovely outdoor pool will keep you moving. Also, look for those uplifting Hudson River views and Electric Lemon Terrace. 
Info: equinoxequinox-hotels.com/nyc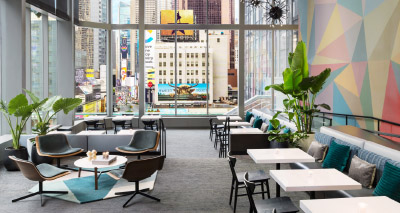 Conrad New York Downtown/Conrad New York Midtown
Why The Conrad name delivers. The Conrad New York Downtown has a perfect downtown location, close to the World Trade Center and FiDi district, and Hudson River guest room views. The Wellness Suite (think in-room Peloton bike, smoothie mix/shaker, yoga mat) and The Loopy Doopy Rooftop Bar make this a city favorite along with New York Harbor and Statue of Liberty views; open through September.
Sister property, Conrad New York Midtown, sits just a few blocks from Central Park, with spacious guest rooms that will make you feel quite at home with spacious suites, enormous bathrooms, and views that will make you fall in love with the city all over again. Info: hilton.com/en/conrad
Loews Regency
Why The NYC hotel. The power breakfasts at the Regency Bar & Grill in the Art-Deco-meets-uptown-girl hotel give this hotel a lively buzz—and have been for forty years. There are 379 guest rooms, including designer suites, many with balconies, and the glam Park Avenue location is close to Central Park. Bonus: Sant Ambroeus for a latte. Info: loewshotels.com/regency-hotel
M Social New York 
Why That outdoor terrace. A spirited hotel that debuted this summer, it's the first outpost in the U.S. and has earned a place at the table. It's hip, the rooms are lovely, and the lobby lounge, Beast and Butterflies, is engaging. But the money spot is that wrap-around-terrace with Times Square views, hi-top seating, couches—and a foosball table. Info: millenniumhotels.com/en/new-york
The Kimpton Muse
Why It's a Kimpton. A boutique hotel that's a skip from Times Square, so expect an authentic city vibe and a couple of blocks from Bryant Park. Also, the staff consistently goes above and beyond, and the newly renovated, flirty rooms are hard to resist. Info: themusehotel.com
Smyth Tribeca
Why Tribeca is smiling again—she's back. The newly-imagined 100-room hotel just debuted in August. Settle into one of the gorgeous, spacious 16 suites—floor-to-ceiling windows for views of lower Manhattan. The lobby bar and new restaurant will open in late fall. Info: smythtribeca.com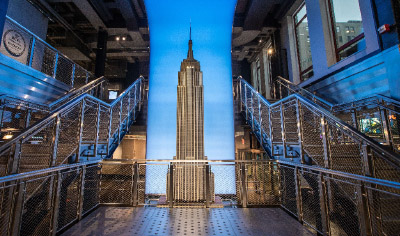 Rise and Shine Just a few months before COVID, The Empire State Building unveiled a major facelift that many haven't experienced due to the pandemic. It's a brand-new space, with a special sunrise package from the open-air, 86th-floor observation deck. Bonus: Comp Starbucks Coffee. And there's a new museum and galleries, too. 
Info: esbnyc.com
Books and the City A compelling reason to stay in some of NYC's best hotels is that they participate in Bedside Reading, an exceptional program that places books by the bedside in luxury/boutique hotels (also in hotels in the Hamptons). NYC hotels include The Pierre, the Conrad Downtown, and the Kimberly Hotel. Bonus: You can take these bestsellers home. Or download them. Info: bedsidereading.com