SUNHE HONG
Life Is Filled With Endless Beauty
By Patricia Canole
When I started a comedy blog back in 2017, I had no idea where it would take me or just how far it would go. I was 26, single, living in San Francisco with a great job at Facebook, and like most people, I was also looking for companionship. It's no secret the pandemic made nearly everything more complex, including dating—even before coronavirus, dating was never easy to navigate.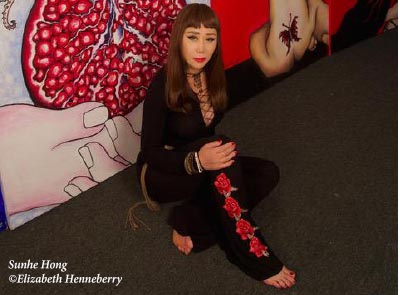 This Korean American artist has always been an expression of human existence, and her paintings reflect her life in color. Quite literally, one can view the work over time and see the changes in color and style that correspond with her stage in a continuous transformation. The pieces come together and form a mosaic, capturing the essence of her memories, each picture bearing a different feeling for another time, another circumstance. They display the raw and authentic relationships of this world, reminding us of our personal emotional needs. Her works delve into the soulful dilemmas that are born from our desire to feel alive. Pain and Pleasure. Loneliness and Love. Reminding our longings, fantasies, and dreams allows us to escape reality's cages and join a poetic existence.
We recently met with Sunhe at her art studio to learn more about this fascinating woman and her paintbrush.
Tell us about your childhood in South Korea.
I was very visual, even as a toddler. My parents did not know what to think of me. I was a stubborn child who always knew what I wanted and did things my way.
What were your earliest memories as a child about exposure to the arts?
My interest in art grew in middle school. I had the option of choosing between a traditional Korean art style, which involved a black and white brush with rice paper or studying the Western art style. I decided to continue with Western artwork and received a scholarship when I entered high school.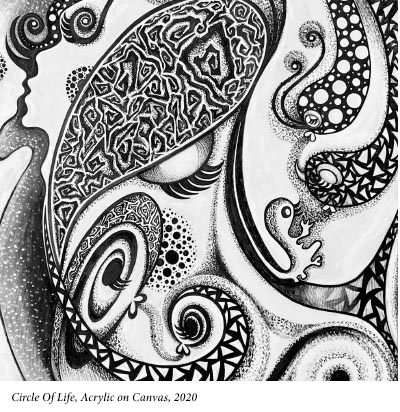 After arriving in the U.S., what were your first impressions when you came?
 I arrived in the U.S. at 19 and enrolled as an art student at Youngstown State University in Ohio, where I eventually received my Bachelor of Fine Arts degree. I was always a free-spirited child with a creative mind and a strong personality. In America, I was able to wear red lipstick, punk hairstyles, and mini-skirts. Unlike Korea, I was not confined. I felt I belonged.
When is your favorite time to create art?
 I only paint when I am inspired and usually paint late into the night when the world is quiet. But there are also other times when my emotions are overflowing, and I must express myself. Painting is my therapy, and I paint very intensely, releasing my feelings on the canvas.




Tell us more about the art scene today in NYC.
After the pandemic, I see lots of street art blossoming again as the city comes alive. Not only that, but there's been a massive surge of online exhibitions and digital art.
What is it that draws you personally to painting?
It is a medium of expression for my emotions. Through painting, a language I can speak more fluently than any other language, I can fully express my feelings with the least restraint.
What projects are you presently working on?
I have a solo exhibition coming up at the end of this month, and will be debuting my first art book, Metamorphosis, there. It's a retrospective of the past 11 years, showcasing my evolution as an artist. This book is the divine path of a woman's sensuality and femininity and the growth, a metamorphosis of a free-spirited soul.
For more information on Sunhe Hong and her art, exhibition, and book, visit sunhehong.com