SARA BAREILLES
Rocking Waitress World Again!
By Griffin Miller
Pie sales at Broadway's Ethel Barrymore Theatre have been brisk, and not just because the killer aroma of baking pies—designed for consumption by "pie consultant" Stacy Donnelly—hits you the second you enter the theater. Instead, the olfactory seduction offers an immersive aspect to the homey backdrop and quirky characters that drive the musical Waitress. But, for the symbolically inclined, it also illustrates just how much audiences have been starved for theater's return. Spontaneous ovations and applause being the euphoric clinchers.
And at the heart of the current Waitress production is Sara Bareilles, the show's Grammy-winning composer and (at least through October 17th) waitress/pie baking phenom, Jenna. "How could I miss the opportunity to be a part of Broadway's reopening?" said Bareilles. "To share the moment with everyone who's been part of the process and to be part of the solution, this is what has made my decision all the sweeter."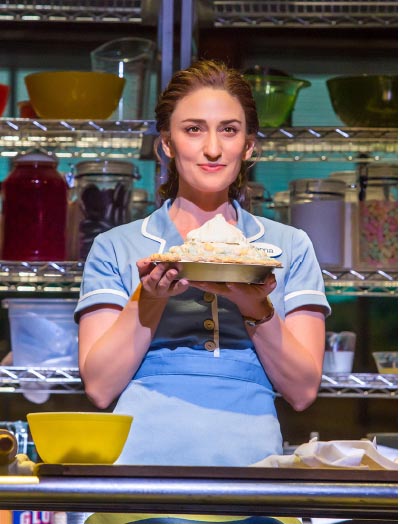 GRIT & GRACE
Interviews with Bareilles—a steady torrent since it was announced she'd be helming the revival—inevitably shine a spotlight on her passion for creating. Yet what also struck me was her humor (genuine, playful, occasionally edgy) and her choice of words (at times poetic). Well before opening night and her firsthand taste of theatergoer exhilaration, she observed, "Broadway is grit and grace, magic and mayhem, and I can't wait to feel the electricity that pulses through all of us as the curtains rise once again."
For those unfamiliar with Waitress, it centers around a small-town diner and Jenna, a lovable waitress with pie-making and pie-naming ("My Husband's a Jerk Chicken Pot Pie"; "Mermaid Marshmallow Pie"), superpowers. But unfortunately, insecurities and choices run amok ("White Knuckle Cream Pie"), and a National Pie Bake Off in a nearby town presents itself right around the time she discovers she's pregnant. So cut to the chase: dump or keep abusive spouse; affair or no affair with married OB/GYN; compete in Bake Off or not. Fortunately, her two co-waitresses are instrumental in steering her towards "Getting Out of the Mud Mud Pie," a.k.a. the perfect resolution.
Which explains why—even though her favorite moments onstage are apt to change performance to performance—Bareilles is drawn to Act I's "Soft Place to Land" number performed by the three waitresses. "It's about dreaming, and it's a hopeful moment focusing on bonded relationships," she said, pointing out how powerful its message is during a world damaged by COVID-19.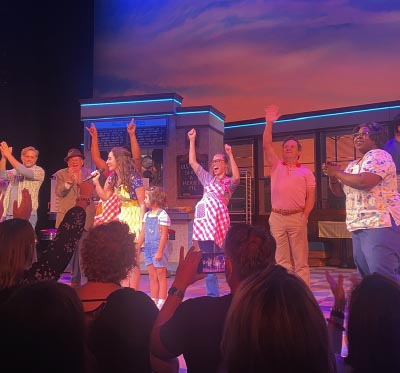 REMEMBERING NICK CORDERO
Bareilles saw how uplifting the Waitress homecoming has been, describing it as the "catharsis of being back with all my friends." So many of the people she worked with during the 2016-2020 run, in addition to the cast, musicians, house staff, crew members, Tony-winning director Diane Paulus, Julliard-trained choreographer Lorin Latarro are once again sharing this celebration of seizing life as it comes.
That message has been permanently mounted on the diner's menu board as "A Big Ol Slice of Live Your Life Pie" in honor of Nick Cordero, who died last year from complications from COVID. Amanda Kloots joined the cast during opening night's curtain call to celebrate her late husband's life and legacy by singing Cordero's original song, "Live Your Life." Of the actor, who originated the role of Earl on Broadway, Bareilles spoke for everyone who knew him in saying, "The loss is so deep for all of us."
As for Bareilles, her day-to-day pandemic survival techniques were not always what you'd expect. "I didn't turn to music. That part is still in gestation," she notes. "I felt very quiet." What she did do, however, was take walks. "I was struck by the way the city moved forward—the scrappiness of restaurants as they created outdoor dining areas and how shops were hanging on despite everything. Through walking, I could feel communities, and the city, getting bigger".
For tickets to Waitress (through January 9, 2022), visit telecharge.com