HORTUS NYC
Asian Fare With Flair
By Anne Raso
Hortus NYC has become a favorite for those looking for exotic fare that hits the three C's: classy, cozy, and contemporary. Located in the shadow of the Empire State Building, the restaurant is hip without being pretentious.
A big part of Hortus' success is its talented and creative Executive Chef Lenny Moon from South Korea. This kitchen maestro's family has owned and operated restaurants in South Korea for 35 years. He studied at Han-Dol Cooking Academy in Seoul before going on to NYC's French Culinary Institute and the New York Bartending School.
Chef Moon's first big stint in a New York kitchen was at the Michelin starred Jungsik in Tribeca under the legendary Chef Jung Sik. He considers one of the highlights of being an executive chef as "being a leader in the kitchen" and reveals that his ultimate goal is "being a top chef in New York City." Designing his menu and serving it to appreciative diners also makes this chef happy—so much so that he often leaves his kitchen, speaks to customers, and even makes menu suggestions.
Hortus NYC's menu is based primarily on its impeccable infusion of flavors from around the world. Asian dishes (particularly Korean ones) and Contemporary American and European favorites are "turned on their heads" to become something entirely different. Peek at the menu, and you'll find the signature Truffle Donabe With Seaweed Puree and Sea Urchin, which is perfect if you feel adventurous, but you can also enjoy a great marinated Rib Eye Steak With Wild Mushrooms And Galbi Sauce. Two other notable dishes on the menu which receive high marks for their flavor are the King Crab Noodles and the Branzino With Yuzu Miso Glaze. End the evening with the creamy Macha Tiramisu and you won't be sorry.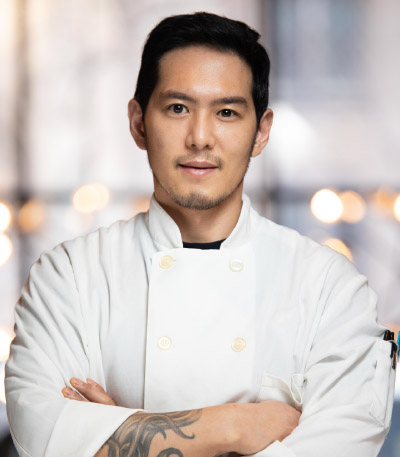 MORE SURPRISES
Hortus' second floor "hidden outdoor garden" with its beige canvas umbrellas and white picket fence is considered a real treasure for people who like to dine al fresco all year. The area is also perfect as the ultimate romantic spot for a leisurely intimate dinner. In addition, it's lovely to hear live jazz every Thursday night from 7 to 10 pm wafting out onto this cozy outdoor area.
Come autumn, there will be several surprises on the Hortus menu. "We want to include more flavors from the Pacific islands moving forward. We're going to add chicken dishes and more vegetables and look to add some Chinese and Italian flavors and a hot pot as well, says Moon. "As our menu evolves and I start to perfect it, I will add Chilean sea bass or a cod dish. We also intend to add a burrata salad with dragon fruit and a crispy rice with shrimp dish."
Hortus deserves all the accolades it has received, including some from the coveted Michelin Guide. It's hard to develop something new in New York's jaded food scene, but Hortus does it with style.
Once you sink into one of the comfy gray banquettes and enjoy the friendly and ultra-prompt service, you will be hooked on Hortus. There's never a rush to leave, and you get some of the city's best values for well-presented luxury "melting pot" cuisine. There's also a premium wine, sake, and artisanal beer list that the talented waitstaff can customize to perfectly complement what you've ordered.
For more information on Hortus, visit hortusnyc.com