THE BROADCAST LEGEND
Ann has the distinction of being both the first woman to host a call-in sport's show on WFAN-NY, where she hosted the weekly Hey Liguori, What's the Story call-in sport's talk show for over 24 years, as well as being the first woman to host her weekly prime-time show on The Golf Channel.
Ann hosts Talking Golf with Ann Liguori on Sundays from April through September from 7 – 8 am on WFAN. She also covers The Masters for WFAN for the past 23 straight years and recently broadcasted her 39th consecutive U.S. Open Tennis Championships for WFAN at USTA Billie Jean King National Tennis Center. Ann will be heading to Whistling Straits for the prestigious Ryder Cup competition where she will host podcasts for Morning Read.
SportsIllustrated.com/Golf
Ann's Sports Innerview radio show airs weekly on NPR's WLIW 88.3 FM in The Hamptons, and each show is distributed on her podcast on Audioboom and archived on her website. In addition, segments from Ann's podcasts are distributed weekly on the MorningRead SportsIllustrated.com/Golf media platform.
Ann's Sports Innerview cable show is the longest-running weekly interview show owned, hosted, produced, and distributed by a woman. Ann interviewed hundreds of the top legends in sports, including Mickey Mantle, Ted Williams, Wilt Chamberlain, Gordie Howe, Sam Snead, Jim Brown, Arthur Ashe, Bart Starr, and Billie Jean King, to name a few. The programs are now available to watch on Ann's newly-designed website (see below).
Ann's work goes far beyond broadcasting her sport's radio shows and licensing her historic Sports Innerview cable archives. She is the President and Founder of Ann Liguori Productions and has diversified in exciting areas.
FASHION FORWARD
Ann is also the Ambassador for IBKUL athleisure wear (ibkul.com) for men and women. The multi-functional, intelligent fabric featuring ICEFIL technology cools your body so you can stay comfortable on hot and humid days.
Ann's collaboration with Dune Jewelry (dunejewelry.com) features Ann's jewelry collection called the Hamptons Rope Collection, which is custom-made, sophisticated jewelry, in silver or gold, incorporating sand from one's favorite beach or golf course.
The popular collection consists of earrings, necklaces, a ring, cuff links, and bracelets. The Hamptons Rope Collection is inspired by the stunning scenery, fluffy white beaches, beautiful waterways of the East End, and some of the most prestigious golf courses in the country. The collection makes a perfect gift, too.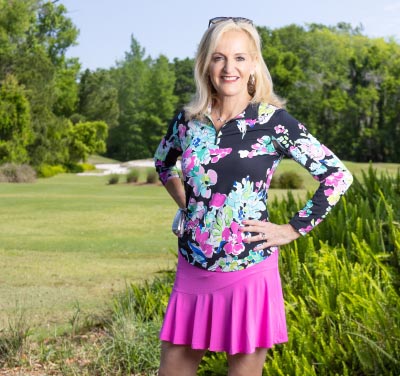 PHILANTROPHIC EFFORTS
Ann's charitable work is essential, particularly raising funds and awareness for cancer research and prevention. Ann lost her father to cancer when she was in college, and a year and a half later, her 22-year-old brother passed away from leukemia.
The Ann Liguori Foundation hosts a popular charity golf tournament every year at a prestigious golf course on the East End of Long Island. This year, the 23rd Annual Ann Liguori Foundation Charity Golf Classic took place at the Maidstone Club in East Hampton. The annual charity outing benefits not-for-profits that work with cancer research and care, including the Samuel Waxman Cancer Research Foundation and St. Jude Children's Research Hospital. The goal is to raise funds and awareness to find a cure for cancer.
"This is a disease we are all too familiar with," says Liguori. "We are all directly or indirectly affected by this dreadful disease, and anything we can do to fight cancer has been a mission of mine for decades. My sister Jean, brother Dan and I are committed to this cause forever. And we dedicated this year's charity tournament to our incredible Mother, Cecilia, who passed away this past March. Her generous spirit and unlimited compassion will always be our guiding light."
The Foundation also supports scholarships and mentorship programs for students working to pursue a career in sports media. The Ann Liguori Foundation Sports Media Scholarship is awarded annually and administered by NY-WICI (Women in Communications) and announced at the MATRIX AWARDS luncheon in Manhattan.
For more information on Ann Liguori, visit annliguori.com. For her foundation,
visit annliguori.com/philanthropy