Each of the 67 residences at 200 East 59th Street is a corner home with deep, livable wraparound terraces, where outdoor living becomes an extension of everyday life. The luminous indoor-outdoor model residences feature expansive views of the Manhattan skyline, East River, and Queensboro Bridge. They are some of the first models at 200 East 59th Street designed by CetraRuddy, the same award-winning architecture and interior design firm that pushed the boundaries of classic modernism to create the building's distinctive architecture.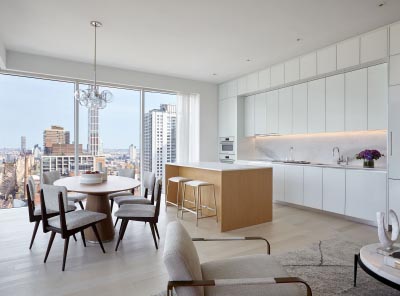 LIVING IN THE SKY
A noteworthy addition to the Manhattan skyline, 200 East 59th Street was developed by Harry Macklowe as the "sister building" to 432 Park Avenue, one of the tallest and most successful residential towers in the Western Hemisphere. Inside, CetraRuddy designed column-free layouts that offer residents the open-plan flexibility to create a home reflective of their lifestyles. Through a sophisticated engineering and design plan, structural columns were pushed out to the building's exterior, creating a distinctive façade feature while expanding the floorplans of the building's interior and adding coveted outdoor space to every home.
The prime location provides residents convenient access to fine dining, renowned cultural and performing arts institutions, and more. "Harry Macklowe and CetraRuddy created a modern masterpiece in 200 East 59th Street," said John Tashjian, Principal at Centurion Real Estate Investors, the building's Sponsor. "Buyers have been quick to respond to 200 East 59th Street's unique, modern design and the elevated lifestyle afforded by the private terraces, breathtaking views, and extraordinary natural light in every residence. We were thrilled to work with CetraRuddy to bring these model residences to fruition and look forward to sharing additional building amenity updates in the near term."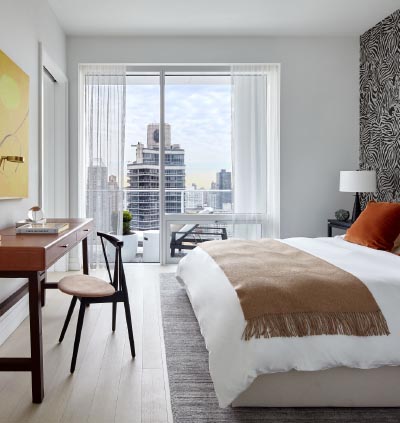 CUSTOMIZING YOUR HOME
When approaching the design of the model residences, Nancy Ruddy, Founding Principal of CetraRuddy, stated, "We wanted to compliment the building's iconic, streamlined form by bringing warmth and tactility to the interiors. A neutral palette of design elements is accented with curated features that create energy and vibrancy so that the homes nod to the spirit and richness of the city but also provide residents with a sense of serenity and calm." 
200 East 59th Street's column-free interiors provided CetraRuddy with a "clean canvas" and a high degree of flexibility when designing the model residences. Both highlight the extraordinary design opportunities afforded to residents at 200 East 59th Street when customizing their homes. 
To maximize the space's dimensions and give the home a spirited attitude, CetraRuddy selected a 1960s midcentury chandelier, a mix of luxe metals, Lucite dining chairs, and a Chiaroscuro Painterly area rug. "The astonishing views and abundance of natural light are evident in every residence at 200 East 59th Street," stated Ximena Rodriguez, Principal and Director of Interior Design at CetraRuddy. "This experience is truly unique in Manhattan, and our goal was to celebrate the views and flexibility of the residential layouts through our design." The compelling visual narrative continues with unique art and furnishings selected for the model residences, designed to showcase various styles.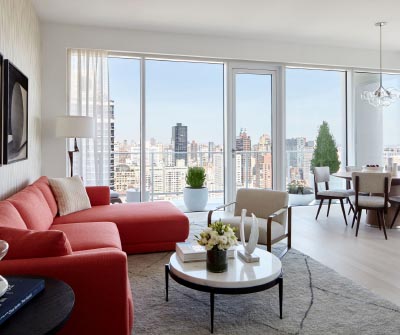 The residence interiors are finished with white oak plank flooring and beautiful stones such as white Calacatta and Siberian white and mink marble. CetraRuddy personally selected every slab of marble and stone for this project. The open-plan kitchens feature custom Italian white glass cabinetry and integrated white glass Miele appliances. The master bathrooms feature Siberian white marble walls and floors with radiant heating. Other bathroom features include custom floating vanities, modern, wall-mounted toilets, stall-style rain showers with floor-to-ceiling glass, and thermostatic controls.
The lobby boasts a sculpted walnut and bronze reception desk, classic modern furniture, and inspiring feature artwork to create a welcoming and sophisticated environment that inspires residents and guests. 200 East 59th Street's residences and common spaces are complemented by 24-hour, white-glove service. An on-site resident manager, doorman, and a full-time in-lobby concierge offer residents a range of bespoke services, including home management assistance, lifestyle and wellness recommendations. Info: Prices starting at $1,732,500.
For more information on 200 East 59th Street, visit 200east59.com