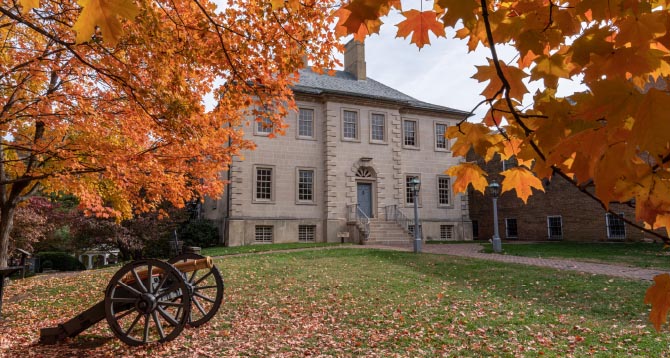 ADVENTURES IN ALEXANDRIA, VA
It's Way More Than Just A Suburb Of DC
By Ruth J. Katz
A customer can have a car painted any color he wants, as long as it's black," is a well-worn quote—apocryphal or truly attributable—from Henry Ford. You might say that Brandon Byrd, the ice cream impresario of Goodies Frozen Custard & Treats in Alexandria, VA, held a similar, focused attitude about limiting his flavor fantasies when he revved up the engine of his traveling food truck. As the vehicle was christened, Gigi could just as easily have been dubbed the Vanilla Van because, well, Goodies serves up any flavor you want, so long as it's vanilla. (But, oh, those deliriously inventive toppings on that vanilla custard!).
Goodies custard is but one delice in this charming city on the Potomac. Named Ice Cream Capital of the United States by Forbes magazine, Alexandria offers dessert extravaganzas found in shops like the Lavender Moon Cupcakery, The Creamery, Pop's Old Fashioned Ice Cream, The Dairy Godmother, Nicecream, Casa Rosada, Alexandria Cupcake. So many tantalizing calories.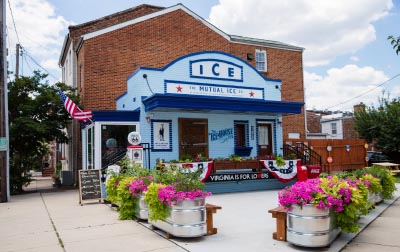 THE CITY
There are, of course, many ways to burn off those calories: Put on your walking shoes to explore this former tobacco trading post, a mere five miles from Washington, DC. Founded in 1749, Alexandria offers a taste of its roots in Colonial Old Town, a nationally designated historic district with stunning architecture from the 1700s and 1800s. You'll find a striking counterpoint in the funky, "artsy" Del Ray neighborhood, and everywhere, there are sober vestiges of the once-thriving slave trade, evidenced in sites like the Bruin Slave Jail and the Freedom House Museum, to name but two.
Recognized as one of the Top Five Best Small Cities in the US in 2020 by Condé Nast Traveler Readers' Choice Awards, Alexandria also has a thriving waterfront dotted with eateries. There's also artwork (a current site-specific installation, Groundswell, was created by Brooklyn–based artist Mark Reigelman) and tempting shopping. In addition, more than 80 percent of the emporia in Old Town are independently owned.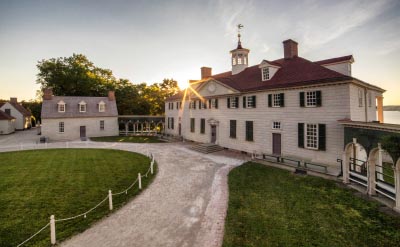 PLAY
Whether you're interested in history, shopping, fine dining, or plain fun, there is plenty to do here for couples, families, and singles.
Start with a self-guided walking tour of Old Town, and be sure to take in the famous, seven-foot-wide Spite House, the skinniest historic home in America.
Take a twilight cruise on the tall ship Providence, which had a star turn in Pirates of the Caribbean. It is a full-scale reproduction of one of the most renowned ships in the Continental Navy.
Other riverine options: The Monuments Sightseeing Tour to Georgetown or water taxis to other historic sites and shopping.
Amble along cobblestoned Captains' Row, lined with magnificent, picturesque Federal-style row houses.
Book a walking tour with Manumission Tour Company, the dream child of local Councilman John T. Chapman, a fourth-generation Alexandrian. Several cultural and heritage tours highlight Alexandria's extensive African-American history.
Just off King Street is the Georgian Palladian home (on the National Register of Historic Places) of Scotsman John Carlyle, one of Alexandria's founders.
Another not-be-be-missed site is the astonishing Stabler-Leadbeater Apothecary Museum, a National Historic Landmark among the nation's oldest pharmacies.
No trip to the area is complete without visiting George Washington's Mount Vernon, with its painstakingly restored gardens, workshops, slave quarters, distillery, and gristmill.
Several exciting happenings this coming fall: The Old Town Festival of Speed & Style, featuring dozens of rare and exotic cars; Art on the Avenue, a craft and art fair in Del Ray; and the Campagna Center's Scottish Christmas Walk Weekend and Parade.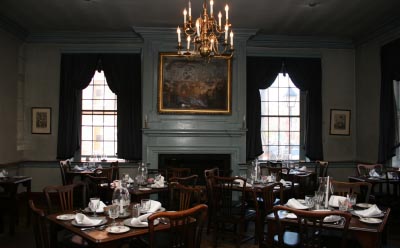 EAT
The plethora of Alexandria's sweets notwithstanding, this is a true foodie city, with wonderful eateries and plenty of outdoor dining. In the new Robinson Landing area, Ada's on the River draws inspiration from Ada Lovelace, a 19th-century pioneering mathematician; the menu here is also pioneering—tasty and tempting. Gadsby's Tavern has been feeding Alexandrians since 1770, and today, costumed waitstaff serve while period-inspired performers entertain as you feast on colonial-inspired cuisine.
Try the newly opened Café de Soleil or the charming Fontaine, where Breton-style crepes are a specialty for a quickie morning cuppa' joe. Two other choices that will leave you satiated are Virtue Feed & Grain with a modern American tavern menu and Vola's Dockside Grill, known for seafood. Next, head to Del Ray to the popular storefront eatery, the Evening Star Café, with its eclectic, original menu. And for dessert, heads to Goodies, which just opened a permanent site, at a refurbished icehouse in Old Town.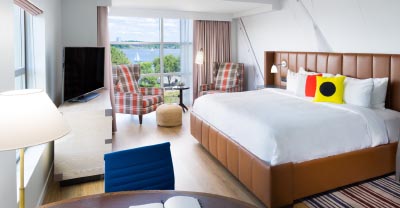 STAY
I chose the Hotel Indigo, the city's first waterfront hotel, which opened in 2017. It's the just-right combo of edgy and comfy—my room even had a cozy wingchair by the riverfront window and a beanbag hassock for resting tour-weary feet. Hummingbird restaurant in the hotel is helmed by James Beard-nominated chef Cathal Armstrong, who dishes up flavorsome seasonal fare with a flair. Worth considering: Alexandria is an ideal place to stay if you are also visiting DC. (Hotel rates in Alexandria are much less costly than those in DC.)
For more information on Alexandria, VA, go to visitalexandriava.com
© 2021 Ruth J. Katz All Rights Reserved