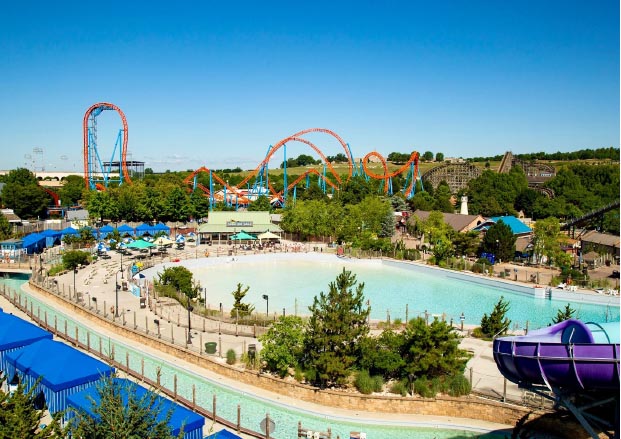 HERSHEYPARK
The Sweetest Place On Earth
By Patricia Canole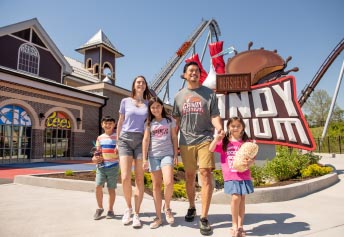 One of the most fantastic attractions in Hershey, Pennsylvania, besides the world-famous Hershey factory, is Hersheypark. It draws visitors from around the world. If you haven't yet been there, then here's a guide that will make you want to start planning a visit.
At Hersheypark, enjoy thrilling rides and socialize with 6-foot-tall Hershey Bars and Reese's Peanut Butter Cups. With more than 120 acres, it features more than 70 rides and attractions, plenty of restaurants, a Boardwalk with a wave pool, and a wildlife park called ZooAmerica with 200 animals to discover.
Begun in 1906, Hersheypark is considered one of America's cleanest and greenest theme parks. Among its historical rides are a 1946-vintage wooden roller coaster and a carousel built in 1919 with 66 hand-carved wooden horses. Some of the most exciting and thrilling rides for thrill-seekers include Lightning Racer double-track wooden racing coaster and the Great Bear steel inverted coaster.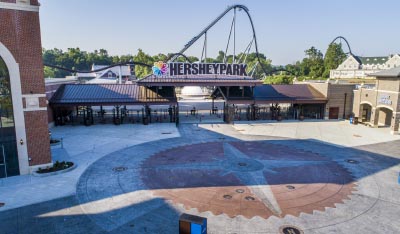 STARTING YOUR SWEET JOURNEY
Naturally, once you check in, you'll want to learn a little bit more about Hersheypark. So first, head to The Hershey Story Museum, which preserves the story of Milton S. Hershey, who founded the town bearing his name. There are tons of interactive activities for kids and adults, to make it an enjoyable day. Hershey's story. You can even find out how The Hershey Company has evolved and seen what their products looked like, from creating their wide variety of confections to their completion when they are packaged. From here, it's time to discover chocolate heaven.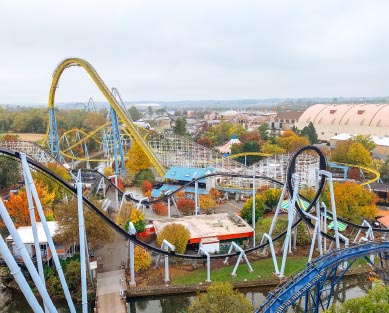 AMUSEMENT PARK
For all you first-timers, Hershey has two parts: Hersheypark Amusement Park and Hershey's Chocolate World. Here are some of the attractions you'll see.
Coasters Here's where you'll find all the high-flying action. When you take a long look at Hersheypark, you'll notice that the 15 roller coasters that are contained in the park differ in height, age, and thrills. Here's a sampling of what to look for: 
• Comet is the oldest coaster at Hersheypark and is best known for delighting families with several air-time bunny hills for 75 years. The coaster climbs 96 feet and reaches a top speed of 50mph during a 3,360-foot ride. 
• Fahrenheit® The climb is steep, and at 97 degrees, it's a fast fall. And it's just the beginning. You'll also fly through a memorable course of loops, corkscrews, dives, and plenty of thrilling airtime.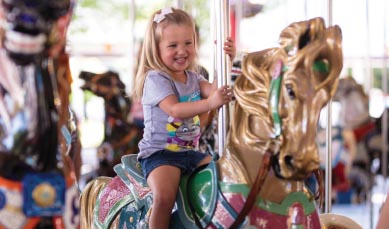 • Candymonium® is the tallest, fastest, longest coaster in Hersheypark. Thrill a heart-pounding 210-foot ascent up the tallest hill in the park. Then, dip into drops, including seven camelback hills that serve up the ultimate feeling of freedom with the most airtime in the entire park. 
• The Carrousel One of the most historic rides has a home in the newest region known as Hershey's Chocolatetown®. The Carrousel reflects the personality of its unique setting while still preserving its original historic charm. Take your pick from riding on a moving horse, stationary horse, or chariot. There's also music to be enjoyed from the Wurlitzer military band organ.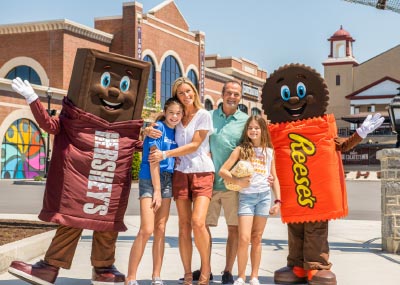 CHOCOLATE WORLD
At Chocolate World, there's much to do and discover. Here's a sampling of what's in store for kids and adults.
• Create Your Own Candy Bar Get your creative hats and immerse yourself in an authentic Hershey's factory experience. Choose your ingredients and design a wrapper, too. The possibilities are endless!
• 4-D Chocolate Movie puts you inside all the fun. Through stunning digital animation and special effects, become part of the show by interacting with the Hershey characters and help solve a mystery. 
• Hershey's Chocolate Tour Follow this fun, immersive chocolate-making tour as you see, hear and smell the transformation of cocoa beans to Hershey's Chocolate. Don't leave without your complimentary product sample.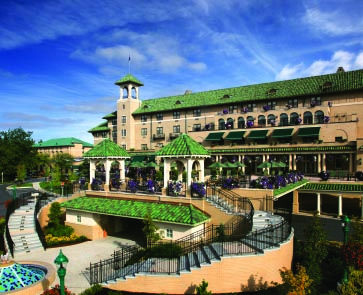 THE BOARDWALK & ZOOAMERICA
• The Boardwalk Enjoy this fun-filled water park (included in park admission) and make a splash. The seasonal attractions are open from Memorial Day through Labor Day.
• ZooAmerica Open year-round, this 11-acre zoo is home to 200 animals from five North American regions in the U.S., Mexico, and Canada.

WHERE TO STAY
The Hotel Hershey is the grande dame featuring a gracious Mediterranean villa-style ambiance. The sophisticated resort was inspired by the fine European hotels Milton S. Hershey encountered in his travels, elegant touches abound, from the mosaic-tile lobby to rooms with maple armoires, paintings from local artists, and tile baths. Finally, don't forget to book a treatment at The Spa At The Hotel Hershey, where you'll find exhausted visitors who need a little bit of pampering with body treatments that include chocolate sugar scrub, chocolate fondue wrap, and a whipped cocoa bath. It may be challenging to choose from these chocolate-based treatments—simple because they smell so good!
For more information on Hersheypark and The Hotel Hershey, visit HersheyPA.com
HOLIDAY HAPPENINGS
Hersheypark In The Dark Make it even more festive this month with favorite rides and coasters, chocolately trick or treat adventures, wild zoo visits, and Hershey Character experiences. Open on weekends October 15th – 31st, 2021.
Hersheypark Christmas Candylane® Celebrate the holiday season with more than five million lights for the merriest event of the year, Hersheypark Christmas Candylane®. There will be plenty of rides and, of course, a visit with Santa. Open on select dates from November 2021 – January 2022.