One of Pennsylvania's most unique destinations can be found in Bucks County. Set in an 18th-century Colonial village, Peddler's Village affords guests plenty to do with open-air shops, a variety of quaint restaurants, and a working 1922 antique carousel. Make it a true getaway and book your stay at the charming Golden Plough Inn. In addition, it's also a place for recreation and entertainment with special events and festivals to make a trip here that is more than memorable.
FUN HAPPENINGS
Scarecrow Display and Competition
Now through October 30th
For eight fun-filled weeks, 150 scarecrows dot the brick pathways of the autumn-tinted Village. Some are inspired by famous characters, some are humorous, some are scary—but all of them are carefully handmade by Philly-area residents and organizations. Visitors are invited to vote on their favorite scarecrows through October 11th; the creators of the winning scarecrows receive prizes.
Outdoor Movie Night: Beetlejuice
October 9th
Head down to Street Road Green for Peddler's Village spooky screening of Beetlejuice under the stars. Don't forget to bring your chairs, picnic blankets, and snacks.
Scarecrow Shuffle Walk and Run, presented in partnership with Scoogie Events
October 17th
Join Scoogie Events and Peddler's Village for a special event for adults and children of all ages and all abilities to celebrate the fall season with an energizing, festive event jam-packed with family fun and activities!
Slightly Batty Halloween Wingding
October 30th
Calling all ghosts and goblins, dress in your spookiest or most original Halloween costume and come on out to Peddler's Village Slightly Batty Halloween Wingding! You can explore our Haunted House, take part in games such as pumpkin bowling, musical chairs, or even a spooky dance party. Prizes will be awarded for all kids participating in the Halloween costume contest. Reservations required.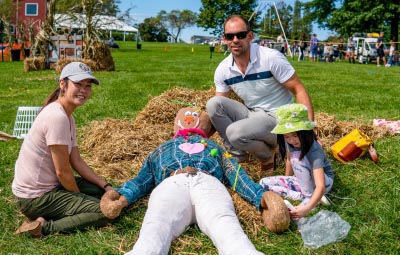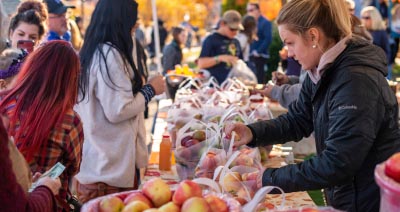 WEEKEND HAPPENINGS
Outdoor Family-Friendly Walking Tour: GhostDusters
Weekends now - November 7th
Join the GhostDusters as they discuss Bucks County's famous haunts. But beware: While some of the ghost tales are true, some may be, well, less authentic. (And none will cause nightmares.) Can you guess which stories are true and which are phantoms? Prizes will be awarded to those who know their Bucks County ghosts.
Murder Mystery Cocktail Theater | Golden Girls Murder Mystery: The Halloween Caper
Weekends now – November 13th
The Golden Girls are at it again! Miami's Fab Four are planning their annual Halloween shindig. Rose dresses the room in traditional St. Olaf Halloween decorations and Blanche dons her cat ears. Dorothy eagerly anticipates a surprise guest, but the surprise might be on her when things don't work out the way she hoped, and Sophia shows us her psycho side.
OctoberFeast
Weekend of October 16th – 17th
Join us for OctoberFeast, a weekend featuring food trucks, beverages, live entertainment, and activities. Grab your stein and stroll among the larger-than-life scarecrows that are part of the annual Scarecrows in the Village competition!
Ghostly Graveyard Gala
Weekend of October 29th – 30th
The ghosts of Peddler's Village will rise on Hallow Eves, to dance through the night and haunt as they please. Come walk through their haunted house, and a carpet of blood red. Come sit by the fires and disco with the dead. Join them if you dare for a fun-filled evening with live DJ, club style dancing, fire pits, hot cider, cash food trucks, bar, games, photo booths, and more! Wear a costume, or dress in black. There will be a costume party with cash prizes! Must be 21 + to attend. Reservations required
Apple Weekend
Weekend of November 6th & 7th
Celebrate apple season in Bucks County with a weekend of family fun. Attractions and food are pay as you go. (Peddler's Village shops are open until 8 pm on Saturday.)
For more information on all events and festivals including times and admissions, visit peddlersvillage.com