FALL FOLIAGE 2021
What To See + Do In Upstate New York
By Patricia Canole
From short road trips in the Hudson Valley to long weekend escapes to the Adirondacks and beyond, leaf-peeping opportunities abound around the state. It's nice to take in those rich autumnal landscapes from the comfort of one of the best hotels for foliage views in the state. Here, our picks of what to see and do for fall foliage in the Empire State.
ADIRONDACKS
Winding your way through scenic byways of the Adirondacks' six million acres during the peak of leaf-peeping season offers breathtaking mountain views. But, of course, one of the best ways to experience this region's stunning vistas is to take in the mountains!
Outdoor adventurers can hike, climb, mountain bike, and canoe amidst colorful fall foliage. Head to breathtaking Ausable Chasm, where naturally formed sandstone aging back 500 million years, creates a memorable backdrop for a fall excursion. Make sure to take a family float tour through the Grand Flume and Whirlpool basin.
For hikers, the 46 High Peaks mountaintops will thrill at a 4,000-feet elevation, making this wilderness area one of the most popular in the Northeast during fall for leaf peepers in search of expansive scenery.
Weekends get a serious rush as you speed down Gore Mountain or Whiteface Mountain, both skiing areas that offer downhill mountain biking in early fall. Then, you'll maneuver down maintained trails during peak foliage season. One place to include in your itinerary is Lake Placid. Here's all you need to know. Info: visitadirondacks.com
Lake Placid Region Fall in Lake Placid is all about days bathed in the fiery foliage glow: pumpkin orange, flaming red, and sunshiny yellow. Fall days spent here in the beautiful, fresh air, surrounded by glorious colors covering the mountains, are unlike anything else. Revel in the scents and sounds of forest trails, the sparkling shine of Mirror Lake, and a picnic-perfect park. Part of Lake Placid's beauty is that you don't have to go far to find fresh air, natural solitude, and opportunities to stretch your legs and feel great. Visit the Olympic Museum, an homage to the 1932 and 1980 Winter Olympics held in Lake Placid. Race like an athlete at the Lake Placid Bobsled Experience or take in panoramic views of the High Peaks at the top of the Jumping Complex. If you're in the neighborhood from October 13th – 17th, plan to watch the U.S. Olympic Luge team prepare for the 2021 Winter Olympics in Beijing.
After an eventful but perfect fall day, you're probably looking for a bit of entertainment to freshen up and take part in the Lake Placid Film Festival (October 22 – 24). Then hit Main Street Lake Placid for a very satisfying and delicious meal. The chefs of Lake Placid put their all into making your dining experience as exceptional as the rest of your Adirondack experience. At Caffee Rustica savor outstanding Nlorthern Italian cuisine, or if your palate takes you to American fare, head to the Great Adirondack Brewing Company for lunch or dinner. Info: lakeplacid.com
Best Stay The Mirror Lake Inn & Spa boosts your senses, providing an extraordinary experience for the body, mind, and palate. You'll soon find that it treats your needs as unique and accommodates you in personalized ways. Mirror Lake Inn's track record of excellence includes the AAA Four-Diamond rating for more than two decades. The beautifully appointed rooms and suites afford first-class amenities and fabulous views with whirlpool baths and fireplaces. For dining pleasure, the inn's Cottage Café features indoor/outdoor in a relaxed dining experience along with a waterfront deck. The upscale The View Restaurant features the finest cuisine and impeccable service, and a hip lakeside pub. The resort treats each guest's needs as unique and accommodates them in personalized ways. This attitude, along with gracious service and attention to detail, is at the inn's heart. The concierge desk arranges all on and offsite activities, such as yoga, rainy day activities, world-class fly fishing, and customized guided outdoor adventures. There's also golf available at their sister property, Whiteface Club and Resort.
After a day of exploring the mountains, head to the inn's spa for some much-needed pampering with a menu of treatments to soothe the body and soul—everything from massages to a Jacuzzi and indoor pool.
Mirror Lake Inn & Spa also offers special packages that include Culinary Weekend Getaways. Partnered with The Carriage House Cooking School and led by Chef Curtiss Hemm, the entire weekend celebrates the Adirondack's bountiful farm-to-table offerings. Guests get to participate in cooking classes while they also enjoy the comforts of the inn. Info: mirrorlakeinn.com
PUTNAM
Putnam is a treasure of crystal-clear lakes, well-maintained hiking trails, historical sites, art, and cultural venues, all surrounded by dining to fit every taste and palate. Putnam is just an hour away from Manhattan with five daily MetroNorth stops, making day trips hassle-free and easy. Create a day trip or stay for a weekend; Putnam is the perfect place to relax and unwind.
Begin your trip at Boscobel, the beautifully restored Neoclassical mansion overlooking the Hudson River. The original house was built in the early 19th century by States Dyckman and is considered a significant example of the Federal style of American Architecture and includes an extensive collection of period decor and furnishings. In addition, the property consists of gardens, an orchard, a sculpture garden, and hiking trails.
A short 3 miles away is Magazzino Italian Art, a museum and research center dedicated to advancing the public appreciation of postwar and contemporary Italian art in the United States. A visit to Manitoga is next on the itinerary.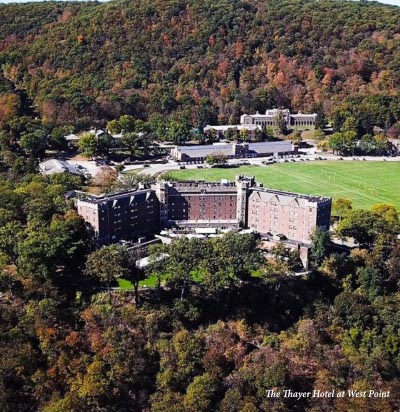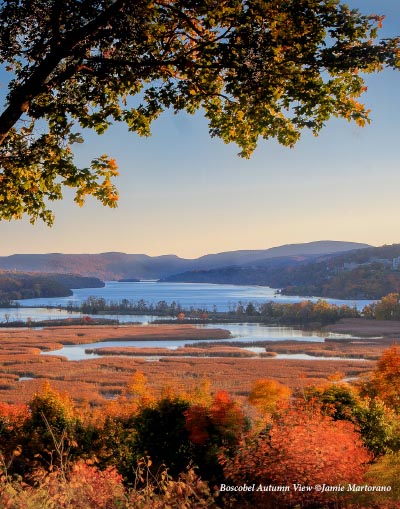 A short 3 miles away is Magazzino Italian Art, a museum and research center dedicated to advancing the public appreciation of postwar and contemporary Italian art in the United States. A visit to Manitoga is next on the itinerary. Located in Garrison, it's the former home and 75-acre woodland garden of American industrial designer Russel Wright (1904-1976). Manitoga is a National Historic Landmark, an Affiliate Site of the National Trust for Historic Preservation, and one of the few 20th-century modern homes with original landscapes open to the public. Viewing of the house and studio is by guided tour only and runs through November 9th. Next, head east on Route 301 and, at your leisure, explore Stone Crop Gardens, Glynwood Farm, Fahnestock State Park, and Chuang Yen Monastery, which is home to the largest indoor statue of Buddha in the Western Hemisphere.
Whether you seek the majestic beauty of the Hudson River or the rustic tranquility of farm life, it's always the perfect time to explore the many farmer's markets and dining establishments.
Head to Tilly Foster Farm and Tilly's Table Restaurant in Brewster, where you'll find farm animals, vegetable crops, and rolling hills are reminiscent of a time when most of the county was farmland. The restaurant offers a wonderful menu that includes the farm's grown produce. Of course, no trip to Upstate New York is complete without a visit to an apple orchard. Stop at Salinger's Orchards in Brewster for its 18 varieties of apples, pumpkins, and numerous other seasonal crops. They also sell local honey, pies, cookies, muffins, donuts, and other sweet delights. The farm market and café are open year-round. Info: putnamcountyny.com
Best Stay Set in the rolling hills of the Hudson Valley and located in nearby Orange County, just a short drive across the Bear Mountain Bridge, is The Thayer Hotel at West Point. Surrounded by natural beauty and outdoor adventures, the hotel is the only one on the campus of the military installation, offering a unique experience in connection with America's history. Visitors often tour the famous United States Military Academy at West Point. Rooms evoke an Old-World charm with modern amenities, featuring plush beds, oversized bathrooms, coffee makers, and cable television. History buffs may want to stay in the same suite as former President Dwight D. Eisenhower; you can even sit at his writing desk! MacArthur's Riverview Restaurant serves breakfast, lunch, and dinner at the hotel. The expansive Zulu Time Rooftop Lounge displays the only rooftop lounge overlooking the Hudson River between Manhattan and Albany. It's a nice place to relax and gaze out over the beautiful river views. Info: thethayerhotel.com
ULSTER
We dare you to find another place on Earth that so wholly embodies the spirit of the season, from the harvest bounties, farms, and the innovative flavors conjured by exceptional chefs to haunted hayrides through the evocative landscapes. The dense foliage that blankets the Mid-Hudson Valley and the adjacent Catskills is a wonder any time of the year. Still, fall is extraordinary to witness a kaleidoscope of brilliant earth tones that emerge from the pines, oaks, maples, and hemlocks that dot the landscape.
Mohonk Mountain House boasts 85 miles of hiking trails to explore during the fall foliage season. Additionally, from November 29th – December 3rd, guests can discover local plants, animals, and natural communities during Mohonk's Art of Nature Awareness program. Naturalist Michael Ridolfo teaches time-tested principles of tracking and nature observation, authentic survival skills, and spontaneous attention that occurs when we move through the arena of the natural world.
Ulster is home to family farms teeming with orchards and so much more. So, pick your produce straight from the source, find that perfect pumpkin for carving or baking, sip fresh apple cider, or take a spooky hayride with the little ones.
Ulster is home to family farms teeming with orchards and so much more. So, pick your produce straight from the source, find that perfect pumpkin for carving or baking, sip fresh apple cider, or take a spooky hayride with the little ones.
Nature lovers can take in the beauty with two scenic drives that are so beautiful they've been officially designated as such: the Catskill Mountains Scenic Byway and the Shawangunk Mountains Scenic Byway. 
Info: ulstercountyalive.com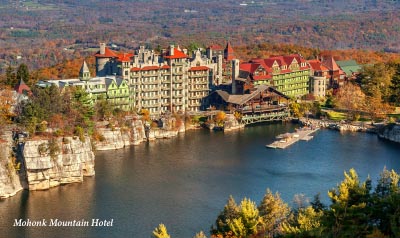 Best Stay Nestled in the Hudson Valley and situated on a private glacial lake with views of the Catskill Mountains; this Victorian castle resort provides a one-of-a-kind mountain getaway. Owned and operated by the Smiley Family since its founding in 1869, Mohonk Mountain House has been a sought-after destination for generations. Amenities include farm-to-table cuisine, a wide range of outdoor activities, and an award-winning spa. Clear your mind while exploring miles of protected forest and scenic hiking trails or try forest bathing along timeless cliffs and a crystal-clear lake. If you're looking for a more relaxed getaway, visit the spa, then grab a handcrafted cocktail on the Sunset Porch to enjoy expansive views of the mountain range and one of the most iconic sunsets in the Hudson Valley. 
Mohonk Mountain House dining venues include The Main Dining Room features panoramic views of the Catskill Mountains, dramatic cathedral ceilings, and original woodwork from 1893. It features fresh, local ingredients and highlights the bounty of the Hudson Valley region. The Granary creates the perfect atmosphere for a relaxed summer lunch or an evening cookout. Guests can enjoy an impressive selection of barbecued chicken, spareribs, burgers, hot dogs, corn on the cob, fresh fruit, and homemade pies. 
Info: mohonk.com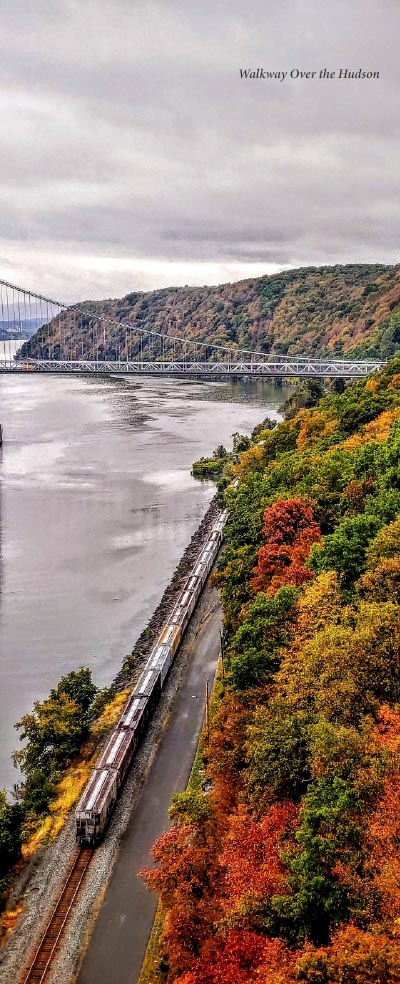 DUTCHESS
Enjoying time outdoors is ideal in nearby Dutchess County. Where else can you enjoy nature's bursts of color and take advantage of the gifts harvest season brings? Historic sites like Vanderbilt Mansion National Historic Site in Hyde Park and Staatsburgh State Historic Site in Staatsburg offer magnificent views inviting visitors to stroll their grounds or bring a picnic to enjoy while admiring the changing trees. Then, take in the foliage from an island on the Hudson after a short boat ride from Beacon to Pollepel, the home of Bannerman Castle (advanced reservation required, tours available through October).
For a vantage point like no other, the Walkway Over the Hudson in Poughkeepsie is one-of-a-kind. The longest elevated pedestrian bridge in the world is a former railroad bridge built in 1888, now open to anyone who loves to walk or bike. Enjoy a breathtaking perspective of the Hudson River Valley. Panoramic views can also be seen atop the fire towers at Ferncliff Forest in Rhinebeck, Breakneck Ridge in Beacon, and Thompson Pond Preserve in Pine Plains.
Of course, there's a bounty of other activities to discover in Dutchess. Apple orchards are plentiful. Pick-your-own experiences include Fishkill Farms (advance reservation required), Greig Farm, and Mead Orchards. If you'd rather stay on terra firma, shop the farmer's markets and roadside stands. Info: dutchesstourism.com
Best Stay A short two hours from Manhattan by car in the heart of New York's Hudson Valley, Mirbeau Inn & Spa Rhinebeck  is located on nearly three secluded acres. The 50-room property is just a short jaunt from the specialty shops, flourishing food scene, and Rhinebeck's art culture's historic center. Guests will find a European-style resting area, aqua terrace with a thermal pool, eucalyptus-infused steam room, Himalayan salt saunas, and the latest in fitness equipment. At the signature Willow by Charlie Palmer, you'll find cuisine sourced to represent the region's agricultural heritage which showcases the team's dedication to progressive American cuisine. The restaurant is open for breakfast, lunch, and dinner, featuring local and seasonal produce from multi-generational farms, food artisans, and craft distillers. Info: mirbeau.com
SULLIVAN CATSKILLS
Once best known as a popular vacation area for New Yorkers escaping the sweltering streets of summer in the city, Sullivan is also the location of the 1969 Woodstock Festival, and hippies (and hipsters) still make the pilgrimage to the hallowed grounds in Bethel. That was then. Today, a new set of towns have emerged as the go-to destination to luxuriate in Mother Nature's brilliance.
Located about 90 minutes from Midtown Manhattan, Sullivan Catskills is an easy weekend getaway to enjoy the fall. With the most scenic views around, cruise down the Upper Delaware Scenic Byway on your way to Barryville, Narrowsburg, and Callicoon—all of which have fantastic lodging, dining, and hiking options—to take in unparalleled views of fall foliage.
Outdoor enthusiasts can ply the waters of the Delaware River in a canoe, raft, or tube. Lander's, a fixture in the area, offers multiple launch points along the Delaware, allowing guests to choose the most convenient starting point. Open through October 9th. Think mountains, and you have plenty of hiking opportunities. Through the end of October, experience the region's beautiful foliage first-hand. Stop by Morgan Outdoors in Livingston Manor to receive tips on hitting the trails and stock up on hiking gear. And for die-hard thrill-seekers, how about zipping down a three thousand dual racing zip-line at Kittatinny.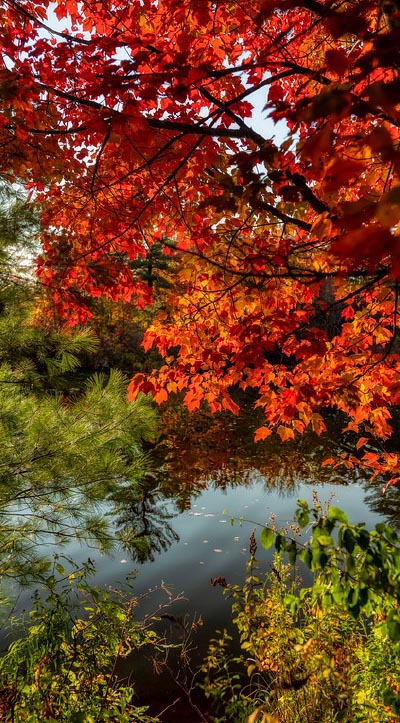 If you are in search of a little bit of spooky adventure, look no further than the haunted tours at the historic Burn Brae Mansion where guests are armed with ghost-hunting equipment and chase the rumored spirits throughout the notoriously haunted. The night culminates with dinner on-site. A seasonal favorite is Cunningham Family Farm which offers fall festivities including the corn maze, pumpkin picking, hayrides, and even an Oktoberfest.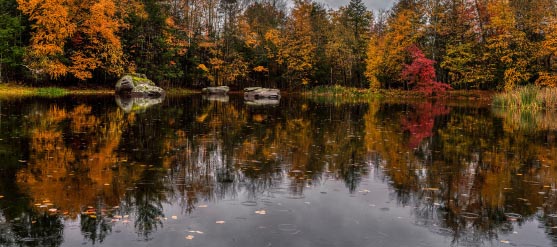 Take your choice. Food lovers are greeted with fresh farm-to-table menus at an array of restaurants such as Matthew's on Main and The Western in Callicoon, and Barrio Kitchen in Kauneonga Lake, Piccolo Paese in Liberty and  Pickled Owl in Hurleyville, Also available are some of the best breweries. Visit Roscoe Beer Company—recently voted the number one craft brewery in New York. The region is also home to distilleries, including Catskill Distilling Company in Bethel and Prohibition Distillery in Roscoe. Prohibition recently opened an outdoor patio perfect for enjoying a cocktail or small bite after touring the distillery. Info: sullivancatskills.com
Best Stay Villa Roma Resort, located in the heart of the Catskill Mountains, just 90 minutes from Manhattan, is ideal for a family vacation or a quick day trip. From its beginnings as a small hotel-style bed and breakfast to its current revitalized splendor, Villa Roma defines your all-inclusive Catskills experience that includes a café, a ballroom, cocktail lounge, and piano bar. You can also go rock climbing, golfing, zip-lining, and, of course, there is plenty of hiking to count the falling leaves. The all-inclusive packages include daily breakfast and dinner featuring Italian and American-style cuisine. Evenings feature nightly shows and events. Info: villaroma.com
WESTCHESTER
Starting just 30 minutes north of Manhattan, Westchester County has so much to offer families, couples, and solo travelers eager to enjoy the crisp fall weather and celebrate the season.
Travelers can explore the well-shaded climbs of Westchester, which feature some of the best hiking trails in the state. For example, the Manaus River Gorge Preserve in Bedford is a trail that looms 40 feet above the Manus River. Despite the exhilarating view, the hike is easy and perfect for the whole family. And at Croton Gorge Park in Cortlandt, an easy two-mile hike includes the New Croton Dam's gorgeous vistas and its autumnal color palette. Other nature preserves and parks for fall foliage include: Greenburgh Nature Center, Edith G. Read Wildlife Sanctuary, Rockefeller State Park, Tarrytown RiverWalk, and more.
Fall events abound in Westchester. The most popular The Great Jack O'Lantern Blaze place now through November and features a breathtaking display of more than 7,000 jack o' lanterns with synchronized music and lights, which are all designed onsite by a team of artisans. Additionally, in October, The Armour-Stiner Octagon House will be hosting Myths and Mysteries Tours, where guests can learn more about the house's unique history and rumored haunts.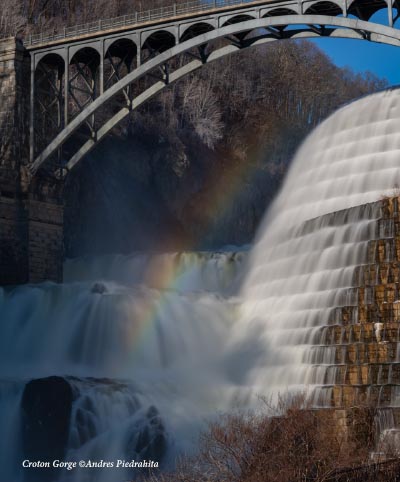 For history buffs, a visit to Sleepy Hollow is a must-do. The village of Sleepy Hollow welcomes visitors to check out the Old Dutch Church from Irving's tale and the Sleepy Hollow Cemetery, with famously historic graves, including Washington Irving himself. Additionally, anyone who visits Irving's landmark home, Sunnyside, will have the chance to see Irving's Legend, a dramatic outdoor performance by master storyteller Jonathan Kruk. Complete with live music by Jim Keyes and an appearance from the Headless Horseman, this performance is sure to thrill audiences of all ages all October long.
Farms of all kinds are in Westchester County, offering fun activities such as apple-picking and wagon rides this fall. Many of the farms are family-owned and operated, some dating back nearly 300 years. These farms include Harvest Moon Farm and Orchard (North Salem), Stuart's Fruit Farm (Granite Springs), and Wilkens Fruit & Fir Farm (Yorktown Heights).
Dining options have increased in recent years, with six newcomers just this year. Look for Goosefeather, located on the grounds of Tarrytown House Estate, featuring seasonal, modern Asian cuisine by celebrity chef Dale Talde. Then there's Dubrovnik Restaurant located in New Rochelle, serving up delicious farm-to-table Croatian cuisine in a unique old-world restaurant setting. Additionally, visitors have the opportunity to indulge in delightful craft beverages like Thompson's Cider Mill or a fantastic brewery such as Broken Bow Brewery. Info: visitwestchesterny.com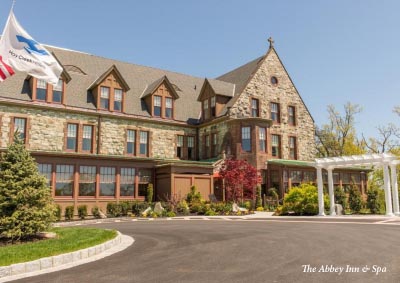 Best Stay The Abbey Inn & Spa is nestled on a hillside overlooking the Hudson River. The boutique hotel welcomes visitors with distinctive guest rooms and suites, stunning meeting and event settings, serene gardens, a tranquil spa, and a fitness center, as well as Apropos. This farm-to-table, Mediterranean-inspired dining destination celebrates the bounty of the Hudson Valley. The existing historic building was formerly the convent of the Episcopal Sisters of Saint Mary's and repurposed with luxury accommodations. Guests see touches of a religious past: The 742-square-foot Cornerstone Room, suited to small, intimate gatherings, is graced with historic, hand-painted ecclesiastical wall coverings and stained-glass windows serve as a backdrop, while the 2,183-square-foot Highlands Ballroom, site of the nuns' former chapel with its vaulted ceiling and Romanesque altar. Info: theabbeyinn.com