NUNZI'S RESTAURANT
Good Food & Vibes Under One Roof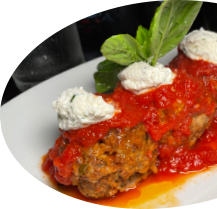 A family's love for good food and good vibes has created what is destined to be the hottest new restaurant in Farmingdale, Long Island. Inspired by a grandfather's passion for bringing people together at a table and a grandmother's love for food is the opening of Nunzi's, considered by some to be the finest Italian food in the world. Nunzi's proves to be that and so much more with their unique traditional platters and stunning décor. Nunzi's is not just another eating establishment; it is a dining experience.
Owner and operator Michael Napolitano, along with his brother, Vincent Jr, is out to prove that the incredible dishes made in the kitchen are only to be rivaled by the fantastic hospitality of Nunzi's, where everybody is treated like a VIP. As a result, Italian dinners are not just enormous feasts but social gatherings.
THE MEMORIES LIVE ON
Named for their grandfather, Nunzi's was founded on his principles. "My grandfather would talk about and stress the importance of traditions." He often said, 'When I pass, they'll be no more traditions in this family.' Here at Nunzi's, we plan on keeping my grandfather's traditions alive. You will eat with us, drink with us and laugh with us. Families and friends will all enjoy delicious food, fine drinks, good music, and making memories," states Napolitano. "For those of you that never got a chance to meet Nunzi, these were the memories that he lived for and the nights we know he never wanted to end.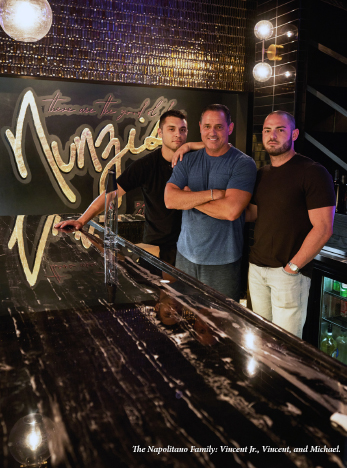 Chefs Anthony LoCastro and Marc Wisehart have collaborated to produce memorable moments on a plate that Nunzi would be proud of. The modern take on classic dishes highlights a menu that incorporates unique twists on old-school Italian meals. With superb creations such as Grandma's Meatballs, served with tomato sauce and fresh ricotta, and Pappardelle & Lamb, red wine braised lamb, tomato mushroom ragu, pancetta and shaved parmesan you can't go wrong. Other great menu choices include the savory Heritage Pork Chop with white wine, garlic, cherry pepper jam, and roasted cipollini onions; the delectable Pan Seared Scallops served with corn pureé, pancetta, asparagus, roasted baby bell pepper, basil oil, arugula, and radicchio salad; and inspired by Nunzi himself, the Grandpa's Rigatoni with filetto di Pomodoro tomato sauce, prosciutto de Parma, plum tomato, basil, and chili oil.
ONE-OF-A-KIND SPECIALTIES
Not to be missed are fascinating interpretations that will satisfy the cravings of adventurous foodies, such as one-of-a-kind Limoncello Chicken Wings and a boisterous menu placement of a Philly Cheesesteak Sandwich. In addition, the extensive wine selection is ideal for happy hour or to sip while enjoying one of the many delicious meals.
Besides the fabulous cuisine, the décor is sleek and modern, created by renowned designer Derek Axelrod. The moment guests walk in the door; they are dazzled by a lively atmosphere that is both edgy and delightful. Both Axelrod and the Napolitano's worked in harmony to create a beautiful environment. Nunzi's seeks to enchant young and old alike by capturing a fresh, contemporary, and sleek look, with nods to the glamour and romance of classic Italian meals. Making customers happy while giving them that home feeling is the main priority of the Napolitano brothers. The cozy restaurant will leave a lasting impression on all who experience it.
For more information on Nunzi's, visit nunzis1274.com