Skorpios has a lot going for it: a prime midtown location, a white space making you feel you just arrived onto an Aegean isle, waterfalls cascading down pillars, an expansive rock wall, and a 32-foot sand art provide your passage to a perfect evening. But that's not all…
Dara Young is the force behind the restaurant's design. The Aviva Collective CEO created a spacious dining room lined with white leather banquettes, white-washed tables, and an expansive bar with natural light shining in. All this and a tempting menu make you feel more like you're nestled in a Greek taverna than East 54th Street.
SIMPLY SEDUCED
Few cuisines are as seductive. At Skorpios it's the fresh, flavorful food prepared with care, tradition, and technique that chef and co-owner Yiannis Chatiris takes pride in. The Greek-born Chatiris learned his craft at an early age and opened his first restaurant, Rodos, at 22. Years later, he set his eyes on New York City and made it his home. Chatiris continued his flourishing career and opened several restaurants, including Ethos Gallery 51, Pathos Café, and Mykonos Bleu.
My companion and I yearned for the Greek classics because so many have become the iconic treasured tastes of a proud country. Here the flavors of Greece abound. We knew we were in for a delicious evening the instant the Spanakopita arrived at our table. It's my favorite with phyllo so wonderfully buttery and crisp, the spinach filling splendidly fresh and not oversalted. It was simply refreshing and filling. Speaking of refreshing, the Greek salad—that simple classic that often seems tired and dull—was crisp with excellent quality olives and two chunks of feta. Other appetizers prepared for us included the traditional Greek spreads: Tzatziki, Skordalia and Eggplant Melitzanosalata; Grilled Octopus (incredibly moist), and Ouzo-flamed Haloumi Cheese.
Pasta lovers will enjoy prepared dishes that will please your palate. Tunisian Tuna Linguini and Orzo Paella are popular favorites. Never overlook the Vegetarian Moussaka—a classic that has stood the test of time.
The menu features freshly caught whole fish flown in daily from Greece and beyond, sold by the pound at market price. The fish is charcoal-grilled simply with olive oil, lemon, and sea salt. Meat is prepared to perfection with choices ranging from Ribeye to Tomahawk. It was an easy choice for us: Lamb Chops with roasted mushrooms and Branzino—both superbly prepared and presented—with spinach and lemon potatoes as sides.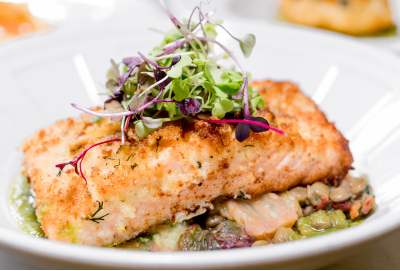 A PERFECT ENDING
The wine list is of note, starring the city's finest Greek vintages. Also, look for a full menu of specialty cocktails: The Blood Orange Manhattan is a must! Of course, one needs to leave room for the Baklava. No other dessert spells Greek cuisine than this honey-infused confection: Not too sweet but unquestionably big on taste—and lots of pistachios.
Skorpios is an excellent escape from the concrete jungle, perfect for a date or a good meal with a few friends. Food this good deserves to be enjoyed repeatedly. Welcome to Skorpios!
For more information on Skorpios, 
visit: skorpiosny.com