Undoubtedly, living in New York City has provided you with some of the best cuisines the world offers. Add one more to the list: Korean gastropub food Barn Joo Nomad. Jinsu Park, the Barn Joo Group executive chef, refers to the restaurant as a "tapas establishment." Hence, we gave it a try and found dining on the innovative Korean small plates quite original—even if they were way out of our palates' usual comfort zone.
Park, a South Korean native, cut his teeth in Asian kitchens since he was 17 and likes to challenge himself by coming up with genuinely unique fare. "We like to call our cuisine Korean inspired rather than use the word fusion. The way we look at it, every dish we make has something Korean about it, whether it be the ingredients or the way we prepare it. It's just like what Korean Americans would experience at least once if they tried to cook Korean food in the states.
Park goes on to list Barn Joo Nomad's most popular dishes: "I would say that our BJ Signature Open Roll Trio is the best seller followed by our Steamed Dumplings (Kimchi/ Pork combined), Truffle Fries and Korean Chicken Wings. Hwe Bibimbap has been coming up fast, especially as a lunch order. The BJ Open Rolls experiment with creative plating and structure, putting a twist on the original concept of a roll. The rolls range from Uni and Yellowtail to Shiitake and Black Truffle Mushroom and Eel and are served with house-made bone marrow soup and chef's special soy sauce reduction with pickled ginger chayote.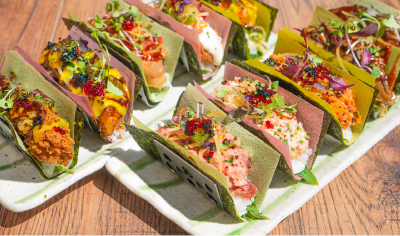 TABLE IS SET
We found our selections nothing short of amazing. The Steamed Dumplings full of your choice of pork or kimchi with tofu, glass noodles, cabbage, and chives are amongst the freshest tasting in the city. Likewise, the Korean Chicken Wings is a generous five-piece appetizer done in hot 'n spicy, soy garlic, or citron flavors—these wings are so juicy and filling that you might want to get two plates for yourself and call it a night. These are what you call wings that truly "stick to your bones!"
The Nomad Bite (beef short rib with carrots, dates, marbled potatoes, kabocha squash, soy sauce, and sweet potato puree) and Slow Pork Belly (slow-cooked pork belly, homemade chicharron, pickled coyote squash, white kimchi, and ssamjang oil), enticed with a mix international flavors and organic veggies. Barn Joo is also famous for its BJ Rolls, seaweed rolls stuffed with crab meat, galbi (short rib), eel, salmon, lemon aioli, and assorted microgreens. There is a unique layer of soft bread inside each seaweed roll that is created with bean paste.
For dessert, expect Red Bean + Fruit Bingsu (a bed of shaved frozen milk, seasonal fruits, a nut medley, and sweet red bean paste topped off with a scoop of ice cream). The Bread Pudding (made with bourbon, a scoop of vanilla ice cream, and a homemade pirouette cookie) is a tasty take on a comfort food classic.
Barn Joo is Korean for "an alcoholic drink paired with a meal," so try one of their incredibly inventive cocktails, including the popular Jeju Spirit (Bokbunja, Grenadine, Campari, Orange Bitters, and Brut Sparkling Wine). Any die-hard fan of the Manhattan should try the Toasted Sesame Manhattan (Sesame Washed Bourbon, Sweet Vermouth, Drambuie, and Whiskey Bitters).