His number is the one you want on your phone, but you don't want to call it. Like, ever. Aidala is one of the law profession's fiercest advocates, with a client roster that, well, you might not list to your family. But not Aidala. The charismatic, animated, lovable-huggable until-he-cross-examines you attorney could not be more proud of the work he and his firm, Aidala, Bertuna & Kamins, have done for their clients. Even if they have included controversial figures like Roger Ailes, Anthony Weiner, Alan Dershowitz, and many other notorious names you've read in the headlines. Crain's NY called him the "go-to lawyer for those in big trouble," and they weren't kidding.
"Sometimes you do wind up representing unpopular people," says Aidala on a Friday evening, gathered in his office's conference room he's filled with his colleagues. "People make mistakes," he explains. "There's often greed involved, and alcohol and drugs. I can't tell you how many clients tell you, 'Well, I was drinking, and I did that or 'I got addicted to OxyContin and I did that.' I've had clients who got jammed up with gambling, and then they had to go on the street to get money, and that went sideways. People make mistakes," Aidala says, face filled with empathy.
"Most of the time, we're making either a horrible situation only bad or a bad situation to be not great," he continues. "But we represent everyone with passion. There is humanity involved here. And if you have that passion, you may not be able to get a person out of jail sentence, but you're going to get them the best possible result, and that's what you must shoot for. But passionate does not mean delusional. We're not ignorant. We're not stupid. We're not naïve."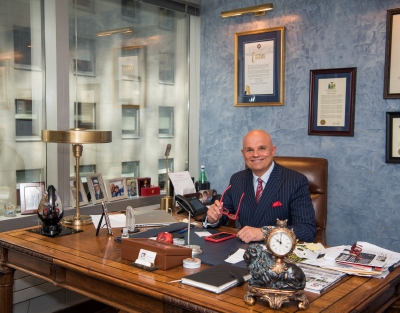 A former prosecutor with Kings County out of school—CUNY School of Law—Aidala tried and supervised some of the toughest felony and homicide cases before founding his firm in the late 90s. Now, he fights to keep people out of jail as fiercely as he once did putting them behind bars. But there are no hard feelings. To wit: to celebrate his 50th birthday, Aidala bridged the city divided and brought together the strangest of bedfellows, including Mayor Bill de Blasio, Brooklyn District Attorney Eric Gonzalez, New York State Comptroller Tom DiNapoli, New York State Attorney General Letitia James, Good Day New York anchor Rosanna Scotto, and broadcasters Kimberly Guilfoyle, Shepard Smith and Juan Williams, among others.
Aidala keeps his firm small, with less than 20 partners, associates, and support staff that function more like a loud, passionate family than law practice. He plays consummate host to visitors, introducing his entire team, often with an endearing anecdote that makes them blush with pride. His office, located off 5th Avenue, brims with personality, sophistication, a touch of testosterone (there is a "time-out" Sinatra room filled with Mad Men-style décor and scotch), and loud, family-style squabbles that always end with laughs.
The firm's brand: "Passionate representation," Aidala says. He's not exaggerating. After getting William Rapetti acquitted of seven counts of murder after a crane collapsed off a New York building in 2008 killing eleven people, Aidala broke down crying. Rapetti was facing several life sentences, and the attorneys at Aidala, Bertuna & Kamins made sure he could go home that night a free man. Aidala saw the emotion overflow in the courtroom, excused himself and found a broom closet where "I collapsed," he says. "I was crying like I hadn't cried since I was 12; I couldn't stop. It just poured out of me. And that's what makes this job worthwhile."
Over two hours from his offices (and yes, even a cocktail in the Sinatra room), New York Lifestyles talked to Aidala about his inspirations, clients, and the one he didn't take.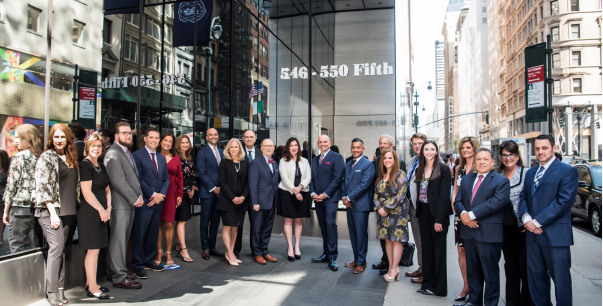 Inspirations:
"My father was a prosecutor when Frank Hogan was the storied Manhattan District Attorney; Hogan made Morgenthau look like a rookie. And then dad became a defense attorney running his small firm and was tapped by the New York State Attorney General to be a special prosecutor in the Attica trials. Only one case ever went to trial—the people who killed the guard to get the keys to the entire prison complex. Monday through Friday, he's in court as a prosecutor, and on weekends he's coming home tending to his criminal defense attorney clients. So, he was wearing two hats at the same time. I grew up in an environment of justice. And I have had outstanding role models. [My father] is one, but I also had a spectacular relationship with [the late Supreme Court] Justice Scalia, who was like a godfather uncle. When I went through personal tough times, I saw him and we just talked about cases. Justice Scalia would tell me, "We have the greatest system!" and then my dad would say, "it's not a perfect system, but everyone has a role." He didn't like it when prosecutors compared their trial records, like 'I'm 3-1" or "I'm 7-1." He said, "It's not about statistics. This isn't baseball."
Harvey Weinstein
"Several years ago, we got a call about representing Harvey Weinstein. In instances like that, you lift your skirt a little. One of my colleagues was skeptical about taking it on, while another thought we should do it. But I always must be concerned from a business point of view of what the effect of that is going to be. I don't think it's going out on a limb to say at that point, Harvey Weinstein was the most hated man in America. And I wasn't 100 percent sure what to do because I'm at a point where I don't just think about my personal family, I also think of this family—our firm, and what's in their best interests. If I'm a solo practitioner, I can be more of a cowboy.
"But leading the firm, I must be more judicious. So, I called my father and I said, "Here's the situation. What do you think?" And he asked,"Number one, are you going to get paid? Because there were a lot of rumors that Harvey wanted everyone to do it for free." Then he said, "It's OK to represent clients who have been accused of murder or other crimes, but you can't represent Harvey Weinstein?" After a lot of consideration, Aidals did not take the case and does not seem to express regret.
Roger Ailes
"I did not know Roger Ailes well, although I'd worked for Fox News for 12 years as a commentator. I had a wonderful time there; I enjoyed it. But I never got involved with the politics. You can Google every segment of mine; I've never done anything. Politically, I always handled it from the portion of the law. And I thought that was my path to longevity there because if I don't say anything politically and stick to the law, I can't get in trouble. Then, in 2015, just when I got back from my honeymoon, [former Fox News anchor] Gretchen Carlson sued him. My wife and I went on a boat ride with my in-laws, niece, and nephew, and I decided not to bring my phone. Two hours later, we returned and found eighteen missed calls: Roger Ailes, Beth Ailes, Fox News. I called Roger back and asked, "What the hell is going on?" I'm thinking everyone must be pocket dialing me. Anyway, the conversation was quite simple. He wanted to know how I would attack the lawsuit. He said, "I need a street fighter, and one thing I know about you is you're a street fighter. You're passionate, you believe in what you do, and you get the job done. I want you to be my lawyer." There was no way I could have said no. I'm working for the guy for 12 years; he's paying my check. He's the most powerful man in media. But it cost me my career at Fox News. They'd just gotten rid of Roger and 117 "Friends of Roger"—they called them FORs—and they couldn't keep his lawyer. Maybe one day, when I'm in heaven, there'll be a computer to look at all the different choices I made."