THE HAMPSHIRE HOUSE
Luxe Living On Central Park South
The Hampshire House is an established and unique cooperative residence located on the most elegant block of Central Park South, between the Avenue of the Americas and Seventh Avenue. It is convenient to public transportation, shopping, and restaurants, and has spectacular views. Located on Central Park South near the main entrance to the park the building offers unsurpassed services and conveniences year-round, including car service, guest suites, gym, plus lobby pianist in the evenings twice weekly.
Living at The Hampshire House—150 Central Park South—is truly New York life at its very best. The building is a city icon, its extraordinary facade and copper roof appearing in multiple movies, television shows, and on daily news networks. The building boasts as its motto Dedicated to Yesterday's Charm,Today's Sophistication, and Tomorrow's Innovation—the luxury residence embodies these words. With interiors designed by the famed Dorothy Draper, the building's extraordinary history spans more than 75 years. The Hampshire House has been home to dignitaries, celebrities, artists, diplomats, captains of industry, and families who continue to enjoy the understated luxury, elegant sophistication, modern conveniences, and exceptional amenities. Here are two residences you may want to call home.
Apartment 602
This sleek and sunny one bedroom home offers a master suite with a bath spacious enough for the large soaking tub. The lovely sunken living room features ample space for entertaining or just sitting and gazing at the beautiful Central Park view.
The view from this sixth-floor unit is centered above the avenue and park — an icon unto itself and often referred to as the heart of the city. Enjoying the views from this residence allows one to feel intimately involved with the theatre below while maintaining complete privacy. Central Park South is considered one of the most coveted addresses in New York City and home to an inspiring combination of architecture, landscape design, and urban planning.  Info: Asking price is $1,375,000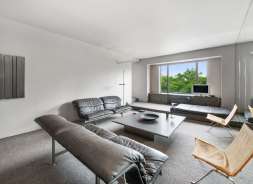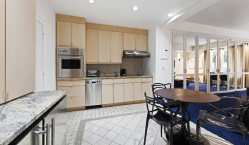 Apartment 1208
This recently listed large, bright, beautifully designed 12th floor studio apartment situated in a prime location on Central Park South has a multitude of special features including tile entry, custom cabinetry and built-ins, and a Murphy bed which allows for a more enhanced living space. The open kitchen offers the resident the ability to entertain, cook a deluxe meal and eat comfortably while sitting at a table. The apartment features a stunning bath that is well complemented with double sinks. This is a rare opportunity to buy the apartment at an attractive price and live in a prestigious building situated in a highly desirable and safe area. As a bonus, the residence is being sold fully furnished. One could also envision the apartment as the ultimate pied a terre. Info: Asking price is $625,000.
For more information visit
avalonrealestateadvisory.com To schedule a visit contact Grace Lappin at 212-717-5477 or by email avalonpartners@aol.com