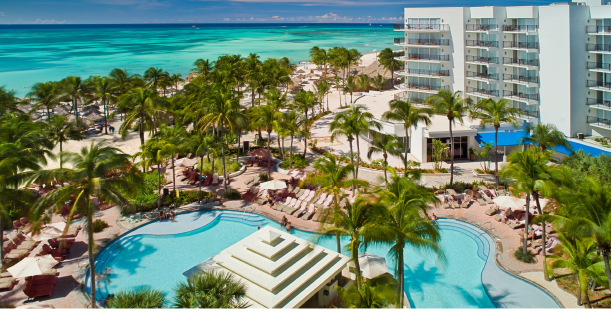 AN ARUBA HOLIDAY GETAWAY
Get Ready For Tropical Rejuvenation & Adventure
What more could you ask for? Happy hour at Aruba Marriott Resort & Stellaris Casino lasts most of the afternoon. Endless sunshine, brilliant teal waters, silk-sand beaches, and trade winds gently swaying the palm trees. It is, as advertised, one happy island.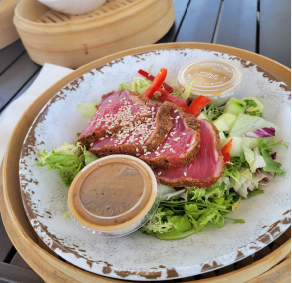 STAY
Boasting the most spacious accommodations on the island, the Aruba Marriott offers 414 oversized rooms, each offering a balcony overlooking the Caribbean Sea. The hotel offers suites, of course, but also their exclusive Tradewinds Club where hospitality begins with a pre-arrival concierge coordination call—before you even board your flight. Upon arrival, your adults-only accommodations include access to a reserved beach and lounge plus vacation planning services, unpacking, pressing, and packing assistance upon request, as well as preferred spa and restaurant reservations made by the dedicated concierge staff.
EAT
With a restaurant, eatery, bar, or specialty shop for every mood and whim, The Aruba Marriott Resort has no less than 10 dining choices. Though anchored by a Ruth's Chris Steakhouse, the property didn't stop there.
With a restaurant, eatery, bar, or specialty shop for every mood and whim, The Aruba Marriott Resort has no less than 10 dining choices. Though anchored by a Ruth's Chris Steakhouse, the property didn't stop there.
But, of course, it wouldn't be an island getaway without tropical drinks. From top-shelf Piña Coladas to the understated drama of a Giorita (tequila of choice, garnished with lime and fresh pineapple), these cocktails exceed your stuck-in-traffic daydreams. Looking for something with local flare? Their world-class mixologists create refreshing aloe-infused cocktails—a nod to the island's bustling aloe industry. Cascading waterfalls, swim-up bars, and thatched-roof eateries—a sundrenched dreamscape for noshing coconut shrimp lettuce wraps!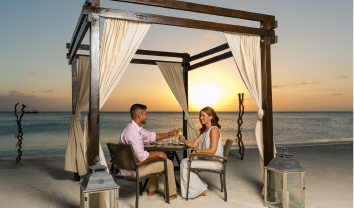 Drama is in no short supply. Be sure to make reservations for Atardi, the property's breathtaking toes-in-the-sand fine dining experience. With tables just steps from the sea, this is the excuse to wear that casual-chic vacation-vibes ensemble you packed. Indulge in their signature dish—the sublime Macadamia Grouper—or keep it classic with entrees like filet mignon. Check your shoes at the reception area and order a bottle of wine. The sun's about to set, and it never disappoints. Linger and enjoy a seaside sweet, or meander to the lobby and let Gelato & Co. spoil you with the best gelato treats you've ever had.
Off-property dining is plentiful. You've not experienced proper comfort food until you've devoured the plate-size pancakes (both sweet and savory) at Linda's Dutch Pancakes. And I was head-over-heels for Lima Bistro's fine dining—especially their tropical passion fruit tapioca dessert.
PLAY
The Aruba Marriott makes it a (tropical) breeze to toggle between hanging out under your palapa (thatched beach umbrella) and diving into island adventure. A concierge will set up your lounge chair; just tap the call button on your palapa when you're ready for a cocktail. Then, when you get the itch for something active, choose from stand-up paddleboard yoga, boating, fishing, snorkeling, or scuba diving. The tradewinds are constantly blowing, offering the finest, most consistent wind and kitesurfing conditions. After a day of play, rejuvenate at Mandara Spa, which offers over 300 treatment options.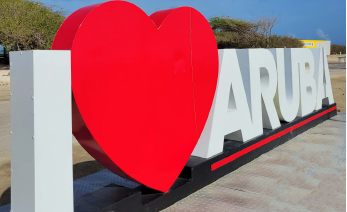 In addition to the palapa-speckled beach and the main pool, you can wile-away your time at the adult-only H2Oasis pool and its luxe cabanas. Long did I linger—not just reading and sipping cocktails—but admittedly, letting my tourist snap endless photos of the arm's-length, florescent green iguanas.
Leave time to explore the island itself, which offers the otherworldly oasis of Arikok National Park—where the amalgam of desert and tropical beaches woos you to return annually. Adventure enthusiasts can spend the day UTV racing through the craggily coastal trails with De Palm Tours. Once I recovered from my adrenaline rush, I went to San Nicolas to dabble in the local art scene. The curated street murals—under the direction of Tito Bolivar.
(Aruba Mural Tours)—are phenomenal. Bolivar personally guides you through the history and context of the murals—an overwhelming visual sensation and reason enough to visit the island.
With so many reasons to visit, it's no wonder many guests I befriended told me they visit year after year. One day, as I ate breakfast, a couple arrived to be seated. When the waiter saw them, he burst out—calling to them by name. Because of the pandemic, it had been two years since they'd seen him—and he greeted them as though they were family. I sat, overlooking the Caribbean Sea, sipping Amaretto coffee, and thought to myself, "one happy island, indeed."
For more information on Aruba Marriott Resort & Stellaris Casino, visit arubamarriott.com