LAS VEGAS
Travel Is Back…And So Is LV, Baby!
Through thick and thin, Las Vegas has always survived. That's simply because people from around the world love to gamble in an ultra-glitzy setting, or maybe it's the lure of the desert oasis created by mobsters that morphed into a truly iconic American city.
Today, with over fifty casinos and close to 145,000 hotel rooms, Las Vegas is certainly a place people love to visit. The city has come roaring back, with full-on panoply of indoor attractions ranging from completely luxurious accommodations, open casinos (with many still requiring masks be worn), shows of all sorts, and world-class restaurants open again to visitors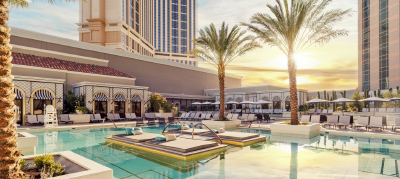 VENETIAN RESORT
With lots of resort choices in Vegas, we're partial to the all-suites Venetian Resort, which offers truly luxurious and spacious places to sleep ranging from a 650-square-foot king suite to the massive Chairman Suite, 8,000 square feet of sheer decadence. And if that wasn't enough, The Venetian has some of the best restaurants in town, including Chef Thomas Keller's classic French Bistro Bouchon as well as two distinctly wonderful newcomers. Don't miss Brera Osteria, the Italian spot where you'll have the best Mediterranean sea bass and scallops of your life; and Estiatorio Milos, where Chef Costas Spiliadis wows diners every day with ultra-fresh Greek seafood beyond compare and his "Milos Special," eggplant and zucchini sliced impossibly thin then fried, stacked, and served with tzatziki.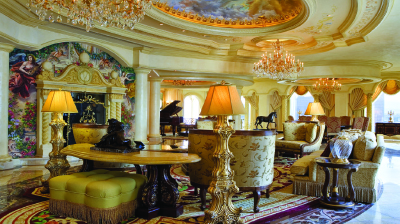 WESTGATE LAS VEGAS RESORT
A more traditional take on Vegas can be found by staying at the Westgate Las Vegas Resort, the place that Elvis Presley put on the map when he did his musical residency there back in 1969 (back then it was known as the International Hotel). Elvis did fifty-seven sold-out shows here, while living in one of the three outrageous penthouse suites that still make high rollers and big stars gasp with amazement today. Barry Manilow has returned to his residency there as of mid-September 2021, belting out his hits until February 2022; magician Jen Kramer wows crowds every night; and the Soul of Motown gets the crowds singing and dancing along. The Edge Steakhouse is a popular spot for Vegas visitors, with its Wagyu cuts of beef and an award-winning wine list to go along; and it seems Vegas lovers can never get enough of Benihana and its Teppan grill-style Japanese cooking, as they've been at the Westgate since Elvis' time.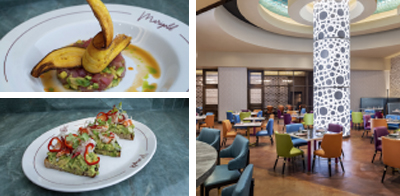 RESORTS WORLD
For a new Vegas experience, hit Resorts World, the first new resort built on the Strip in a decade. It's a massive place that is three resorts in one – the Las Vegas Hilton, the posh Conrad Las Vegas, and Crockfords, the ultimate in Sin City's luxury offerings. Think sky villas with private pools, and even two "palaces," 6,500 and 7,000 square feet of what can only be described as pleasure domes! The main resort pool is epic, two stories of private cabanas and Zouk, a large nightclub that spills out right into the waters; Carrie Underwood and Celine Dion are doing residencies there; and Liberace is celebrated with displays of his blinged-out Rolls Royce and over-the-top costumes. Try Marigold Restaurant if lobster strikes your fancy or go Asian fusion, as many of the new resort's eateries focus on tastes of the East.