ON THE SMALL SCREEN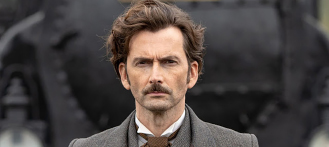 RETURNING TO THE PAST
AROUND THE WORLD IN 80 DAYS
PBS
Phileas Fogg has returned, this time played by everyone's favorite Doctor Who, the ever-versatile David Tennant, and he's headed around the world on a bet once again in this latest iteration of Jules Verne's ever-popular novel. Ibrahim Koma plays Fogg's handy servant Passepartout, and Leonie Benesch takes on daring journalist (and now female character) Fix, who gives chase in this sumptuous eight-part PBS series that's already been greenlit for season two.

1883
Paramount +
Yellowstone creator Taylor Sheridan helms 1883, this prequel that goes back in time to explore the origins of that hugely popular Kevin Costner series. Tim McGraw is the original Dutton who journeys across the Great Plains towards Montana to find his fortune, while Sam Elliott, Billy Bob Thornton, and Faith Hill round out the leading cast in this Western epic.

THE GILDED AGE
HBO
Downton Abbey lovers, rejoice! Creator Julian Fellowes is back with another look at the wealthy aristocracy, set in America in the time of the robber barons of the late 19th century. Think Rockefellers and Carnegies when their fortunes rose, and the new millionaire class was being formed. Christine Baranski, Bill Irwin, Jeanne Tripplehorn, and Cynthia Nixon lead the talented cast.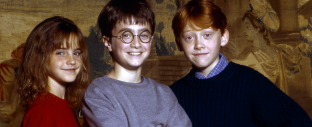 HARRY POTTER 20TH ANNIVERSARY: RETURN TO HOGWARTS
HBO
Hard as it may be to believe, the first Harry Potter film is celebrating its 20th anniversary in 2022! Marking that milestone is the fun premise of this special HBO event that reunites all our favorite wizards, including Daniel Radcliffe, Emma Watson, and Rupert Grint, along with Ralph Fiennes, Robbie Coltrane, Gary Oldman, Helena Bonham Carter. Yes, it's virtually everyone who helped make those nine Harry Potter flicks one of the greatest movie franchises ever produced.

LAUGH OUT LOUD
ABBOTT ELEMENTARY
ABC
It's all this group of talented teachers can do by going for the laughs as they find themselves teaching at Abbott Elementary, one of America's worst public schools. Quinta Brunson creates and stars in this irreverent comedy packed with talent, including co-stars Tyler James Williams (all grown up from Everyone Loves Chris), Sheryl Lee Ralph, Lisa Ann Walter, Janelle James, and a cast of precocious kids.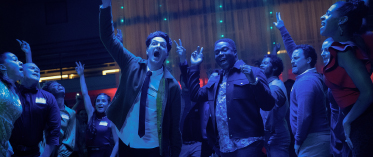 THE AFTERPARTY
Apple TV+
Prolific producer-writer-directors Phil Lord and Chris Miller (The Lego Movie, Cloudy with a Chance of Meatballs) try their hands at a very adult TV show with The Afterparty. Taking a Rashomon-like approach to one memorable night, the duo has crafted this comedic look at one murderous evening's epic events, as told from the point of view of different people. The cast includes Tiffany Haddish, Sam Richardson, and Dave Franco.

GRAND CREW
NBC
From the creators of Brooklyn Nine-Nine is this comedy of kooky Black Angelenos, who are all trying to figure out how to get ahead in today's modern world. So, it's only natural that they gather at a wine bar to hang out and figure out where life is going, right? Maya Lynne Robinson, Andrew Adams, Anna Jailer, Aaron Colom, and Adam Foster Ballard lead the friends.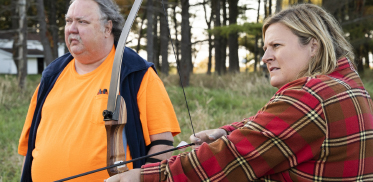 SOMEBODY SOMEWHERE
HBO
Comedian-crooner Bridget Everett created and stars in this new HBO comedy centering around her character of Sam, a Kansas gal whose hometown roots keep her grounded but make her a bit crazy as well. She's not what people think she's supposed to be, which leads to some droll situations as she makes her way through Middle America's inherent weirdness. The good news is she finds other simpatico outsiders along the way to finding her place in a world that doesn't quite fit.