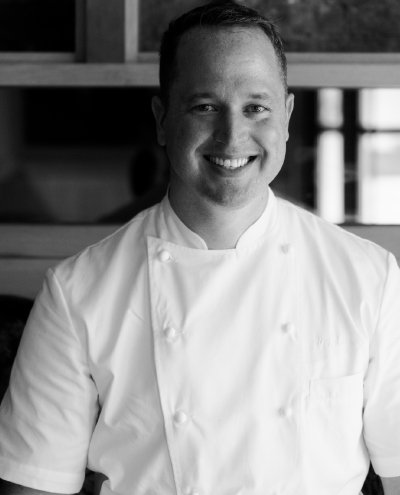 Shuman, previously known for his inventive dishes at Eleven Madison Park and his Michelin-starred fare at now-shuttered Betony, turned back to basics during the pandemic and found a loyal following in the city. His humble barbecue pop-up and home delivery service, Ribs n Riesling, started with his young daughter's suggestion. Her favorite meal is ribs, and she figured others would feel the same. But, instead, it soon became a lifeline for locked-down New Yorkers craving comfort and sustenance, expanding quickly to employ three cooks and four drivers.
LIVE-FIRE COOKING
Those same delicious Smoked Black Pepper Maple Duroc Ribs are on the menu at Sweetbriar, along with Shuman's famous Cornbread with Honey Butter and Tangy Fresh Coleslaw. Former home-delivery clientele rushed to be amongst the first to dine in the restaurant.
Alongside seriously crave-worthy woodfired pizzas, try the Spicy Ham, Pickled Chili, and Honey or the Olive, Kale, Rosemary, and Parmesan. There's a Grilled Short Rib large enough for two very hungry people, and a lighter Grilled
Whole Branzino with Salsa Verde. The Smoked Half Chicken with Lemon Marmalade is simply delicious.
If New Year, New You-intentions have you focused on eating more greens, rejoice in the sheer deliciousness of Shuman's vegetable-forward creations. Fire-Roasted Cabbage and a Beet Salad with Tumeric Yoghurt are definite stand-outs. Days later, I was still thinking about the Crispy Romanesco with Pickled Chili Mayonnaise. Who knew there was a vegetable reminiscent of cauliflower-meets-broccoli? And who knew it could taste so good? I'm now a convert.
ENJOYED BY ALL
Warm, confident service will please the grown-up clientele, with not an ounce of attitude on display. Sweetbriar's broad appeal would suit a large family dinner, romantic date night, friends catch-up, or solo dining at the bar.
We loved the soundtrack, a mix of throwback songs and current hits that had us reaching for Shazam to answer the question, "What's that song?" On the night we visited, the playlist included Fleetwood Mac, Stevie Wonder, and George Benson.
Starting this month, brunch and lunch plans will have come to fruition. Look out for the Sweetbriar house band, a group of Harlem-based musicians who will perform blues and more live on weekends. Book well in advance, if possible. If you can't seize a table on Resy, try your luck for one of the walk-up seats at the bar for a prime view of comings and goings.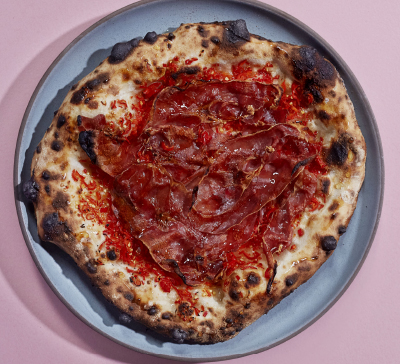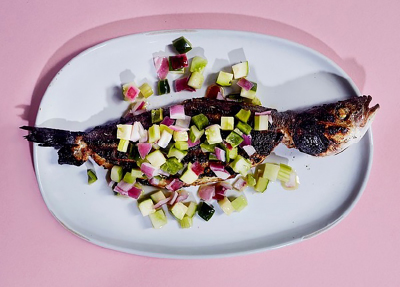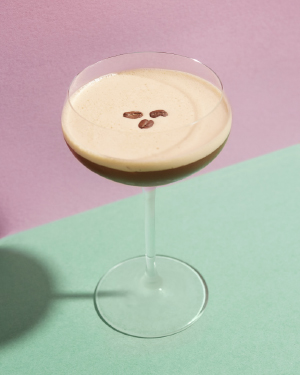 PARK SOUTH HOTEL
Stay here if you want to enjoy the chic comforts of a midtown boutique hotel without the crowds and chaos of Times Square. After a major 2016 renovation, the 131-room Park South Hotel boasts an appropriately elegant Park Avenue aesthetic with modern amenities and deluxe bedding. The cream, gray and white palette is classic for a reason and encourages a moment's pause in the city that never sleeps
Just steps away from the 28th Street subway station, the location is ideal for access to NoMad, Gramercy Park, and Midtown attractions as well as a shopper's paradise.
In addition to Sweetbriar, the hotel offers an inviting rooftop bar. Known as Roof at Park South, the menu's cocktails and bar bites are more imaginative than the venue name. Order a Don't be Salty cocktail, a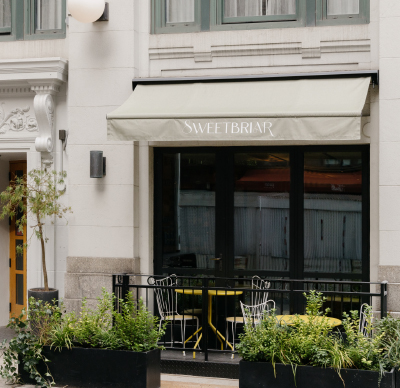 refreshing combination of tequila, fresh lemon juice, Midori, and Jalapeño simple syrup to taste summer in a glass. Even a classic combo like frosé and Neapolitan pizza tastes better when served with views over Manhattan. We love the dynamic ambiance, fun vibes, and diverse crowd. Open seasonally, and it will again welcome guests this coming April.
For more information on Park South Hotel, visit: jdvhotels.com