Pekarna is one of those cozy eateries on the Upper West Side that successfully brings together ethnic and American cuisine. The restaurant is owned by Australian restaurateur Dean O'Neill who has assembled his creative team of executive chef, Caribbean native Kamal Hoyte, who has seen the kitchens of Le Bernadin, Daniel, and Oceana and acclaimed Slovenian pastry chef and cookbook author Alma Rekvic.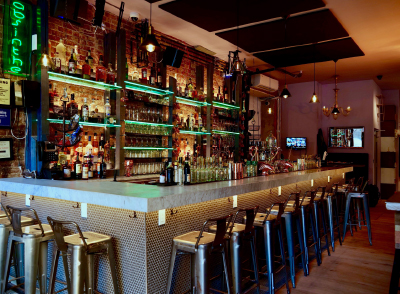 Oddly enough, O'Neill is an avionic engineer by trade who reveals, "I have designed and built various projects ranging from restaurants, nightclubs, apartments, boats, and planes. He went on to tell us that in 2003 he visited Slovenia to design and launch several projects. "During this time, I fell in love with the place, people, culture, and food. Eight years ago, I opened my own business in Slovenia with a business partner, and we took over a 350-year-old bakery and turned it into eight boutique apartments. We called it the Pekarna boutique hotel." The name stuck with O'Neill. Years later, and back in New York City, he searched for a new space to open a restaurant. "I came across 594-592 Amsterdam Avenue, and I saw enormous potential in the space." And so Pekarna was born.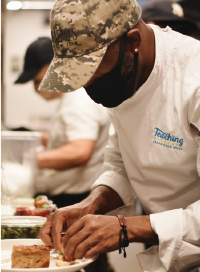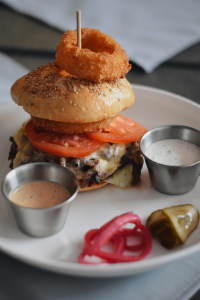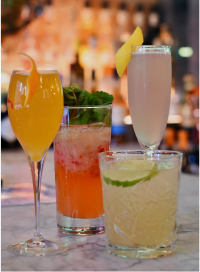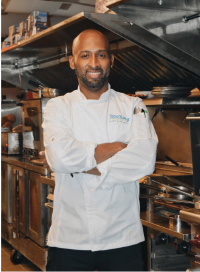 FLAVOR & MORE
The affable owner pays attention to which dishes his regular diners prefer and tells us, "Wild Boar With Rice is our most popular dish along with the fries. Our Wild Boar is just so unique; we house smoke the meat over hickory wood for 18 hours, so it's full of flavor. Our fries are thick cut and soaked in water to get the starch out and then double fried, so they are crispy on the outside and soft on the inside. We also pair the Wild Boar with three sauces which people enjoy. The Cauliflower Salad is also a favorite due to the unique flavors, including Calabrian chili peppers, almond sauce, sesame seeds, and scallions. Our Rack Of Lamb also is popular, and as people say, good lamb is hard to find." 
There are many popular Slovenian items not to be missed, but we recommend Zepki, a hot pocket that is golden and flakey filled with chicken, vegetables, Wagyu beef, or an interesting wild boar and cheese combo. The Herb Crusted Rack of Lamb Slovenian Style is a generous portion for two that features a potato soufflé, roasted Brussels sprouts, and carrot crème in a red wine reduction. The Pan Seared Bone-In Chicken is served in a Slovenian wine sauce and served with Cipollini onions, glazed rainbow carrots, and then "sided" with a potato soufflé. 
HEALTHY, TOO!
The American fare is just as delicious and includes some of the most tender steaks in the city. But whether you are a carnivore or vegan, do not pass up the Vegetable Stuffed Pepper filled with corn, carrots, red and green peppers, fresh spices, and topped with charred Parmesan cheese as an appetizer—and healthy at the same time. The Island Style Fried Chicken, coated with a Cajun breading and hot sauce and served with a generous portion of garlic mashed potatoes, is a must if you love juicy fried chicken with a serious kick. Finally, the Pan Seared Salmon is a crowd favorite as the salmon is prepared "crispy skin" style with roasted fingerling potatoes, corn pepper succotash, and lemon dill butter sauce. 
Leave room for one Slovenian dessert that deserves attention. Slovenian Apple Pie is a baked apple roll featuring plenty of cinnamon, sugar, and nutmeg mixed with the juicy apple filling topped with homemade gelato. Then, of course, there are classic American favorites, including Bread Pudding with Rum Infused Caramel Sauce. Either way, you will never go wrong.
For more info on Pekarna, go to pekarnanyc.com