HIGHLY REGARDED
He and his firm have been recognized for their distinguished service, and just last year, The American Institute of Legal Professionals named his firm Law Firm of the Year. In addition, it was named to Texas Lawyer's (an ALM Company) Southwest Top Verdicts and Settlements of 2020 for obtaining the year's highest gross negligence verdict. 
Throughout his career, Henry has taught many of his peers how to handle various types of cases, in addition to practicing law. He is a frequent speaker for the bar and other trade and professional organizations that include board-certified and non-certified attorneys. He has spoken on various topics, including personal injury, litigation, and expert issues.
Henry is currently representing several victims of the Astroworld Festival tragedy, which killed ten people and injured hundreds more. A long list of defendants, including Apple Music, Travis Scott, Aubrey Drake Graham, Live Nation, and NRG Stadium, is named in the lawsuit, seeking up to $2 billion in damages.
"The defendants stood to make an exorbitant amount of money off of this event, and they still chose to cut corners, cut costs, and put attendees at risk," said Thomas J. Henry. "My clients want to ensure the defendants are held responsible for their actions, and they want to send the message to all performers, event organizers, and promoters that what happened at Astroworld cannot happen again."
As a result, many national news outlets, including CNN, the Daily Mail, and Vanity Fair, have already sought this attorney's analysis of the Astroworld/Travis Scott tragedy, the flaws that occurred during the event, and the ensuing litigation.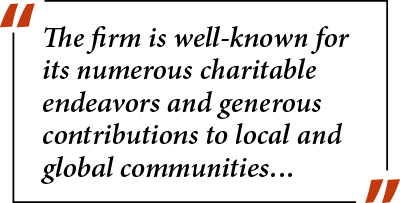 GIVING BACK
The firm is well-known for its numerous charitable endeavors and generous contributions to local and global communities outside of the courtroom. Henry maintains his reputation as a philanthropist by meeting the needs of thousands of people. Whether it was food, shelter, education, or assisting the elderly, he has consistently provided support to individuals across the country through various initiatives such as the American Red Cross, the American Cancer Society, the American Kidney Foundation, and numerous other organizations.
Whether it is the Astroworld/Travis Scott case or other various claims, Thomas J. Henry has made it his mission to represent every client aggressively and devotedly. His goal is not only to fight but also to win the battle. His unwavering diligence, discipline, and perseverance will result in continued success for his clients.
For more information on Thomas J. Henry Law,
visit: thomasjhenrylaw.org