I am having this fabulous time in a dream, staying in this luxurious Mexican resort. My spacious villa, with a private infinity pool and hot tub, overlooks a garden and the sea beyond. No mini-bar for me. I have a maxi-bar on a side counter in the well-stocked kitchen, with top-shelf full liquor bottles, along with Champagne, Grey Goose vodka, and caviar chilling in the fridge.
Enrique, my personal butler, smoothly and quietly anticipates my every need and desire—and then some. I even find my toothbrush lined up with my toothpaste when I return from an evening of fine dining at one of the resort's five eateries and bars and its nightclub. All this is after a sunset horseback ride along the beach. Oh, let's not leave out the 90-minute full-body massage in the extensive health spa.
That, however, was no dream! I lived it recently, joining international billionaires and A-list celebrities at the ultra-luxurious Las Ventanas al Paraíso Resort in Cabo San Lucas, Mexico. Part of the Rosewood Hotels & Resorts global chain of luxury properties, Las Ventanas, does wrap you in a living fantasy of high-end living and pleasure.
If living well is the best revenge, this is the place to do it. Try as hard as I could, I couldn't find any fault with the place. In fact, out of a possible five, I'd give it a six-plus—from accommodations, dining, personal service, and a variety of leisure activities.
TOPS IN CABO
Since opening in 1997, Las Ventanas has been the top resort in Cabo, at the tip of Mexico's Baja Peninsula, along the coast of the Sea of Cortez where it meets the Pacific, with 350 days of sunshine a year.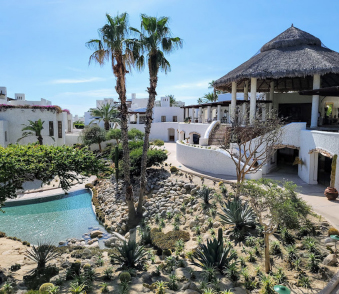 Picked up at the airport by the resort shuttle, I was met on arrival by Enrique, my exclusive butler for my stay, who escorted me to one of the resort's luxurious two-bedroom villas. With his warm smile and friendliness, Enrique beat Mr. Carson, the imperious head butler from Downton Abbey, by miles.
The resort has 84 suites in a wide array of sizes and bedrooms and 12 villas, with prices starting around $1,200 or so a night, on up, three-night minimum stay. Suites have shared butlers to pamper and indulge guests, while each of the 12 villas has its own butler.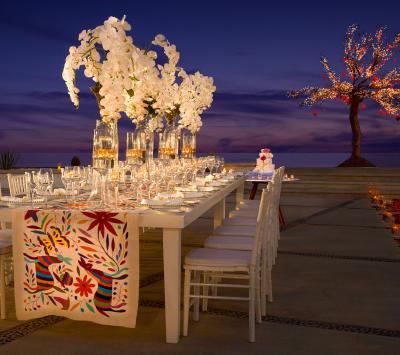 DAY & NIGHT FUN
Of course, there's more to just luxuriating in your villa's private infinity pool and hot tub or the resort's many pools. For guests, days are spent enjoying the natural riches of Los Cabos, including the sea, mountains, and desert; playing on the resort's tennis courts and the many championship golf courses, and indulging at the spa; having drinks under the thatched palapas, and fresh fish at the Sea Grill; gazing at the nighttime stars through the telescope in their suite or enjoying the evening on their suite's rooftop patio."
Of course, the resort can also set up various other off-resort activities. That includes an adrenaline-pumping off-road ATV tour, following winding trails through dramatic terrains along the Sea of Cortez, ending with an epic crossing of the world's longest wooden vehicle-pedestrian suspension bridge. Or a sunset horseback ride through the Los Cabos desert, providing a glimpse
into the remote and untouched landscape of Baja Sur. Don't overlook the sunset Champagne cruise aboard a 58-foot chartered yacht to the famous The Arch rock formation where the Sea of Cortez meets the Pacific Ocean.
Those who book at Las Ventanas between January and March get to see a spectacular show—the annual whale migration from the icy waters of Alaska south to the warm waters of the Sea of Cortez for their mating season. 
Las Ventanas is also definitely the place for a romantic getaway, including a a marriage proposal or a special anniversary celebration. The resort has an entire department devoted to serving amorous guests, with an official Director of Romance and specialists who can arrange anything from private salsa lessons to couple's spa treatments and beyond. "We can even arrange fireworks on the beach," managing director Frederic Vidal told us. It is perfect for a marriage proposal or other romantic or celebratory moment.
WRAPPED IN LUXURY
Have I mentioned the excellent service guests receive? My butler Enrique and all the staff seemed to genuinely enjoy serving guests.
"That's a part of what we strive to achieve here," General Manager Michael Chiche said. "From the moment they arrive, we want our guests to feel they are wrapped in comfort, service, and the warmth of the Mexican people." Many returning guests, he added, ask for their same butler. "They become like family to them."
If I seem a bit gaga over Las Ventanas, this longtime grizzled former tabloid journalist and world traveler may even be surprising himself.But trust me, this resort is extremely worth the price for the luxury it delivers.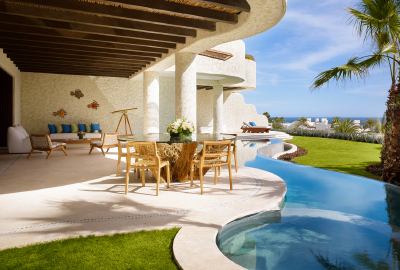 Do I hope to return? Well, let's just say I'm going to start buying lottery tickets.
For more information on Las Ventanas al Paraiso, visit: rosewoodhotels.com